Bruce Barth has the #1 record in all Jazz Radio for the 4th week in a row (and sure to be in some of those Tops of 2012 lists) with "Three Things of Beauty", so you'd think it's about time for him to chat about it on The New Jazz Thing! He sits in with us between 6 and 8 PM PT on Monday, September 24, 2012!!




UPDATE: Here's the complete interview...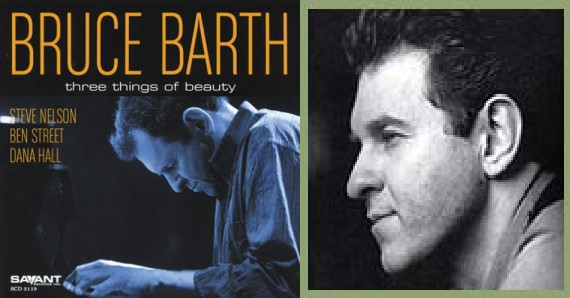 Some interesting tidbits after the split....
JazzTimes (Lloyd Sachs): "Ranging from Tyner-esque intensity to Basie-like cool, he is at his most expansive, while Nelson plays with a depth of expression he lacked earlier in his career, and bassist Ben Street and drummer Dana Hall provide sumptuous support. The album is so engaging, it deserves a title upgrade: How about Ten Things of Beauty?"
AllMusic.com (Ken Dryden): "Barth's originals prove to be just as potent."
If you don't believe me about Bruce's big run at the top this year, check out the Jazzweek Jazz Chart page.