Chasing Trane: The John Coltrane Documentary

Jazz 88.3 is proud to support Ken Theater's presentation of "Chasing Trane: The John Coltrane Documentary" showing THIS(!) Saturday, June 24th. You won't want to miss this thought-provoking, uplifting and powerful film about jazz giant John Coltrane, an outside-the-box thinker whose boundary-shattering music continues to impact and influence people around the world. This rich, textured and compelling portrait of a remarkable artist reveals the critical events, passions, experiences and challenges that shaped his life and revolutionary sounds—a story of demons and darkness, of persistence and redemption. The beauty, poignancy, energy, pain, joy and inspiration heard in nearly 50 Coltrane recordings from throughout his career brings alive the artist and the times in which he lived. Although Coltrane never participated in any television interviews (and only a handful for radio), he has an active and vibrant presence in the film through his print interviews. These words—spoken by Academy Award winner Denzel Washington—illuminate what Coltrane was thinking and feeling at critical moments throughout his life and career. Includes appearances by Coltrane's children, President Bill Clinton, Common, John Densmore of The Doors, Wynton Marsalis, Sonny Rollins, Carlos Santana, Wayne Shorter, Dr. Cornel West and more. You also won't want to miss a special Q&A session with Jazz 88.3's GM, Ken Poston and director, John Scheinfeld after the 7PM show. Showtimes vary--click here for details! INSIDE ART INTERVIEW / TRAILER / REVIEWS...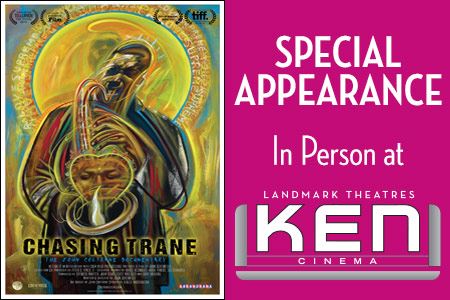 Inside Art Interview With Chasing Trane Filmmaker John Scheinfeld
Special Jazz 88.3 Screening With Question and Answer Session
Chasing Trane - The Trailer
Reviews of Chasing Trane: The John Coltrane Documentary
As the documentary winds down and a deadly disease takes Coltrane away from his fans and the world at age 40, what remains is his music and his desire to only spread good throughout the world. The loving thoughts, by all the interviewees, sustain his spirit. As does listening to his catalog of music during the film's 99-minute length.

Indeed, Coltrane's music was the spiritual expression of who he was. This film confirms it.



More productive, this film includes Mr. Coltrane's performances, along with home movies, family interviews and the musician's own words, read by Denzel Washington. Occasionally it delves into musical analysis, discussing how spirituality and events (the 1963 church bombing in Birmingham, a 1966 visit to Nagasaki) affected Mr. Coltrane's compositions, style and shows.



John Scheinfeld's "Chasing Trane: The John Coltrane Documentary" ought to appeal to longtime fans as well as neophytes. For the former, the doc is filled with rare performance clips, alongside insightful interviews with family, colleagues and famous fans.



Support Jazz 88.3
while you shop at
Pat Launer's Center Stage