Marc Cary Showing The Rhodes Ahead In The New Music Adds To The Jazz 88.3 Music Library 2015.03.23

Jazz keyboardist and innovator Marc Cary's "Rhodes Ahead, Vol. 2" is once again "energizing" as he picks up 14 years later after the first volume in 2001 and leads the way in a list of great New Releases to San Diego's Jazz 88.3 Music Library for the week of March 23, 2015.
You can check out their debut each week on
The New Jazz Thing with Vince Outlaw, Monday evenings 6-8pm PT
and then your favorite Jazz 88.3 Hosts will be adding them to their playlists for YOU to enjoy and learn!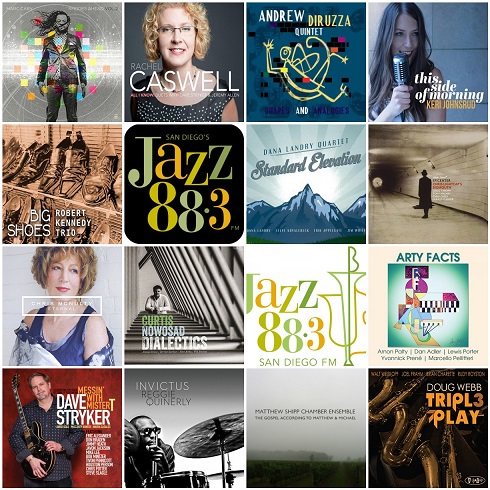 MARC CARY – "RHODES AHEAD, VOL.2"
RACHEL CASWELL – "ALL I KNOW"
ANDREW DiRUZZA QUINTET – "SHAPES AND ANALOGIES"
KERI JOHNSRUD – "THIS SIDE OF MORNING"
ROBERT KENNEDY TRIO – "BIG SHOES"
DANA LANDRY QUARTET – "STANDARD ELEVATION"
CHRIS LIGHTCAP'S BIGMOUTH - "EPICENTER"
CHRIS McNULTY – "ETERNAL"
CURTIS NOWOSAD – "DIALECTICS"
PALTY, ADLER, PORTER, PRENÉ, PELLITERI – "ARTY FACTS"
DAVE STRYKER – "MESSIN' WITH MISTER T"
REGGIE QUINERLY – "INVICTUS"
MATTHEW SHIPP – "THE GOSPEL ACCORDING TO MATTHEW AND MICHAEL"
DOUG WEBB – "TRIPLE PLAY"
MARC CARY – "RHODES AHEAD, VOL.2"
RACHEL CASWELL – "ALL I KNOW"
ANDREW DiRUZZA QUINTET – "SHAPES AND ANALOGIES"
Joe: Guitarist, leading a quintet, doing straight-ahead originals.

Social: Facebook
Susan Frances, AXS:

"The Andrew DiRuzza Quintet plays with the knowledge of veteran professionals while incorporating original excursions into their music. A combination of improvised movements and structured motifs, Shapes and Analogies is art being made while living in the moment."
ROBERT KENNEDY TRIO – "BIG SHOES"
DANA LANDRY QUARTET – "STANDARD ELEVATION"
Joe: Female vocalist, backed by a trio and chamber ensemble, performing straight-ahead jazz tunes, standards and originals).

Social: Twitter @McNultyJazz, Linkedin
DAVE STRYKER – "MESSIN' WITH MISTER T"
MATTHEW SHIPP – "THE GOSPEL ACCORDING TO MATTHEW AND MICHAEL"
Joe: Saxophonist, joined by 2 other saxes, along with organ and drums, doing straight-ahead originals, standards and jazz tunes.

"Doug Webb is joined with tenor titans Joel Frahm and Walt Weiskopf "

"A hard bop visceral slap to the head has Triple Play virtually flawless."

"An old school blowing session that can touch your heart and set you're hair on fire at the same time!"
Support Jazz 88.3
while you shop at
Pat Launer's Center Stage