Great bunch of new additions to the Jazz 88 Music Library on Monday, June 20, 2011. These discs will be featured on The New Jazz Thing on Jazz 88 with Vince Outlaw, Monday, June 20, 2011, 6-8 PM PT! Click on the Listen Now link to listen live over the internet or tune into 88.3 FM in San Diego!

DIEGO BARBER – "THE CHOICE" (Acoustic guitarist, leading a quartet, doing all original material).
Sunnyside Records: "Originally from Lanzarote, Canary Islands, Barber spent many years studying classical guitar and composition throughout Europe. Having performed professionally in several classical settings (including his first place win at the Classical Guitar International Contest in 2004), he moved to New York City in 2007 to pursue further study of jazz. Barber's intent has been to bridge the divide between the genres."
BRYAN CARTER – "ENCHANTMENT" (Young drummer, leading a straight-ahead quintet, doing all of his originals)
"It's a concept album, and it deals with the idea of being enchanted by something - not enchanted like Harry Potter, here's a spell I'm going to get you," he said. "More dealing with the idea of surprise or awe." The music aims to capture the feeling of the first time you experience something you really love or the first time you see a girl or guy you really like, he said.
ADAM CRUZ – "MILESTONE" (Drummer-led all-star ensemble, doing all of his originals…progressive).
The Revivalist: Adam Cruz is a drummer's drummer and a melody's dream; someone who knows how to use the foundations of rhythm with which he has been charged to anchor and illuminate his compositions and collaborators, arranging as though anything less would be uncivilized.
JACK FURLONG QUARTET – "AND THAT HAPPENED" (Baritone-sax player, leading a quartet, doing all originals)
Powderfinger Promotions: Known for his skill and artistry as a baritone saxophonist, Jack Furlong is a messenger for jazz past and jazz still to come. Producing originals with a unique retro flavor, in addition to classic charts, he incorporates programmatic music that adds a twist.
GO BY TRAIN (MySpace, FB)– "TRANSMISSION" (Clay Giberson, of the Upper Left Trio, doing contemporary originals).
STEVEN KROON – "WITHOUT A DOUBT" (Percussionist, leading a Latin session, with a great selection of tunes)
CDBaby: Without A Doubt is my 4th CD. In each of my productions I've noticed the growth of our performances. This is attributed to my band through our live performance and our camaraderie, we have developed our own sound. This has enabled us to bring our live performance sound to the recording. Just like the artist from back in the day, they would first play their material out in the clubs prior to going into the studio. This allows you to find the right tempo and groove for each tune. I've always loved this concept.
PAT METHENY (Twitter, FB)– "WHAT'S IT ALL ABOUT" (Solo guitar recording, doing a collection of Baby Boomer tunes).
AllAboutJazz.com (Something Else!): What's It All About is a collection of tunes that are important to Metheny, songs that were in the Top 40 during his teen years. These are songs that impressed Pat at a time before he'd written his first note. Some in fact, came before he learned to play an instrument. We all have songs like this, songs that stay with us as the years go by. Obviously, Pat Metheny is no exception.
JOSE RIZO'S MONGORAMA (FB)– "MONGORAMA" (Great Latin session, paying tribute to Mongo Santamaria).
AllAboutJazz.com (Greg Simmons): With ten band members and four guest soloists, there is a lot happening on the plush-sounding Mongorama, where that much musical firepower affords the luxury of layering textures and multipart harmonies. Musical Director Danilo Lozano takes full advantage of his resources to command a truly gorgeous sounding band. With great music and impeccable musicianship, Mongorama is an outstanding recording...and just plain fun.

NANETTE NATAL (FB)– "SWEET SUMMER BLUE" (Female vocalist, with a unique sound, doing mostly her originals)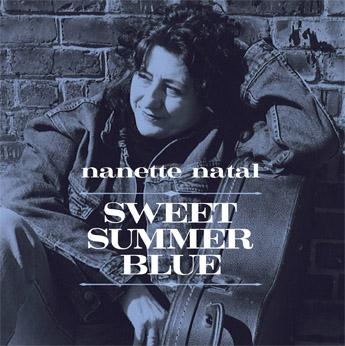 Sweet Summer Blue

is a collection of mostly original songs, which celebrate American musical traditions from Blues to Country to Bebop. It is truly an "Americana" tour.


DUANE PADILLA (Twitter, FB) – "SENTIMENTAL SWING" (Violinst, with piano and bass, doing all standards).
Duane's Music Blog: Aloha friends. Good News! I just released my first solo jazz violin album!! IInspired by the lyricism of Frank Sinatra and the eternally optimistic melodies of French jazz violinist Stephane Grappelli, the album presents a selection of romantically swinging jazz improvisations based on classics from The Great American Song Book. The album, entitled "Sentimental Swing" pays nostalgic tribute to the early days of jazz when vocalists like Ella Fitzgerald and Sarah Vaughn filled the radio airwaves with songs about love lost and love found.
ED REED – "BORN TO BE BLUE" (Male vocalist, doing mostly songs from the Great Amercian Songbook, and some others)
Diablo: "It was unexpected," says Reed, who was recognized in the "Male Vocals, Rising Star" category of DownBeat's Critics Poll in 2008 and 2009 for his first and second albums, Ed Reed Sings Love Stories and The Song is You. "I had given up thinking about it. It was something that I dreamed of as a kid but then when it happened I was surprised. It's been a fantastic experience ever since."
TOM SMERK (Twitter, FB)– "WILL PLAY JAZZ FOR FOOD" (Local guitarist, doing old and new standards).
SACHAL VASANDANI (Twitter, FB) – "HI FLY" (Male vocalist, with a great band, doing standards and originals)
Digital Jazz Reviews: There is an intimate and engaging feel to this record and while the inventive and up tempo arrangements show yet another side to the musical vision and talent that make Vasandani a singer to continue to watch in the coming years. Produced by Grammy award winning bassist John Clayton and Mack Avenue EVP of A&R Al Pryor, "Hi-Fly" is a perfect mix of standards, creative originals and some surprising pop covers!
GERALD WILSON ORCHESTRA – "LEGACY" (Straight ahead big band, including a Suite for the City of Chicago).
The Jazz Chill Corner: Gerald Wilson, jazz's reigning composer/orchestrator pays homage to his adopted hometown, Chicago on his fifth Mack Avenue Records release, Legacy. Composers Igor Stravinsky and Giacomo Puccini also receive Wilson's musical tips of the hat. Wilson's son, guitarist/composer Anthony Wilson, and grandson Eric Otis are also represented by a composition/orchestration apiece, thus extending Gerald's musical legacy. The Gerald Wilson Orchestra assembled for Legacy comprises many of the great jazz artists who've been Gerald's collaborators for the lion's share of his Mack Avenue canon. A first-class rhythm section of pianist Renee Rosnes, guitarist Anthony Wilson, bassist Peter Washington and drummer Lewis Nash anchors the group. Trumpeters Sean Jones, Jeremy Pelt, Tony Lujan, Freddy Hendrix, Frank Greene and Mike Rodriguez and trombonists Dennis Wilson, Douglas Purviance, Luis Bonilla and Alan Ferber stud the brass section. Antonio Hart, Dick Oatts, Kamasi Washington, Ron Blake, Jay Brandford and Gary Smulyan comprise the reeds. Al Pryor continues as Wilson's producer for this collection of tributes and portraits.
DENNY ZEITLIN – "LABYRINTH" (Solo piano collection of standards, jazz tunes and originals).
BuffaloNews.com: Zeitlin's "Labyrinth" is, quite literally, a "house concert" recorded in the home of Ernie Shelton in Sebastopol, Calif. Zeitlin is magnificent when playing solo, with total control over a massive and varied arsenal of techniques, including Cage-ian "prepared piano" and Cowell-esque reaches into the piano's innards to killer-tempo post-bebop that would have brought a chuckle from Bud Powell. Little, if anything, is predictable on "Labyrinth," where the communication between pianist and small audience was obviously on a very high level.