Here's some of what's happening on The New Jazz Thing on Monday, November 5, 2012...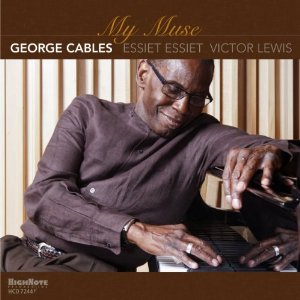 AllAboutJazz.com (Greg Simmons): "The real meat of My Muse is Cables' originals. There is a lot of great playing and terrific music on My Muse. Cables, Essiet and Lewis weave all of these sources into a seamless, well thought-out and, yes, happy-sounding album."

2

012-11-05 Adds To The Jazz 88 Music Library

: Lots of great new Jazz vocals being added to the Jazz 88 Music Library this week, including former San Diegan Cath Eckert (known now as Cat Conner), plus Big Band, Guitar (with and without Organ), some well known players (Houston Person, Frank Kimbrough), and some international Jazz.

Jazzweek.com Jazz Chart November 5, 2012

: We'll be counting down the Top 10 in Hour 1 of the show (and chatting with the #1 artist in Jazz right now, George Cables, in Hour 2 of The New) and making note of big differences, like The Clayton Brothers "The Gathering" jumping from 53 to #7 this week...big jump!