Jazz 88.3 Blog

From 6 A.M. Thursday, December 24, through Christmas Day, Friday, December 25 at 8 PM, Jazz 88.3 KSDS presents The Sounds of the Season, a 38-hour celebration highlighted by a reading of the classic "Twas the Night Before Christmas by the late southern California jazz radio personality Chuck Niles. Here's the Playlist.
There will be six opportunities to hear the Niles narrative: 6 A.M., noon, and 6 P.M. December 24, and December 25 at midnight, 6 A.M., and noon. All times are P.S.T. Featured will be holiday music spanning more than 60 years from a wide range of artists and styles, including Ella Fitzgerald, Louis Armstrong, Sidney Bechet, Wynton Marsalis, Banu Gibson, Kenny Burrell, Nat Cole, Duke Ellington, and many others.

Frank Sinatra's birthday is this Saturday, December 12th, and we're celebrating all weekend long with special programming. From singers singing and legends to rising stars playing the music of Ol' Blue Eyes, to cool, big band, and swinging Sinatra, we'll be celebrating in the high style Frank loved!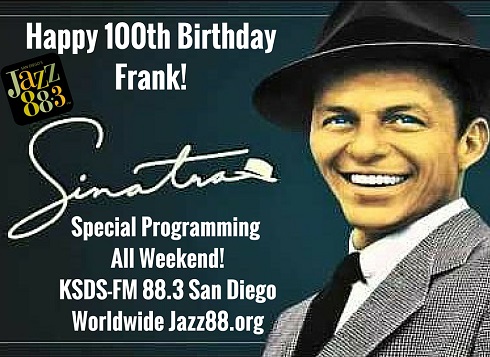 Saturday, December 12, 2015 - Frank's 100th Birthday
Sunday, December 13, 2015 - The Sinatra Special Continues
Be sure to tune in and celebrate with us the Entertainer of the Century!

San Diego's Jazz 88.3 Twitter community includes a vibrant list of on-air hosts and staff that are sharing Jazz links, pictures, and images on Twitter both during their shows and between shows when they are socializing with listeners and jazz fans from around the world and sharing the best in Jazz links. Here are some quick links to get you connected with Jazz 88.3 on Twitter...
@Jazz88 - San Diego's Jazz 88.3 Twitter Feed: Links to trending Jazz News and Conversations, reviews of Jazz and other music albums, concerts, and events, and retweets from Jazz 88.3 partners and listeners. Let us know when you are listening with a @Jazz88 tag or use the #Jazz88 hashtag!
Jazz 88.3 Radio Hosts Twitter List: Subscribe to the list and follow your favorite Jazz 88.3 hosts and you'll see during-show tweets and between show Jazz news and conversation. Check out the latest Jazz 88.3 host tweets below. If you want to only follow your favorite host, here's the list members.
READ THE ENTIRE ARTICLE for what's happening right now on the Jazz 88.3 Radio Hosts Twitter List...

When you want to tune your radio, computer, or mobile device to the best blues music around, any time of the day or night, programmed LIVE by hosts who love the blues, KSDS-FM San Diego's Jazz 88.3 is the place to be.
Janine gives you a taste starting Saturday at Midnight with Blues Up Front, then the Saturday night blues party gets started at 7pm kicking off with Second Line Parade with Drew, Every Shade of Blue with Michael, Honkin' and Screamin' with Raymond, I've Got Blues For You with J Otis, and finishing off the spirit on Sunday morning at 6am with the Gospel Gathering and Janine. And if you want the
blues WHEN YOU WANT THEM, then turn to the Jazz 88 Speakeasy where Full Programs
of many of these show are available for you to stream on-demand. And when you include the weekly
Jazz 88.3 Blues Jam at Proud Mary's
, you've got Blues Radio in San Diego!
READ THE FULL ARTICLE for links to all of our blue shows and playlists, blues hosts pages, Jazz 88 Speakeasy, and more...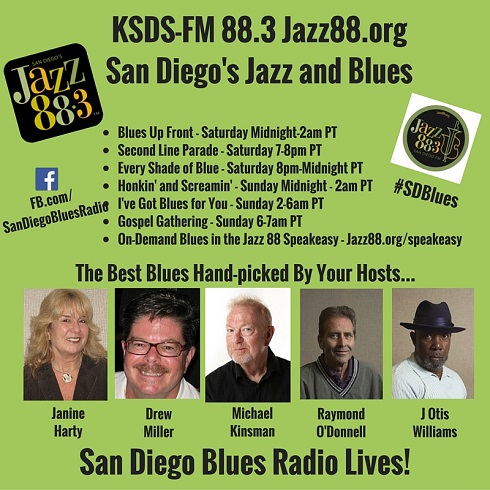 This is Joe Kocherhans, inviting you to join me Thanksgiving Day at Noon PT for a Portrait In Jazz marathon. We'll kick it off at noon with our artist of the week Nat Adderley…followed by an hour of songs by the great Johnny Mercer…then we'll hear from 2 greats we lost this past year, Howard Rumsey and Phil Woods, followed by the one of the greatest of all jazz singers, the great Joe Williams, then we'll hear from 2 newly named NEA Jazz Masters, Gary Burton and Pharaoh Sanders, and we'll top it off with a jazz tribute to The Great American Songbook. It all starts at noon on Thanksgiving Day.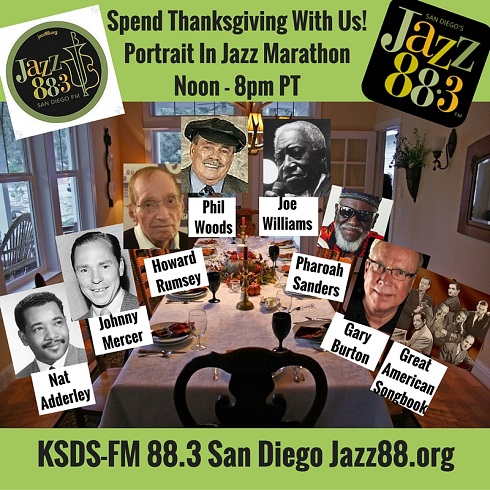 Congratulations to everyone for a very successful 2015 Fall Membership Drive. The drive concluded during an electric final few minutes of The Guitar Hour with Jazz 88.3 Guests, Staff, and Volunteers gathered for the announcement of the final Daily and Grand Sweepstakes Winners, along with the unofficial total amount raised. We have an unofficial total of 193,000 which will go a little higher when all the pledges are totaled. That is a very impressive number and you should all be very proud of the effort made to support Jazz here in San Diego and around the world!
If you missed the last minutes, please relive it with us by playing our Jazz 88 Speakeasy Audio of the final minutes...
The Favorite Artist Poll Winner is Miles Davis. Thank you all for making your voice heard...this is an all star lineup for sure! Your hosts will be playing this music through the day Monday and during the week as we celebrate this great pledge drive with you!
This is the top ten in order:

We've scoured the lists of San Diego Music Awards Winners and Lifetime Achievement Honorees to bring you the Jazz and Blues artists that have won and been honored at all previous shows, starting in 1991.
You curious folks will be able to wow your friends with answer to such questions as "How Many Jazz and Blues Artists have Lifetime Achievement Awards?" or "Who Was The First (and Only) Jazz Artist to Win Artist of the Year?" or "What two Jazz 88 Hosts have received a Lifetime Achievement Award?" or you can make up your own "San Diego Music Awards Jazz and Blues Trivial Pursuit" game and play it with your friends!
READ THE ENTIRE ARTICLE
for the complete list by year...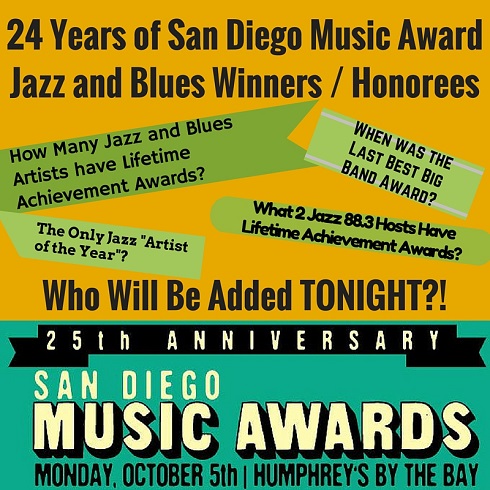 Pianist Geoffrey Keezer and vocalist Gillian Margot are back in San Diego, playing two shows in September and October that promise to take the duo thing they have been working on to new places, literally. The two dropped into the Jazz 88.3 studios to chat with Vince Outlaw on The New Jazz Thing on Monday, September 14, 2015, bringing new, unreleased recordings they made to "give people an idea of what we do sound like when it's just the two of us" and chatting about the upcoming shows ("in the round" at Dizzy's on Thursday, September 17 and at The Glashaus with strings on October 13), how their working relationship has evolved, Gillian's time in Hong Kong before the release of this year's "Black Butterfly", and what else San Diego's own Geoffrey has been up to.
READ THE FULL ARTICLE
for audio of the interview and a full transcript...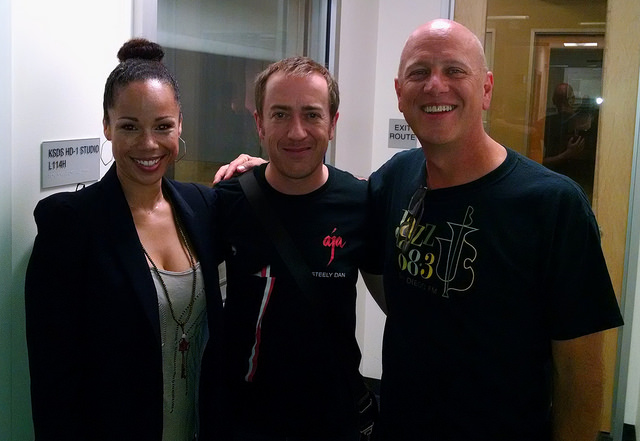 Jazz 88.3 is proud to support "
The International Academy of Jazz: San Diego.
" Directed by brilliant trumpeter,
Gilbert Castellanos
, The International Academy of Jazz: San Diego" is a 501c 3 non-profit and San Diego's ONLY full-academic year program for our young, aspiring musicians (ages 10-18). The IAJSD is currently accepting new students for the 2015-2016 program year. Opening day is
THIS(!)
Saturday, September 5th at
10AM
at the Music Department at Grossmont College (Opening day is
FREE
to the public)! For more information or to register your child for the program, simply click
here
!
HEAR IAJSD Executive Director Guy Gonzales...

Gilbert stopped by the KSDS-FM Jazz 88.3 studios on Wednesday, August 26, 2015 for a live, on-air chat with
Afternoon Jazz host Ron Dhanifu
about all of those next steps plus the mentorship that Dizzy Gillespie gave him that inspires him to do the same to the next generation, and more.
READ THE FULL ARTICLE
for Jazz 88 Speakeasy Audio of the interview along with a full transcript...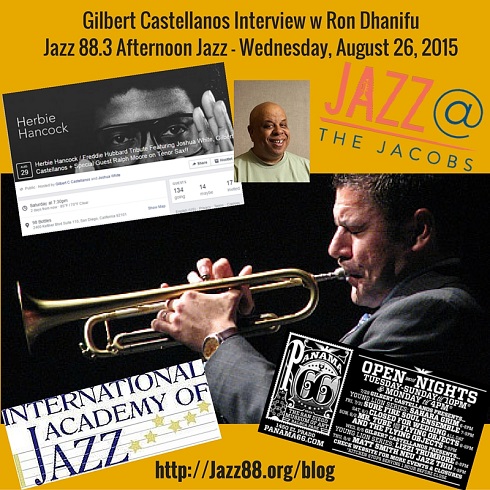 Support Jazz 88.3
while you shop at
Pat Launer's Center Stage