MONTY ALEXANDER – "HARLEM-KINGSTON EXPRESS-LIVE!" (Monty paying
homage to his Jamaican roots, with a wide variety of songs).

TERI LYNNE CARRINGTON – "THE MOSAIC PROJECT" (A vocal album, featuring
a variety of female vocalists, with an extremely varied choice of material).


The Guardian (John Fordham)
:
Anyone who caught American drummer Terri Lyne Carrington's performance at the recent Barbican show featuring Dianne Reeves, Angelique Kidjo and Lizz Wright will want to check out this star-packed session.
Parlato's diametrically different and resonantly intimate accounts of I Got Lost in His Arms and the Beatles' Michelle follow.
ETIENNE CHARLES – "KAISO" (Mostly straight-ahead session from this trumpeter,
with small group, orchestral and vocal tracks).
JOHN DAVERSA – "JUNK WAGON: THE BIG BAND ALBUM" (Very progressive
big band session, with strong use of electronics).
ELLEN KAYE – "3AM-THE DOGS, THE MILKMAN & ME" (Female vocalist, with a
distinct mix of old and new standards).
CHUCK REDD – "THE COMMON THREAD" (Vibist, leading a straight-ahead session,
doing mostly jazz tunes and standards).
SCENES – "SILENT PHOTOGRAPHER" (Edgy guitar trio, doing mostly originals, with
a few jazz tunes).
THE YOUNG LIZARDS
– "OUR MODERN LIFESTYLE" (Sax/organ quartet, doing
mostly jazz tunes, with a couple of originals).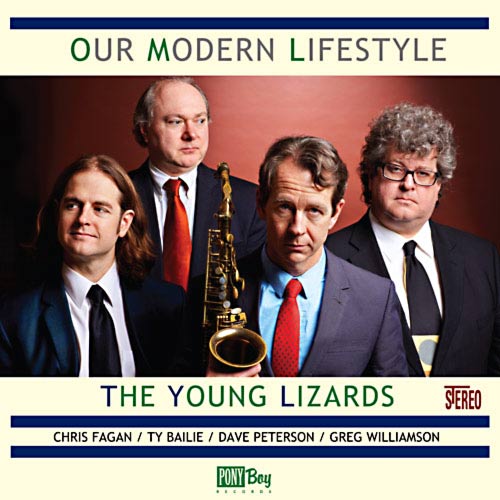 Did I say "ME"?…..I meant "us"…because there is no "me" in "famous";) So we are working on the production end of a new CD, meaning the tracks are selected, EQ'd and mixed and now it's just all that other stuff like artwork, liner notes, etc. All the stuff that I hate to do and aren't much good at such as: