2011

Lots of new names in this weeks Adds to the JAzz 88 Music Library, but some familiar also with Marsallis and Mehldau bring the New! Speaking of that, we'll be debuting this on The New Jazz Thing with Vince Outlaw, Monday, October 24 6-8 PM PT!

JD ALLEN – "VICTORY!" (Sax player, leading a pianoless trio, doing all originals).


AllAboutJazz.com(Dan Bilawsky): Many artists seem to move rapidly through different ensemble configurations, as if they're trying to finish off a career to-do list. When an exceptional artist is willing to take the time to fully explore a specific format, like the saxophone-bass-drums trio, and develop an ensemble identity, it's a true

Victory!

and cause for celebration.

Victory!

—his third trio outing for the Sunnyside label—is indicative of the fact that Allen keeps getting better with age.The saxophonist's fascination with sonata form, which deals with a theme, development and recapitulation, plays a big part in his compositional approach and the overall structural arc of the album, but the brief duration and architectural integrity of the music aren't the only notable aspects. General Patton once addressed the need to "accept the challenges so that you can feel the exhilaration of victory," and this

Victory!

is, indeed, exhilarating.

GERALD BECKETT – "STANDARD FLUTE" (Flute player, doing a collection of jazz
tunes. Depends how you feel about electric piano).



PATRICK CORNELIUS (@PCorneliusJazz, FB) – "MAYBE STEPS" (Alto sax player, leading a quintet, doing
mostly originals. A little on the edgy side, but generally accessible).


TheJazzWord (John Barron): Cornelius' playing can be cutting and bold in one moment and soft and wistful in another. Capable of drawing out lengthy, winding lines, shaped with sense and purpose, he demonstrates schooled technique and street-savvy phrasing.

JEFF GAUTHIER GOATETTE – "OPEN SOURCE" (Viola player, leading a
progressive session, doing mostly original compositions).


LATimes Culture Monster (Chris Barton): Somewhere between running the forward-looking local jazz label Cryptogramophone and co-organizing the Angel City Jazz Festival, violinist Jeff Gauthier finds time for his own ensemble. Now on the cusp of its 20th year, the Goatette again features Gauthier with longtime collaborators Nels and Alex Cline, twin brothers who have helped anchor the L.A. improvised music scene with Gauthier since the '70s. Add in a 14-minute title track that closes things out with a journey from ambient improvisation to an electrical storm of melodic drive and there's much to be said for Gauthier still making time for old friends.

WYNTON MARSALIS (@WyntonMarsalis, FB) – "SELECTIONS FROM 'SWINGING INTO THE 21ST
CENTURY'" (Redux, from a soon to be released boxed set of some of his previous
recordings).


To celebrate Wynton's 50th birthday, highlights from those nine albums plus his career-defining masterpiece All Rise have been selected by the artist for one new compilation:

SWINGING

INTO

THE

21st!

BRAD MEHLDAU (FB, ) / KEVIN HAYS – "MODERN MUSIC" (Piano duet recording,
featuring mostly originals, with a couple of classical pieces).



The Guardian (John Fordham): This fascinating session is therefore not only a mix of jazz and modern compositional materials (pieces by Zimmerli, Steve Reich and Philip Glass join the pianists' own originals), but an exploration of what happens when a non-jazz composer's approach shapes the frameworks for improvisation.

NEW WEST GUITAR GROUP (FB) – "ROUND-TRIP TICKET" (Trio of guitarists, groovin'
to contemporary originals).


AllMusic.com(Rick Anderson): Formerly the New West Guitar Quartet, the New West Guitar Group (now a trio) also used to be more or less a jazz ensemble. Those who have been paying attention to the group's evolution, however, won't be surprised at the almost complete lack of anything that seriously resembles jazz on this album. Everything is so pleasant and inviting that unless you're paying close attention you're liable to miss the jagged complexities that sometimes lurk underneath these tunes' shimmeringly lovely surfaces -- like the nasty 7/8 time signature on which the lovely "Crooked Railroad" is built. Every track features a rich blend of acoustic and electric textures, and the arrangements are so expertly put together that the trio's sound sometimes verges on the orchestral.

PHIL NORMAN TENTET – "ENCORE" (Large ensemble, doing originals and fresh
takes on classic big band tunes).


Summit Records (Jersey Jazz):

Phil Norman leads his critically acclaimed Tentet (the cream of the crop of LA-based session men; Carl Saunders, Andy Martin, Ron Stout, Roger Neumann, Larry Koonse, Rusty Higgins, Scott Whitfield, Tom Rizzo, Christian Jacob, Kevin Axt, Dick Weller, and Brad Dutz)

.

Their previous MAMA release stayed, which was 'live', stayed on jazz radio's Top 50 chart for 24 straight weeks.

The songs are first rate, the arrangements sublime, and the blowing will knock your socks off.

This is music that will settle easily on the ears of diggers of fine jazz sounds.



ERIC REED – "SOMETHING BEAUTIFUL" (Piano trio, doing a mix of old and new
standards and originals, straight-ahead).


AllMusic.com (Ken Dryden): In a world where so many young jazz artists feel the need to feature programs consisting exclusively of originals on their debut recordings as leaders, it is refreshing to hear a veteran like pianist Eric Reed, who plays a wide range of forgotten gems, some standards, and jazz favorites along with inventive renditions of songs from gospel, pop, and his own compositions. Eric Reed's Something Beautiful showcases a seasoned artist who is very much at the top of his game.

KENNY SHANKER – "STEPPIN' UP" (Alto saxophonist, leading a quintet, doing
mostly originals).


AllAboutJazz.com(Bruce Lindsay): Kenny Shanker has worked extensively since graduating from the Manhattan School of Music in 2001, playing with the New World Symphony, and the Tommy Dorsey and Nelson Riddle Orchestras, among others. The young alto saxophonist recorded his debut album as leader,

Steppin' Up

, in April 2009 but it's taken almost two-and-a-half years for it to be released. It's a shame that it has stayed in the vaults for so long, for Shanker's melodic and accessible brand of straight-ahead jazz is immediately enjoyable, with enough twists and turns to reward repeated listening.

STRANAHAN / ZALESKI / ROSATO – "ANTICIPATION" (Piano trio, doing an edgy
mix of mostly band originals).


Ottawa Citizen (Peter Hum - Jazzblog):

Anticipation,

which was released last week, also features the kinds of complex and contemporary rhythmic and harmonic ingredients that younger players take to like catnip. However, tastefulness and musicality always come first for the trio — complexity and trendiness aren't the points of the music.Stranahan is 25, and his studies include stints at the Brubeck and Monk Institutes, as well as at the New School University. He's performed with Herbie Hancock in India and toured globally in Kurt Rosenwinkel's trio. Zaleski is a 24-year-old who went to the Brubeck Institute and the New School, where he is now an adjunct faculty member. (He also competed this year in the Cole Porter and Thelonious Monk jazz piano competitions.) Rosato, a 23-year-old Montrealer, studied at the New School, is finishing his Master's degree at McGill University and has shared stages with Ari Hoenig and Aaron Parks.

DWIGHT TRIBLE – "COSMIC" (Male vocalist, doing an eclectic mix of tunes.
Suitable for Nights Only).


Burrell, Carter, DeFrancesco...and that's only the first 3 of the great discs being added this week to the Jazz 88 Music Library! I will be debuting as many as I can get to in 2 hours during The New Jazz Thing, Monday October 17, 2011 6-8 PM PT!

KENNY BURRELL – "TENDERLY" (Live solo recording by one of the greats).


I'm amazed that Kenny doesn't have some sort of bigger web presence. Or any press / information on this release out.
JazzDepot (HighNote Records): Beginning with his recording debut with Dizzy Gillespie on "Tin Tin Deo" and "Birk's Works" guitar master Kenny Burrell has recorded well over 100 records as a leader and countless more as a sideman with the likes of Oscar Peterson, John Coltrane, Frank Foster, Kenny Clarke and others. Recorded live in concert, "Tenderly" features Kenny alone on stage in a solo guitar recital with an array of instruments from which he selects to suit his concept of the music at hand. Whether he is swinging on a blues, caressing a ballad out of his six strings or stringing together garlands of songs into leisurely medleys, Kenny Burrell remains one of the most popular and respected guitarists in the history of jazz.

JAMES CARTER ORGAN TRIO – "AT THE CROSSROADS" (Saxophonist, in straight-ahead,
somewhat edgy groove, with some vocal tracks).


AllAboutJazz.com (Brent Black): these two mighty forces, Carter leaves the labeling of this release to the listener. After the groundbreaking fusion of European classical with jazz improvisation and Afro-Caribbean rhythms on

Caribbean Rhapsody

(EmArcy, 2011), Carter continues to defy standard categorization while focusing on a more roots-oriented release that may well be a look at his hybrid musical soul.

At The Crossroads finds Carter organic and raw yet razor sharp, with a defined focus and passion that not only makes it a noteworthy release, it may well raise the bar for jazz overall.


JOEY DeFRANCESCO (FB, @JoeyJazzOrgan) – "40" (Straight-ahead organ trio, mostly originals).


KEN FOWSER / BEHN GILLECE – "DUOTONE" (Typically good, straight-ahead session of
originals from the saxophonist/vibes leaders).


SaxShed: Ken Fowser has entered a world of jazz riddled with well-trained, technically proficient and creative tenor saxophonists. Somehow his sweet sound is his own, never sounding like anyone but himself. He and Behn Gillece have surrounded themselves with a cohesive ensemble of like-minded musicians who can make their case within only a few, well constructed choruses.

DANNY FOX TRIO (FB)– "THE ONE CONSTANT" (Piano trio, with a lot of edgy moments.
Good, but not suitable for mornings).


JazzWrap (Vern):

The One Constant

is an excellent debut from an American trio with bold, expressive ideas. The Danny Fox Trio might be one of those under-the-radar groups that you better get to know quickly because we may be talking about them for a long time to come.

MARK HARRISON QUINTET (FB, – "JUST ADD WATER" (Keyboardist, leading a contemporary
session of originals).


Music Life: Mark's goals for the Quintet and for their latest CD are very simple. "I want to chart our own territory in the jazz world, by creating substantive and interesting music that is accessible to the ear of the listener", says Mark, "I'm thrilled when people come to our shows who are not diehard jazz fans, and yet they still feel our grooves and hum our tunes when they leave".

GRACE KELLY (FB, @GraceKellyJazz)– "GRACE" (Saxophonist, doing Jazz versions of religious tunes).



MARY LOUISE KNUTSON – "IN THE BUBBLE" (Pianist, leading a trio, in straight-ahead
standards and originals).


Jazz Police (Andrea Canter): It all flows so easily that it is hard to imagine the sweat and frustration that challenged Mary Louise as she wrote the music for this project. "During the months I spent composing and arranging, there were times where my creative well seemed bone dry," she admits. "I couldn't come up with any satisfying ideas for tunes or even ideas that would develop or complete tunes. That was very frustrating and frankly, a bit depressing. I just had to show up everyday and try to compose something and trust that eventually the inspiration would be there...and luckily it was."

ALAN LEATHERMAN (FB, @Alan_Leatherman)– "DETOUR AHEAD" (Male vocalist, doing Jazz tunes and the Great
American Songbook).



CURTIS MacDONALD – "COMMUNITY IMMUNITY" (Saxophonist, doing edgy originals).


AllAboutJazz.com (Dan Bilawsky): While Macdonald graciously shares space with his band mates and guests, it's his own unique voice that really defines his work. His saxophone can be a beacon of clarity ("Community Immunity") or a bird of prey ("Second Guessing"), depending on his mood, but his ideas are always intriguing. With

Community Immunity

, Curtis Macdonald establishes himself as one who stands apart from the rest but, with a such a unique musical statement, he just might be embraced by the jazz community at large...if such a thing exists.

DAVID MURRAY CUBAN ENSEMBLE – "NAT KING COLE EN ESPANOL" (Latin big band
grooves to Nat's tunes, with 4 vocal tracks).


ANTHONY E. NELSON, JR. (FB)– "TENOR FOR TWO" (Saxophonist, leading a quartet, with a
straight-ahead mix of standards and originals).


CDBaby:

Nelson's sound is distinctive, developed, pure and soulful. At his age of thirty-three this is a real achievement. Though he plays other saxophones, when asked, why he chose to play tenor only he explained, "tenor saxophone is my main instrument, the one I feel the most comfortable with."



SEAN NOWELL (@NowellSounds)– "STOCKHOLM SWINGIN'" (Saxophonist, leading a quintet, doing a mix of
jazz tunes and originals).


JazzWrap: With

Stockholm Swingin'

you get the feeling if you've been listening to Sean Nowell for awhile and that he really let the wheels off the wagon and just went for it this time. This is a live session that works on many levels. It's perfect for many traditionalists and a nice opening for new fans.

This is the sound of modern standard jazz. It is good for all. Enjoy...



PILC-MOUTIN-HOENIG – "THREEDOM" (Edgy piano trio, doing a mix of standards and
improvisations).


@CriticalJazz: This is not jazz that you embrace. This is jazz that embraces you. If you listen.

JEN SHYU (FB) & MARK DRESSER – "SYNASTRY" (Progressive vocal/bass duo recording).

PopMatters (John Garratt)
: As for the remainder of the album, it's not really fair to say these two are disconnected. In fact, it's hard to make that call at all since these lighter-than-air vignettes don't convey any special telepathy. And it doesn't help that Jen Shyu is constructing her songs while her head is in academic la-la land. So many of her texts come from obscure origins, ones that destroy any chance you would have for diving into and surrendering unto the music.
AllAboutJAzz.com (Tim Niland)
:
the real focus of the music is the blending of their particular voices, weaving and blending the hues and colors of sound and occasionally dancing around each other in a hypnotic and unique arrangement that is uniquely improvisatory but calling forth other music from around the world and across time. While this album can be quite a challenging listen, the two musicians represented here are truly trying to break new ground, and ask people to re-think the nature of jazz and improvised music in general.
JEREMY UDDEN
'S PLAINVILLE – "IF THE PAST SEEMS SO BRIGHT" (Very eclectic and
edgy mix of sounds from this saxophonist).
AllAboutJazz.com (Troy Collins)
: Overblown jazz fusion clichés are largely a thing of the past among younger performers like Udden, who have come of age exposed to a diverse array of genres and aesthetic approaches; Plainville is a prime example of how once seemingly disparate styles can inspire subtly tasteful new hybrids.
If the Past Seems So Bright
enhances sophisticated jazz structures with the emotional candor of contemporary roots music, expanding the possibilities of both traditions in the process.
WELLSTONE CONSPIRACY
– "HUMBLE ORIGINS" (Great quartet recording, with all band
originals except for one Beatles' tune).
Origin Records
: Now in their 6th year of performing together, the collective of saxophonist Brent Jensen, pianist Bill Anschell, bassist Jeff Johnson, and drummer John Bishop continue to display their richly empathetic approach to melody and rhythm as they explore a new set of originals on their third recording together. From Jensen's swinging tribute to mentor, Lee Konitz, "All of Lee," to Bill Anschell's completely original take of the Beatle's "Fixing a Hole," the group allows the music to flow, unhurried and displaying a patient rapport that reveals moments worthy of many repeated listens.
YOTAM
– "BRASIL" (Guitarist, leading a variety of band configurations, doing great Jazz
versions of the Great Brazilian Songbook).

Tonight, Monday October 10, 2011 6-8 PM PT on The New Jazz Thing on Jazz 88.3 (88.3 FM SAn Diego Webcast http://Jazz88.org)


Here's what we are adding to the Jazz 88 Music Library and debuting on The New Jazz Thing, Monday, October 17, 2011...
DEE BELL (FB)– "SAGACIOUS GRACE" (Female vocalist, doing a straight-ahead mix of standards
and jazz tunes, backed by an all-star band).
FREDDY COLE – "TALK TO ME" (Male vocalist, doing a straight-ahead mix of obscure and
new standards).
Critical Jazz: Instead of taking a victory lap of exclusive club and festival dates or perhaps cooling his heels in Las Vegas, Freddy Cole releases a follow up to the Grammy nominated "Freddy Cole Sings Mr. B" that may just bring home the Grammy some argue he should have received last year. Sophisticated in style and as comfortable as a favorite pair of jeans, Freddy Cole continues to please!
MAC GOLLEHON – "ODDYSSEY OF NOSTALGIA" (Trumpet-led sessions, doing some
vintage tunes and originals, with some vocals by Amina Claudine Myers).
TIM HAGANS (FB )– "THE MOON IS WAITING" (Trumpeter, leading a progressive session. 2011 Grammy Nomination for Best Instrumental Composition "Box of Cannoli" on The Avatar Sessions).
AllABoutJazz.com (Dan Bilawsky): Hagans has proven to be a master compositional architect in more formal settings, but his ability to let loose with this small group is the key to its success. The Moon Is Waiting is a marvel of elastic expressions from one of the most shrewd and intelligent minds in jazz today.
LENORA ZENZALAI HELM (FB)– "I LOVE MYSELF WHEN I'M LAUGHING…" (Female
vocalist, doing a mix of original and jazz tunes, on the edgy side).
AllAboutJazz.com: the award-winning, Chicago-born vocalist, composer, lyricist, arranger, educator and former U.S. Jazz Ambassador Lenora Zenzalai Helm brilliantly illuminates the jazz world with this soulful and spectacular 13-track CD. It features music and lyrics inspired by two Chicago storytellers, and by writers Zora Neale Hurston, Neale Donald Walsch and Alice Walker, Robert Kennedy, biographers Gene Santoro and Ross Russell, poets Rudyard Kipling and Sam White, and the music and lyrics of Duke Ellington, John Coltrane, Charles Mingus, Thelonious Monk, Jon Hendricks and Joni Mitchell.
JASON KAO HWANG – "CROSSROADS UNSEEN" (Extremely progressive collection of
originals).
AllAboutJazz.com (Karl Ackerman): The notion that the next great force in new jazz could be a violinist may seem a bit incongruous, but Crossroads Unseen is fresh, exciting and creative, and one of the best recordings of the year.
MIKE LeDONNE – "KEEP THE FAITH" (Straight-ahead organ grooves, with Eric Alexander
playing sax).
Music and More (Tim Niland): The whole album is played quite well and will be a treat for fans of organ based jazz. There are excellent solos throughout the music, but it is the groups compatibility and their ability to work together toward and ego-less common ground that is most noticeable.

MIKE LONGO TRIO + 2 – "TO MY SURPRISE" (Mostly quintet, with some trio tracks, playing
a mix of originals, standards and jazz tunes).
FAME Review: a CD loaded up with nothing but first-rung talent: Bob Cranshaw on bass, Lewis Nash on drums, Jimmy Owens on trumpet and flugelhorn, and Lance Bryant on tenor sax. That's it. No guest sit-ins other than that '+2'. No sweetening. Just a quinteted-up trio playing its extremely sophisticated brains out.
RENE MARIE (FB, @manaymanee)– "BLACK LACE FREUDIAN SLIP" (Female vocalist, doing straight-ahead
originals).
Blogcritics.org (David Bowling): Rene Marie may not be a well-known name, but she has quietly built a catalogue of music that can match most jazz singers active today. If you are in the mood for some interesting and well sung jazz, then Black Lace Freudian Slip is an album for you.
NEW TRICKS (FB, @NewTricksJazz)– "ALTERNATE SIDE" (Pianoless quartet, doing progressive originals).
AllAboutJazz.com (Greg Simmons):

Here's something you don't read in album liner notes every day: "We recorded in Shawn's apartment...using only blankets wrapped around music stands for audio separation." New Tricks has seemingly recorded Alternate Side... in some no-frills circumstances, but there's truth in the old saying that adversity sometimes brings out the best in people. This piano-less collective, featuring a trumpet and tenor sax front line, plays an energetic brawl of traded solos, hard bop melodies, and freely constructed harmonization. Likely because of the way it was recorded, Alternate Side... has a live-in-studio feel to it—four guys just playing in a room—and they sound like they're really enjoying the session. The result is a truly creative record that trades in spontaneity rather than polish.
BILL O'CONNELL – "TRIPLE PLAY PLUS THREE" (Pianist, backed by all-star Latin
musicians, doing mostly originals).
JASON ROBINSON AND ANTHONY DAVIS – "CERULEAN LANDSCAPE" (Progressive
collection of originals).
HOLLI ROSS – "YOU'LL SEE" (Female vocalist, backed by an all-star band, doing standards
and 2 tunes she co-wrote with Claudio Roditi).
THE SPOKES – "NOT SO FAST" (Horn trio, playing an eclectic, progressive mix of originals).
TUNNEL SIX – "LAKE SUPERIOR" (Sextet, doing an edgy mix of band originals).
UMOJA – "DANCE OF THE KALAHARI" (Straight-ahead collection of originals, with Afro-
Cuban subtext).

Taking notes for TNJT on Monday, October 3, 2011....

Here are the 2011-10-03 Adds To The Jazz 88 Music Library which we will be playing as much as we can from:

I will be chatting with Jacob Fred Jazz Odyssey pianist Brian Haas about their new Race Riot Suite disc (added @Jazz88 8/29/11) and upcoming 10/5/11 UCSD Loft gig.(with ultra cool special guests Peter Apfelbaum, Mark Southerland, UCSD Professor David Borgo, Yvette Jackson, and Andy Geib (Wise Monkey Orchestraj....this is going to be one wild adventurous concert!!!) Cool!



Interview Online NOW! http://jazz88.org/programs/The_New_Jazz_Thing/

Next Week (10/10/11) - Double whammy Jazz Innovator Interviews with Gary Burton (plays Neurosciences 10/12) and Stanley Jordan (plays Anthology SD 10/14)!

Last Week (9/26/11) - Interview with Sammy Figueroa about his New "Urban Nature" available to listen to online!


The New discs being added to the Jazz 88 Library this week include familar names (Benson, Scofield, McBride), upcoming interviews/shows (Stanley Jordon on TNJT 10/10, at Anthology 10/14), old friends (Ali Ryerson played Jazz Live San Diego September 2006), big band (!), guitar, vocal (Milman!), and more! I'll be debuting much of this on The New Jazz Thing with Vince Outlaw, Monday October 3, 2011 6-8 PM PT...Listen Now!

GEORGE BENSON (FB, @GBGuitar) – "GUITAR MAN" (Mix of contemporary and straight-ahead tunes,
with some vocals. A mix of old and new standards).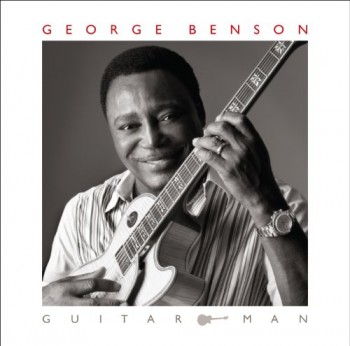 Guitar International (Vince Lewis): George Benson is a true chameleon, but mostly one of the finest jazz guitarists of all time. His masterful interpretation of pop tunes and jazz standards has long been a source of inspiration to aspiring musicians. He has been active for over five decades and has over 30 recordings as leader, and to top it off, he's been awarded ten Grammy awards. His ability to cross over into the "commercial" arena while still maintaining a quality improvisational approach is matched only by the late Wes Montgomery. Benson's moving vocal stylings are developed from his terrific sense of instrumental phrasing, and they are equally impressive. This recording is a "must have" for any George Benson fan. It is also a terrific introduction for those listeners who may have grown up just a little later than some of us. It is an opportunity to hear a fine musician and vocalist do what he does best…a variety of crowd pleasing but substantive material.

MAUREEN CHOI (FB,@MaureenChoi) – "QUARTET" (Violinist, leading a quartet, doing a mix of straight-
ahead originals and standards).


JazzCorner.com (Robert Sutton): It's like a siren's call, a lush, hypnotic melody that reels in the senses and then stimulates them. The sound of Maureen Choi's violin has that kind of effect. On the Maureen Choi Quartet's self-titled latest album, the worlds of classical and jazz unite in a harmonious marriage, and her gorgeously expressive violin is the bridge that connects them.



CECILIA COLEMAN BIG BAND

– "OH BOY!" (All original big band swingers).
AllAboutJazz.com (Edward Blanco)
:
Cecilia Coleman never set out to become a big band leader, stating that it was "never a dream of mine to have a big band," but the Cecilia Coleman Big Band is her new reality—and Oh Boy!, what a swinging affair, this very first recording effort turns out to be. This is classic big band music infused with a bolt of raw energy and mounds of excitement.

STANLEY JORDAN
(
FB
) – "FRIENDS" (Virtuoso guitarist, doing a mix of contemporary
tunes and straight-ahead standards).
AllAboutJazz.com (Larry Taylor)
: His virtuosity and improvisational prowess are a given, and on
Friends
, he also shows his skill on piano on two numbers. Primarily, he brings in old pals from various backgrounds and delivers terrific arrangements, ranging across the jazz spectrum, mixing in originals with swing, post bop, samba, blues, pop and a couple from Bartók and Chopin. Jordan makes roughly two appearances with each main guest, with all the pairings in different styles; all are great. In a press release, Jordan says that this collection truly speaks to his belief that ..."when you integrate styles, you combine them into something new while still remaining true to the original sources." His best argument is this recording.
KEVIN KIZER
QUARTET – "ASPECTS" (Saxophonist, leading a quintet with violin
and guitar, doing and edgy collection of originals).
LISA MAXWELL
(
FB
)– "HAPPY" (Female vocalist, doing the Great American Songbook).
Jazz Lives
:
Lisa has all the virtues any singer could ask for. Her voice is appealing; her rhythm glides; her phrasing is all her own. She knows that each song is its own little playlet. Without dramatizing, she lets the song itself take center stage.
CHRISTIAN McBRIDE
(
FB
,
@McBridesWorld
) BIG BAND – "GOOD FEELING" (Swinging, straight-ahead
big band, with 3 vocals by Melissa Walker).
AllAboutJazz.com (Something Else!)
:
there is the sense that this record has been percolating for some time and, like most worthwhile things that are given that chance,

The Good Feeling

is far better for it.
SOPHIE MILMAN
(
FB
,
@SophieMilman
)– "IN THE MOONLIGHT" (Female vocalist, doing a nice mix of
standards).
Exystence
: Milman covers the full range of styles without ever leaving the romantic jazz oeuvre.Throughout In the Moonlight, Milman's voice is it's great asset, giving the songs a light sexy touch. She has a voice I can listen to all day, but that lets the songs shine. And while it's nothing you haven't heard before, it's one of the better examples of the vocal style.
CAROL MORGAN
QUARTET –
"BLUE GLASS MUSIC
" (Pianoless quartet, doing a
mix of standards and originals).
As she was en route to the studio on that beautiful spring day, the world took on a new look. The warm, sunny, vibrant colors were all shaded in a lovely and surprising way. She kept remarking about it, and one by one, the musicians all tried on the blue glasses. At some point, while listening to a playback, Carol remarked, "Blue Glass Music." Just another example of why Carol Morgan is one of my heroes. That emotional availability, that "in the moment" mentality is exactly what makes her such a unique voice in jazz, and of course, exactly what we all should be striving for. It keeps me coming back again and again.
ALI RYERSON
–
"CON BRIO!"
(Flutist, leading a session of originals and standards).
Ali Hits Home With A New Flute...
: Working with an old friend,
Pete Levin
-- keyboard player for the legendary
Gil Evans Orchestra
-- the two decided to make the CD a more integrated piece of music, rather than just a collection of standards. The musicians on the recording -- Ryerson, Levin, vibraphonist
Mike Mainieri
, guitarist
Mike DeMicco
, bassist Egan and drummer
Danny Gottlieb
-- are all great musicians, "I mean Danny Gottlieb and
Mark Egan
were
Pat Metheny
's original rhythm section,'' Ryerson said.
JOHN SCOFIELD
– "A MOMENT'S PEACE" (Usually edgy guitarist, in a relatively
subdued session, featuring mostly standards).
AllAboutJazz.com (John Kelman)
:
A Moment's Peace
might be perceived by some, a least on the surface, as an album of little risk—without Scofield's usual fire and grease, set that might appear to coast when it ought to soar—but it may well be Scofield's biggest gamble. Those prepared to accept the album on face value, as an hour's respite from life's normal hustle and bustle—or, who are patient enough to dig deeper for its beyond-the-norm look at a handful of potentially worn-out standards, here reinvigorated; a quintet of perfectly dovetailing originals; and a couple of truly surprises song choices—will find plenty to love about
A Moment's Peace
—an album whose greatest charms are revealed not after one or two listens, but after ten or twenty.
MATT SLOCUM
–
"AFTER THE STORM"
(Drummer, leading a trio with pianist
Gerald Clayton, with a mix of standards and originals).
REUBEN WILSON
TRIO – "REVISITED" (Organist, grooving standards and originals).
Click +1 if you like this song
City College Student Radio
KSDS HD2
Listen Live
Pat Launer's Center Stage
Click on the +1 button
if you like this page