Quanity AND Quality in this LARGE list of Adds to the Jazz 88 Music Library the weeks of August 11 and 18 2014. Walton, Longo, Dr. John, Harrell...some of the biggest names in Jazz...all have new releases out...and that's only a small part of the New Jazz being made and released this week...JAZZ LIVES and THRIVES!
You can check out their Jazz 88 DEBUT on The New Jazz Thing @Jazz88, Monday, August 18, 2014 between 6 and 8 PM PT (Update: LISTEN to the Jazz 88 Speakeasy archive of the show)!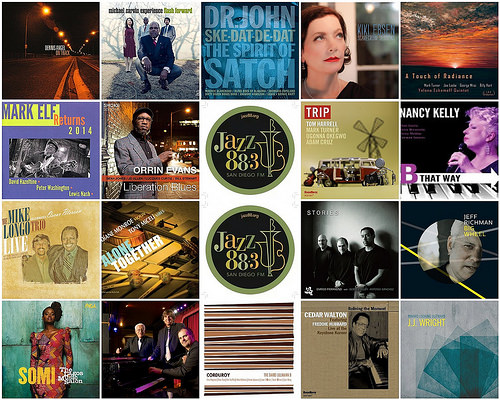 Adds For August 18, 2014
DENNIS ANGEL – "ON TRACK"
MICHAEL CARVIN EXPERIENCE – "FLASH FORWARD"
DR. JOHN – "SKE-DAT-DE-DAT: THE SPIRIT OF SATCH"
KIKI EBSEN- "SCARECROW SESSIONS"
YELENA ECKEMOFF – "A TOUCH OF RADIANCE"
MARK ELF – "RETURNS 2014"
ORRIN EVANS – "LIBERATION BLUES"
TOM HARRELL – "TRIP"
NANCY KELLY – "B THAT WAY"
MIKE LONGO TRIO – "CELEBRATES OSCAR PETERSON: LIVE"
DIANE MONROE/TONY MICELI – "ALONE TOGETHER"
ENRICO PIERANUNZI – "STORIES"
JEFF RICHMAN & WAYNE JOHNSON – "THE DISTANCE"
SOMI – "THE LAGOS MUSIC SALON"
"TRES COMPADRES"
DAVID ULLMANN 8 – "CORDUROY"
CEDAR WALTON – "RELIVING THE MOMENT"
J.J.WRIGHT – "INWARD LOOKING OUTWARD"
Adds To August 11, 2014
WAYNE CONIGLIO / SCOTT WHITFIELD – "FAST FRIENDS"
THE COOKERS – "TIME AND TIME AGAIN"
DMITRY MATHENY – "SAGEBRUSH REBELLION"
JAE SINNETT – "SUBJECT TO CHANGE"
"ANDREAS VARADY"
WALTER WHITE – "MOST TRIUMPHANT"
Read the full article for additional annotations, links to and quotes from reviews and releases, and your chance to comment on this week's New...