February, 2015

LIVE Monday, February 9, 2015, 6-8 PM PT @Jazz88 San Diego's Jazz 88.3 FM, Jazz88.org, and Apple/Android Apps to The New Jazz Thing @Jazz88 with Vince Outlaw
...Supported by Listener Contributors like YOU and...YOUR BUSINESS (
learn more about underwriting The New Jazz Thing!
). Tonight on the show...
Joshua White + Polyphase: San Diego's far reaching pianist continues upward this Friday, February 13, 2015 with Polyphase at The Loft at UCSD. Polyphase includes Rebecca Jade (vocals), Jeff Parker (guitar), Stephen McKinney (bass) and Greg McKninney (drums). The show at this Jazz 88.3 Partner in support of Black History Month at UCSD includes special guests Stevie and the Hi-Staxx featuring Josh Weinstein. Joshua will be joining us in Hour 1 of the New.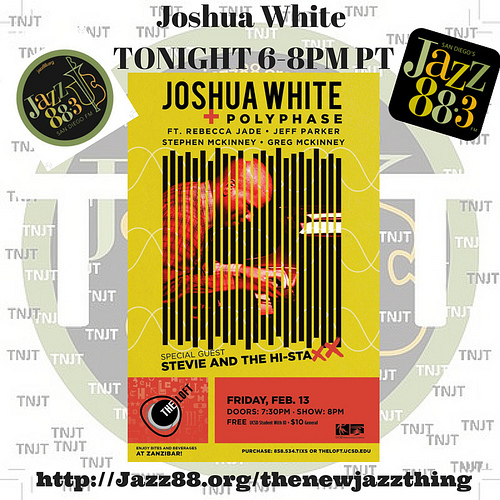 2015.2.9 New Jazz in the Jazz 88.3 Music Library:
More to come....

LIVE Monday, February 2, 2015, 6-8 PM PT @Jazz88 San Diego's Jazz 88.3 FM, Jazz88.org, and Apple/Android Apps to The New Jazz Thing @Jazz88 with Vince Outlaw
...Supported by Listener Contributors like YOU and...YOUR BUSINESS (
learn more about underwriting The New Jazz Thing!
).
Tonight on the show, Charles McPherson is LIVE in-studio for the world radio debut of his new release "The Journey" and to chat about this weekend's world premiere of his Jazz Ballet "Sweet Synergy Suite". We'll also be featuring cuts as two hours can hold from the New Jazz Releases being added to the Jazz 88.3 Music Library this week, a tune from Stan Getz, Jazz 88.3 Artist of the Week and preview of the week's Portrait in Jazz artists, a peak at the upcoming Jazz 88.3 Jazz and Arts calendar including Thursday 2/5/15 Jazz 88.3 Latin Happy Hour featuring Jaime Valle, and more.
READ THE FULL ARTICLE for Jazz 88 Speakeasy links replaying the show, the interviews, and more....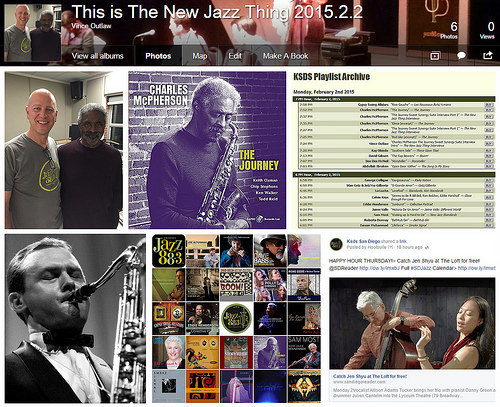 The riches of the new year continue with this week's of new jazz music being added to San Diego's Jazz 88.3 Music Library the week of February 2, 2015 and ready for your favorite Jazz hosts to choose the best and curate a playlist FOR YOU! You can hear them debut each Monday, 6-8pm PT on The New Jazz Thing with Vince Outlaw!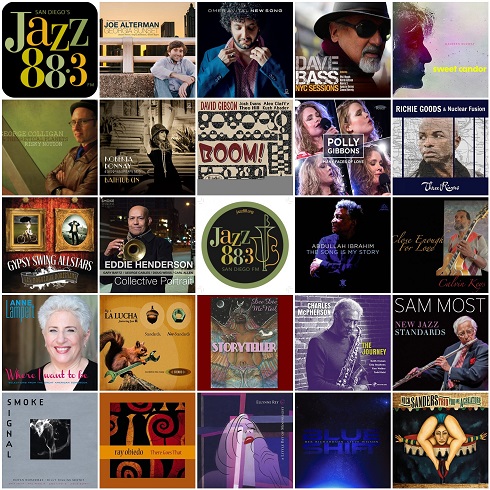 JOE ALTERMAN – "GEORGIA SUNSET"
OMER AVITAL – "NEW SONG"
DAVE BASS – "NYC SESSIONS"
MAUREEN BUDWAY – "SWEET CANDOR"
GEORGE COLLIGAN – "RISKY NOTION"
ROBERTA DONNAY – "BATHTUB GIN"
DAVID GIBSON – "BOOM!"
POLLY GIBBONS – "MANY FACES OF LOVE"
RICHIE GOODS & NUCLEAR FUSION – "THREE RIVERS"
GYPSY SWING ALL-STARS – "LES NOUVEAUX BOHEMIENS"
EDDIE HENDERSON – "COLLECTIVE PORTRAIT"
ABDULLAH IBRAHIM – "THE SONG IS MY STORY"
CALVIN KEYS – "CLOSE ENOUGH FOR LOVE"
ANNE LAMPERT – "WHERE I WANT TO BE - SELECTIONS FROM THE GREAT AMERICAN SONGBOOK"
LA LUCHA – "STANDARDS, NOT-STANDARDS"
DEE DEE McNEIL – "STORYTELLER"
CHARLES McPHERSON – "THE JOURNEY"
SAM MOST – "NEW JAZZ STANDARDS"
DAWAN MUHAMMAD/BILLY HIGGINS SEXTET – "SMOKE SIGNAL"
RAY OBIEDO – "THERE GOES THAT"
ELLYNNE REY – "A LITTLE BIT OF MOONLIGHT"
"REX RICHARDSON & STEVE WILSON"
NICK SANDERS TRIO – "YOU ARE A CREATURE"
READ THE ENTIRE ARTICLE
for additional annotations, links, and more....

Stan Getz, whose recording "Getz/Gilberto" won the Album of the Year, Best Jazz Instrumental, and Record of the Year (for "Girl from Ipanema") awards at the 1965 Grammy's, is the Jazz 88.3 Artist of the Week starting February 2, 2015, so you will be hearing his music, hand-picked and presented by YOUR Jazz 88.3 hosts all week!





Also in the spotlight each weekday in the Noon PT hour at Jazz 88.3, our
Portrait In Jazz
features are:
Stan Getz - Monday, 2/2/15 - Happy Birthday, Stan! B-February 2, 1927, D-June 6, 1991 (age 64)
Sonny Stitt - Tuesday, 2/3/15
Sadao Watanabe - Wednesday, 2/4/15
Bill Mays - Thursday, 2/5/15
Rufus Reid - Friday, 2/6/15
READ THE ENTIRE ARTICLE
for more on our featured artists this week...

You have sweated and you have swooned, but do you know Euphoria? You will soon enough! Jazz Live TONIGHT goes Mardi Gras with Euphoria Brass Band, 10 strong including Leonard Patton and Sue Palmer. Jazz 88.3 Members can reserve tickets online or by calling 619-388-3037. Hey man, be sure to grab a parking permit.
Support Jazz 88.3
while you shop at
Pat Launer's Center Stage