Among the 10 new releases in the Jazz 88.3 Music Library the week of June 29, 2015, there are 4 fantastic new Latin discs led by 50-time Grammy Nominated trombonist and leader Wayne Wallace's latest "Intercambio". Read on for the full list of new Latin and other Jazz releases, along with links to artist websites and more!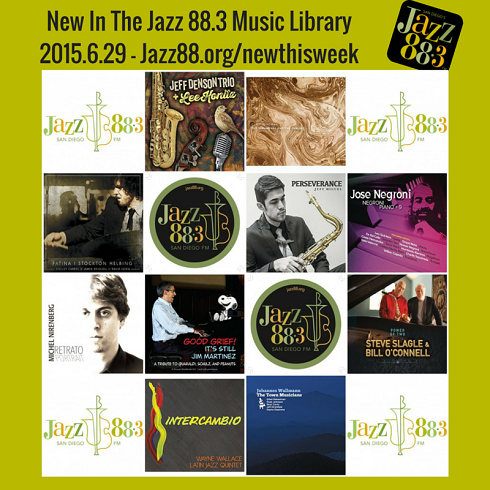 "JEFF DENSON TRIO + LEE KONITZ"
CHRIS DINGMAN – "THE SUBLIMINAL AND THE SUBLIME"
STOCKTON HELBING – "PATINA"
JEFF MIGUEL – "PERSEVERANCE"
JOSE NEGRONI – "NEGRONI PIANO + 9"
MICHEL NIRENBERG – "RETRATO/PORTRAIT"
JIM MARTINEZ – "GOOD GRIEF! IT'S STILL JIM MARTINEZ"
STEVE SLAGLE / BILL O'CONNELL – "THE POWER OF TWO"
WAYNE WALLACE LATIN JAZZ QUINTET – "INTERCAMBIO"
JOHANNES WALLMANN – "THE TOWN MUSICIANS"
READ THE FULL ARTICLE
for links to artists websites, release reviews, and additional listening notes from the Jazz 88 Music staff....