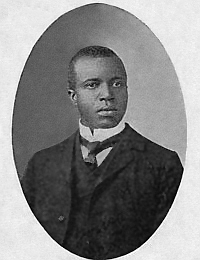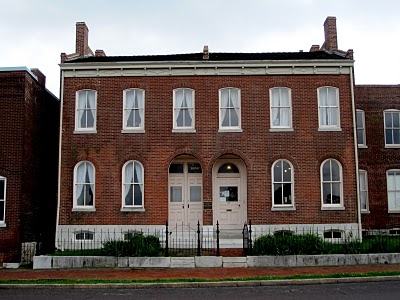 LEFT: Scott Joplin, "The King of Ragtime"; RIGHT: Scott Joplin House in St. Louis, Missouri, where the composer lived from 1900 to 1903. It is preserved as a State Historic Site.
The June 23, 2013 edition of
Johnny D's Jazz Journal
was the third all-new installment of a show I call "A Trip to the Keys: Jazz on the Family of Keyboard Instruments." Naturally, such a show will prominently feature the most elegant, most expressive, most dynamic of keyboard instruments, the acoustic piano, but I always look forward to digging up examples of jazz played on organ, harpsichord, celeste, clavichord, synthesizer, and accordion or bandoneon.
Here's what John D'Agostino is talking about:
Latest 5 blog articles...
Here are a few CD selections featured most recently:
Here are the 30 most recent tracks played on this show:
March 9th at 4 PM Hour
4:54 PM
Woody Shaw
"The Legend of the Cheops"

— The Complete Woody Shaw Columbia Albums Collection

4:50 PM
Grant Clarkson Quintet
"Mr Marino"

— Hearts Of Light

4:42 PM
Mike Smith
"Obi"

— Oceano Azul - Music Of DJavan

4:37 PM
ES2
"Our Man In Verona"

— Algorhythms

4:33 PM
Soft Machine
"Etika"

— Softs

4:30 PM
Paul Winter Consort
"Icarus"

— Icarus

4:21 PM
The Manhattan Project
"Michels Waltz"

— The Manhattan Project

4:16 PM
Lani Hall
"Tres Curumins"

— Brasil Nativo

4:11 PM
Charlie Rouse
"Rouse's Point [Album Version]"

— Unsung Hero

4:04 PM
Steve Cardenas
"Subconscious-Lee"

— Melody in a Dream

4:01 PM
Glen Gray & The Casa Loma Orchestra
"Casa Loma Stomp"

— Best Of The Big Bands: Glen Gray

March 9th at 3 PM Hour
3:57 PM
Marlene Dietrich
"Falling In Love Again"

— The Cosmopolitan Marlene Dietrich

3:52 PM
Lee Konitz Quartet
"Ezz-thetic"

— Ideal Scene

3:50 PM
Shawn Maxwells Alliance
"Song for Something Else"

— Shawn Maxwells Alliance

3:39 PM
Lyle Mays
"Falling Grace (Album Version)"

— Fictionary

3:36 PM
Lisa Hilton
"Blue Horizon"

— Kaleidoscope

3:32 PM
Leon Parker
"It's Only A Paper Moon"

— Above & Below

3:27 PM
David Sancious
"Crystal Image"

— Forest of Feelings

3:17 PM
Brian Melvin Trio
"Morning Start"

— Standards Zone

3:15 PM
Mose Allison
"Your Molecular Structure"

— The Sage Of Tippo Vol. 2

3:11 PM
Blue Mitchell
"Jamph"

— Three Classic Albums, Disc 1

3:02 PM
Moutin Factory Quintet
"Conflict"

— Lucky People

March 2nd at 4 PM Hour
4:55 PM
The Ali Ryerson Jazz Flute Big Band
"Girl Talk"

— Game Changer

4:51 PM
Amina Figarova
"Unacceptable"

— Sketches

4:45 PM
Melba Liston
"Zagred This"

— Melba Liston and Her 'Bones

4:41 PM
Sue Palmer
"Jakob's Boogie Woogie Lullaby"

— In the Green Room

4:33 PM
Terri Lyne Carrington
"Insomniac"

— The Mosaic Project

4:27 PM
Patrice Rushen
"Jubilation"

— Prelusion - Before The Dawn

4:21 PM
Marian McPartland
"Groove Yard"

— In My Life

4:16 PM
Amy Cervini
"Je Danse Avec La Neige"

— Jazz Country

- RSS feed of the 30 most recent tracks of the show.

Please leave comments