We've got a great stack of new music coming to the Jazz 88.3 Music Library the week of September 21, 2015, including previously unreleased Live performances from Mose Allison, "a sure-footed dispatch" from saxophonist Jon Irabagon (featuring the great Tom Harrell), and more! These new releases will be featured by all your favorite Jazz 88.3 hosts in the weeks to come!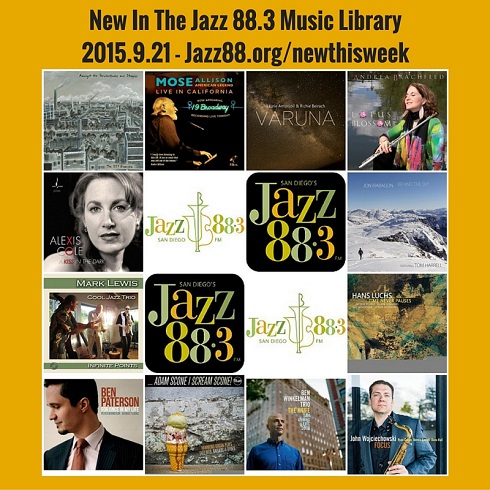 THE 3.5.7 ENSEMBLE – "AMONGST THE SMOKESTACKS AND STEEPLES"

MOSE ALLISON – "AMERICAN LEGEND: LIVE IN CALIFORNIA"

LAURIE ANTONIOLI & RICHIE BEIRACH – "VARUNA"

ANDREA BRACHFELD – "LOTUS BLOSSOM"

ALEXIS COLE & BUCKY PIZZARELLI – "A BEAUTIFUL FRIENDSHIP"

JON IRABAGON FEATURING TOM HARRELL – "BEHIND THE SKY"

MARK LEWIS COOL JAZZ TRIO – "INFINITE POINTS"

HANS LUCHS – "TIME NEVER PAUSES"

BEN PATERSON – "FOR ONCE IN MY LIFE"

ADAM SCONE – "I SCREAM SCONE!"

BEN WINKELMAN TRIO – "THE KNIFE"

JOHN WOJCIECHOWSKI – "FOCUS"
READ THE FULL ARTICLE for links to artists websites, release reviews, and additional listening notes from the Jazz 88 Music staff....
THE 3.5.7 ENSEMBLE – "AMONGS THE SMOKESTACKS AND STEEPLES"

2 discs of progressive originals.

"A trio, a quintet, a septet, and more..."

Comprised of Chicagoland musicians...part of the Milk Factory Productions creative collective.

Pianist/vocalist, performing many of his best known tunes, live.

"… Mose Allison is heard throughout this well recorded set at the peak of his powers, showing listeners just how unique and delightful he always was as a singer, pianist and songwriter. Highly recommended." - Scott Yanow, Jazz critic, author of 11 books including The Jazz Singers, Bebop, Jazz On Film and Jazz On Record 1917-76

Vocalist (Bay Area Native) and pianist, collaborating on a wide variety of tunes.

Antonioli's association with Beirach dates to the early 1990s when the two recorded(and released in 2005) The Duo Session (Nabel Records)

"They take "Valentine," "Haunted Heart," and "Over the Rainbow" and define the modern art song as if they breathed the same air as Schubert and Wolf."

ANDREA BRACHFELD – "LOTUS BLOSSOM"

(Flutist, with a great band, doing some very nice straight-ahead jazz).




ALEXIS COLE & BUCKY PIZZARELLI – "A BEAUTIFUL FRIENDSHIP"

(Female vocalist, with the guitarist, performing swing-style standards).

Jazz.org: Her nine recordings as a leader, all featuring top contemporary jazz artists, have showcased her original, interpretive vision of established jazz traditions.

A natural entertainer and a relentless humorist, 89-year-old guitarist and banjoist Bucky Pizzarelli is a living legend and an American treasure. A rare jazz master of the seven-string guitar, Pizzarelli has performed for multiple Presidents of the United States, worked with Les Paul and Benny Goodman, and was a staff musician for The Tonight Show Starring Johnny Carson.

Saxophonist and trumpeter, leading a quintet, performing straight-ahead originals.

NYTimes.com (Nate Chinen): " a sure­footed dispatch from the postbop mainstream"




HANS LUCHS – "TIME NEVER PAUSES"

(Guitarist, leading a quintet, performing mostly straight-ahead originals).




BEN PATERSON – "FOR ONCE IN MY LIFE"

(Organ/guitar/drum trio, performing originals, standards and jazz tunes).




ADAM SCONE – "I SCREAM SCONE!"

(Organist, leading a quartet, performing in the traditional funky organ style).




BEN WINKELMAN TRIO – "THE KNIFE"

(Piano trio, performing straight-ahead originals).




JOHN WOJCIECHOWSKI – "FOCUS"

(Saxophonist, leading a quartet, performing straight-ahead originals).

NOTE: NAME IS PRONOUNCED woe-jah-COW-skee