The New discs being added to the Jazz 88 Library this week include familar names (Benson, Scofield, McBride), upcoming interviews/shows (Stanley Jordon on TNJT 10/10, at Anthology 10/14), old friends (Ali Ryerson played Jazz Live San Diego September 2006), big band (!), guitar, vocal (Milman!), and more! I'll be debuting much of this on The New Jazz Thing with Vince Outlaw, Monday October 3, 2011 6-8 PM PT...Listen Now!

GEORGE BENSON (FB, @GBGuitar) – "GUITAR MAN" (Mix of contemporary and straight-ahead tunes,
with some vocals. A mix of old and new standards).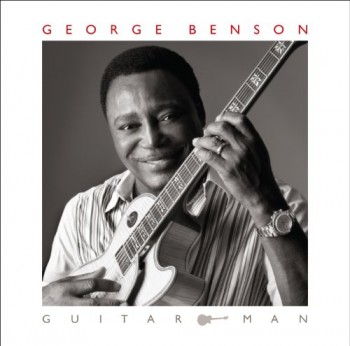 Guitar International (Vince Lewis): George Benson is a true chameleon, but mostly one of the finest jazz guitarists of all time. His masterful interpretation of pop tunes and jazz standards has long been a source of inspiration to aspiring musicians. He has been active for over five decades and has over 30 recordings as leader, and to top it off, he's been awarded ten Grammy awards. His ability to cross over into the "commercial" arena while still maintaining a quality improvisational approach is matched only by the late Wes Montgomery. Benson's moving vocal stylings are developed from his terrific sense of instrumental phrasing, and they are equally impressive. This recording is a "must have" for any George Benson fan. It is also a terrific introduction for those listeners who may have grown up just a little later than some of us. It is an opportunity to hear a fine musician and vocalist do what he does best…a variety of crowd pleasing but substantive material.

MAUREEN CHOI (FB,@MaureenChoi) – "QUARTET" (Violinist, leading a quartet, doing a mix of straight-
ahead originals and standards).


JazzCorner.com (Robert Sutton): It's like a siren's call, a lush, hypnotic melody that reels in the senses and then stimulates them. The sound of Maureen Choi's violin has that kind of effect. On the Maureen Choi Quartet's self-titled latest album, the worlds of classical and jazz unite in a harmonious marriage, and her gorgeously expressive violin is the bridge that connects them.



CECILIA COLEMAN BIG BAND

– "OH BOY!" (All original big band swingers).
AllAboutJazz.com (Edward Blanco)
:
Cecilia Coleman never set out to become a big band leader, stating that it was "never a dream of mine to have a big band," but the Cecilia Coleman Big Band is her new reality—and Oh Boy!, what a swinging affair, this very first recording effort turns out to be. This is classic big band music infused with a bolt of raw energy and mounds of excitement.

STANLEY JORDAN
(
FB
) – "FRIENDS" (Virtuoso guitarist, doing a mix of contemporary
tunes and straight-ahead standards).
AllAboutJazz.com (Larry Taylor)
: His virtuosity and improvisational prowess are a given, and on
Friends
, he also shows his skill on piano on two numbers. Primarily, he brings in old pals from various backgrounds and delivers terrific arrangements, ranging across the jazz spectrum, mixing in originals with swing, post bop, samba, blues, pop and a couple from Bartók and Chopin. Jordan makes roughly two appearances with each main guest, with all the pairings in different styles; all are great. In a press release, Jordan says that this collection truly speaks to his belief that ..."when you integrate styles, you combine them into something new while still remaining true to the original sources." His best argument is this recording.
KEVIN KIZER
QUARTET – "ASPECTS" (Saxophonist, leading a quintet with violin
and guitar, doing and edgy collection of originals).
LISA MAXWELL
(
FB
)– "HAPPY" (Female vocalist, doing the Great American Songbook).
Jazz Lives
:
Lisa has all the virtues any singer could ask for. Her voice is appealing; her rhythm glides; her phrasing is all her own. She knows that each song is its own little playlet. Without dramatizing, she lets the song itself take center stage.
CHRISTIAN McBRIDE
(
FB
,
@McBridesWorld
) BIG BAND – "GOOD FEELING" (Swinging, straight-ahead
big band, with 3 vocals by Melissa Walker).
AllAboutJazz.com (Something Else!)
:
there is the sense that this record has been percolating for some time and, like most worthwhile things that are given that chance,

The Good Feeling

is far better for it.
SOPHIE MILMAN
(
FB
,
@SophieMilman
)– "IN THE MOONLIGHT" (Female vocalist, doing a nice mix of
standards).
Exystence
: Milman covers the full range of styles without ever leaving the romantic jazz oeuvre.Throughout In the Moonlight, Milman's voice is it's great asset, giving the songs a light sexy touch. She has a voice I can listen to all day, but that lets the songs shine. And while it's nothing you haven't heard before, it's one of the better examples of the vocal style.
CAROL MORGAN
QUARTET –
"BLUE GLASS MUSIC
" (Pianoless quartet, doing a
mix of standards and originals).
As she was en route to the studio on that beautiful spring day, the world took on a new look. The warm, sunny, vibrant colors were all shaded in a lovely and surprising way. She kept remarking about it, and one by one, the musicians all tried on the blue glasses. At some point, while listening to a playback, Carol remarked, "Blue Glass Music." Just another example of why Carol Morgan is one of my heroes. That emotional availability, that "in the moment" mentality is exactly what makes her such a unique voice in jazz, and of course, exactly what we all should be striving for. It keeps me coming back again and again.
ALI RYERSON
–
"CON BRIO!"
(Flutist, leading a session of originals and standards).
Ali Hits Home With A New Flute...
: Working with an old friend,
Pete Levin
-- keyboard player for the legendary
Gil Evans Orchestra
-- the two decided to make the CD a more integrated piece of music, rather than just a collection of standards. The musicians on the recording -- Ryerson, Levin, vibraphonist
Mike Mainieri
, guitarist
Mike DeMicco
, bassist Egan and drummer
Danny Gottlieb
-- are all great musicians, "I mean Danny Gottlieb and
Mark Egan
were
Pat Metheny
's original rhythm section,'' Ryerson said.
JOHN SCOFIELD
– "A MOMENT'S PEACE" (Usually edgy guitarist, in a relatively
subdued session, featuring mostly standards).
AllAboutJazz.com (John Kelman)
:
A Moment's Peace
might be perceived by some, a least on the surface, as an album of little risk—without Scofield's usual fire and grease, set that might appear to coast when it ought to soar—but it may well be Scofield's biggest gamble. Those prepared to accept the album on face value, as an hour's respite from life's normal hustle and bustle—or, who are patient enough to dig deeper for its beyond-the-norm look at a handful of potentially worn-out standards, here reinvigorated; a quintet of perfectly dovetailing originals; and a couple of truly surprises song choices—will find plenty to love about
A Moment's Peace
—an album whose greatest charms are revealed not after one or two listens, but after ten or twenty.
MATT SLOCUM
–
"AFTER THE STORM"
(Drummer, leading a trio with pianist
Gerald Clayton, with a mix of standards and originals).
REUBEN WILSON
TRIO – "REVISITED" (Organist, grooving standards and originals).