UPDATE: Presenting the NEW...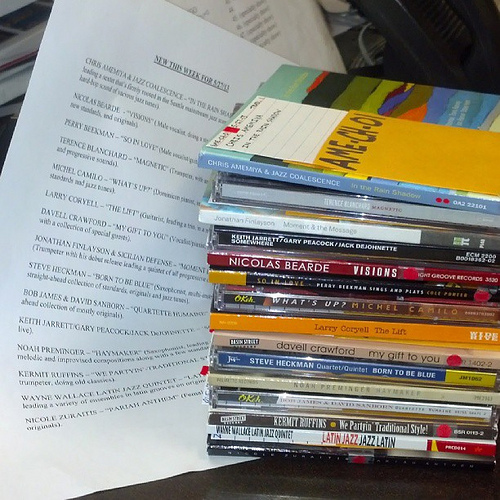 CHRIS AMEMIYA & JAZZ COALESCENCE – "IN THE RAIN SHADOW"
(Trombonist leading a sextet that's firmly rooted in the Seattle mainstream jazz scene presenting a classic hard-bop sound of various jazz tunes).
NICOLAS BEARDE - "VISIONS"
( Male vocalist, doing a straight-ahead collection of old and new standards, and originals).
PERRY BEEKMAN – "SO IN LOVE"
(Male vocalist/guitarist, doing the songs of Cole Porter).
TERENCE BLANCHARD – "MAGNETIC"
(Trumpeter, with an eclectic mix of straight-ahead and progressive sounds).
MICHEL CAMILO – "WHAT'S UP?"
(Dominican pianist, in a solo outing of originals, standards and jazz tunes).
LARRY CORYELL – "THE LIFT"
(Guitarist, leading a trio, in a mostly aggressive, electric set.)
DAVELL CRAWFORD – "MY GIFT TO YOU"
(Vocalist/pianist, doing New Orleans sounds, with a collection of special guests).
JONATHAN FINLAYSON & SICILIAN DEFENSE – "MOMENT & THE MESSAGE"
(Trumpeter with his debut release leading a quintet of all progressive originals).
STEVE HECKMAN – "BORN TO BE BLUE"
(Saxophonist, multi-instrumentalist, leading a straight-ahead collection of standards, originals and jazz tunes).
BOB JAMES & DAVID SANBORN – "QUARTETTE HUMAINE"
(Fusion artists, in a straight-ahead collection of mostly originals).
KEITH JARRETT/GARY PEACOCK/JACK DeJOHNETTE – 'SOMEWHERE"
(Trio, recorded live).
NOAH PREMINGER – "HAYMAKER"
(Saxophonist, leading a quartet that showcases fresh melodic and improvised compositions along with a few standards).
KERMIT RUFFINS – "WE PARTYIN'-TRADITIONAL STYLE"
(New Orleans vocalist, trumpeter, doing old classics).
WAYNE WALLACE LATIN JAZZ QUINTET – "LATIN JAZZ: JAZZ LATIN"
(Trombonist, leading a variety of ensembles in latin grooves on originals and jazz tunes).
NICOLE ZURAITIS – "PARIAH ANTHEM"
(Female vocalist, doing all straight-ahead originals).