CELEBRATE NEW JAZZ MUSIC this week during our Jazz 88.3 Fall Pledge Drive by BECOMING A NEW MEMBER, RENEWING YOUR MEMBERSHIP, or GIVING A MONETARY GIFT!
Call 619-388-3000 to Become a Member or Quick Gift NOW!
The new Adds to the Jazz 88 Music Library for October 20, 2014 features several artists that have been featured both on our Jazz Live San Diego program (Brian Lynch, 1/2005) and in interviews (Dayna Stephens, hear the 11/2013 TNJT interview) along with several more Jazz luminaries. YOU can check out their Jazz 88 DEBUT on The New Jazz Thing @Jazz88, Monday, October 20 2014 between 6 and 8 PM PT! !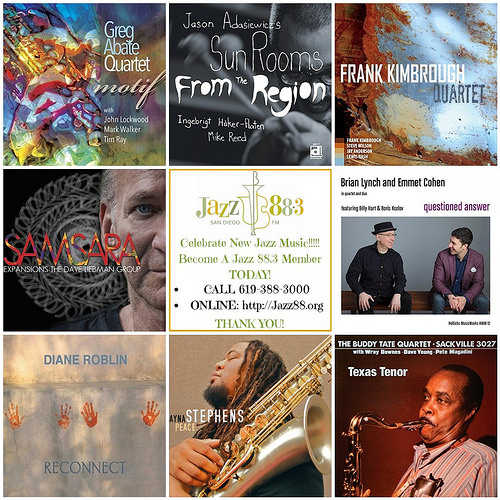 GREG ABATE QUARTET – "MOTIF" (Whaling City Sound)
JASON ADASIEWICZ'S SUN ROOMS – "FROM THE REGION" (Delmark)
FRANK KIMBROUGH – "QUARTET" (Palmetto)
THE DAVE LIEBMAN GROUP – "SAMSARA" (Whaling City Sound)
BRIAN LYNCH / EMMET COHEN – "QUESTIONED ANSWER" (Hollistic Musicworks)
DIANE ROBLIN – "RECONNECT" (Self-released)
DAYNA STEPHENS – "PEACE" (Sunnyside)
BUDDY TATE – "TEXAS TENOR" (Delmark/Sackville)
Read the entire article for your additional annotations about this week's New and your chance to Comment on New Jazz with your FREE Jazz 88 Speakeasy Account!
(Saxophonist with all originals that flow in pretty much more of a bop-ish style approach).
(Chicago-based vibraphonist with a bass and drum trio format doing a set of originals and other jazz tunes, with an emphasis placed on swing, but not your fathers Milt Jackson swing).
(Pianist featuring a quartet that has improvisational freedom while still making use of the tools of the jazz tradition, making for seven originals and a few interpretations of some classics).
(Saxophonist/NEA Jazz Master leads a quintet featuring an eclectic set with an emphasis on free collective improvising).
(An intergenerational collaboration between Grammy Award-winning trumpeter and new piano star on the modern jazz horizon for quartet and duo formats, bridging traditional and contemporary sounds together with swinging assurance).
(Pianist debuting a five-piece band that features all originals that explore a mixture of straight-ahead jazz, fusion and funk).
Critical Jazz Review: "A most impressive outing, an ebb and flow that is nuanced yet never pretentious. Stellar!"
(Saxophonist performing all originals that focuses on ballads and intimate compositions).
(Re-mixed from the original Sackville analog tapes, this is the first issue on CD of this album from the saxophonist delivering the goods on a '78 quartet session).