Check out ALL the New Jazz Music being added to the Jazz 88 Music Library the week of November 3, 2014! YOU can check out their Jazz 88 DEBUT on The New Jazz Thing @Jazz88, Monday, November 3, 2014 between 6 and 8 PM PT (UPDATE: LISTEN to 11/3/14 TNJT Audio)!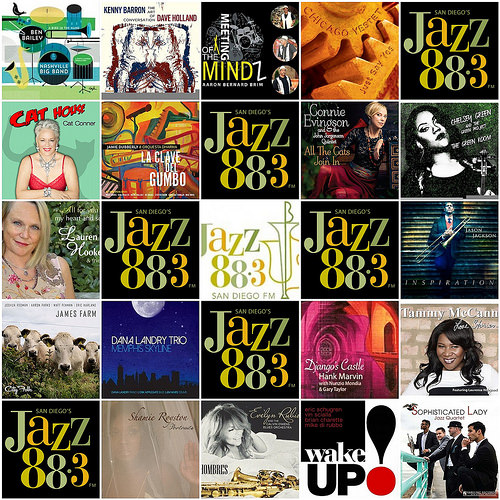 BEN BAILEY & THE NASHVILLE BIG BAND – "A BIRD IN THE HAND"
KENNY BARRON-DAVE HOLLAND – "THE ART OF CONVERSATION"
AARON BERNARD BRIM – "MEETING OF THE MINDZ"
CHICAGO YESTET – "JUST SAY YES"
CAT CONNER – "CAT HOUSE"
JAMIE DUBBERLY AND ORQUESTA DHARMA – "LA CLAVE DEL GUMBO"
CONNIE EVINGSON – "ALL THE CATS JOIN IN"
CHELSEY GREEN AND THE GREEN PROJECT – "THE GREEN ROOM"
LAUREN HOOKER – "ALL FOR YOU MY HEART AND SOUL"
JASON JACKSON – "INSPIRATION"
JAMES FARM – "CITY FOLK"
DANA LANDRY TRIO – "MEMPHIS SKYLINE"
HANK MARVIN – "DJANGO'S CASTLE"
TAMMY McCANN – "LOVE STORIES"
SHAMIE ROYSTON – "PORTRAITS"
EVELYN RUBIO AND THE CALVIN OWENS BLUES ORCHESTRA – "HOMBRES"
ERIC SCHUGREN – "WAKE UP!"
"SOPHISTICATED LADY JAZZ QUARTET"
Read the entire article for your additional annotations about this week's New, links to artist websites, and your chance to Comment on New Jazz with your FREE Jazz 88 Speakeasy Account!