Antonio Sanchez continues his "Birdman" flight on his new release with his band Migration, "The Meridian Suite", 1 of the 9 new releases in the Jazz 88.3 Music Library for June 6, 2015.
The drummer, who was snubbed by the Academy of Motion Picture Arts and Sciences for his soundtrack to the award winning picture "Birdman", performs an hour-long suite inspired by his movie soundtrack on his new album. Check all the new music debut on
The New Jazz Thing with Vince Outlaw each Monday from 6 to 8 PM PT
.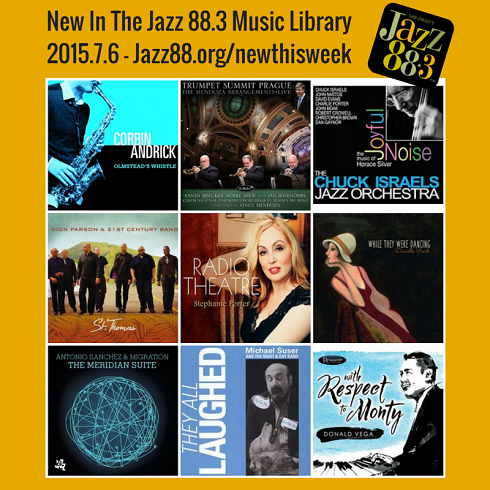 CORBIN ANDRICK – "OLMSTEAD'S WHISTLE"
RANDY BRECKER - BOBBY SHEW - JAN HASENÖHRL – "TRUMPET SUMMIT: PRAGUE"
CHUCK ISRAELS JAZZ ORCHESTRA – "JOYFUL NOISE"
DION PARSON & THE 21ST CENTURY BAND – "ST. THOMAS"
STEPHANIE PORTER – "RADIO THEATRE"
DANIELLE REICH – "WHILE THEY WERE DANCING"
ANTONIO SANCHEZ & MIGRATION – "THE MERIDIAN SUITE"
MICHAEL SUSER – "THEY ALL LAUGHED"
DONALD VEGA – "WITH RESPECT TO MONTY"
READ THE FULL ARTICLE for links to artists websites, release reviews, and additional listening notes from the Jazz 88 Music staff....
Chicago saxophonist, leading a variety of ensemble, performing all original material.
Trumpeters, backed by orchestra performing familiar tunes.
Big band tribute to Horace Silver.
Drummer, leading a septet, with an interesting collection of tunes.
Female vocalist, singing a mix of standards and originals.
Female vocalist, with interesting arrangements on a mix of songs.
ANTONIO SANCHEZ & MIGRATION – "THE MERIDIAN SUITE"
Drummer, leading an electro-acoustic trio of all originals with special guest appearances.
NYTimes Review: Antonio Sánchez With 2 Albums,'The Meridian Suite' and 'Three Times Three': "Inspired by the seamless continuity of "Birdman" as it is experienced by the viewer, Mr. Sánchez composed an hourlong suite, covering an expanse of styles in one unbroken arc. He wrote with his collaborators in mind: Seamus Blake on tenor saxophone and EWI (electronic wind instrument), John Escreet on acoustic and Fender Rhodes piano, and Mr. Brewer on acoustic and electric bass. Joining the ensemble at times are the guitarist Adam Rogers and the vocalist Thana Alexa, Mr. Sánchez's wife."
NBCNews: 'Birdman' Drummer Antonio Sanchez On Oscar Snub: 'Work Speaks For Itself': ""The score is memorable for being so different, so daring, so imaginative," Sanchez said from Hollywood, where he was to perform at Thursday night's Critics' Choice Movie Awards. "To say it is diluted is to say it's not so memorable, and to me that's a contradiction."
Male vocalist, backed by a big band on a double-disc set of standards.
DONALD VEGA – "WITH RESPECT TO MONTY"
Pianist, leading a quartet, paying tribute to Monty Alexander.