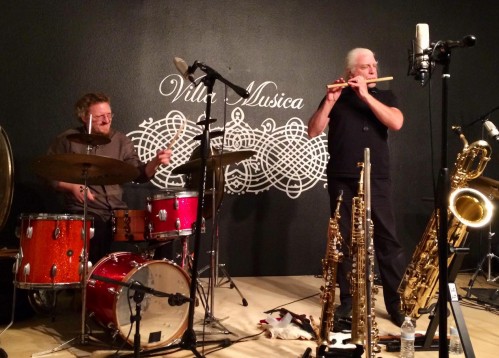 Some of San Diego's best jazz events are also best-kept secrets. However, if you know where to look for inventive, intimate and engaging shows, you will join a group of true music lovers for an exciting dynamic time few can claim to have experienced.
One example is the San Diego Center For The Arts' new season of the Creative Music Concert Series. The series kicked off on Oct. 12th show featuring LA multi-woodwind virtuoso Vinny Golia for a double duos performance. The sets also featured saxophonist and UCSD Professor of Music David Borgo, drummer and educator Jeannette Kangas, and the well-established local percussionist and composer Nathan Hubbard.
Thanks to musicians and passionate music lovers, these unique events exist in our backyard. Attending the opening show reminded me what an incredible art form this is, one that all local music lovers should seek out. This was a performance I was grateful to have not missed, as was the case with past series shows I attended. So, if you're looking to expand your sound spectrum and take a dive into the progressive/creative/free improv realms, then I strongly encourage you to check out this series; you won't be disappointed!
To shed light on the Creative Music Concert Series and discuss upcoming performances, San Diegan guitarist and educator Nate Jarrell and Jeannette Kangas stopped by the studio to chat for a few on what's sure to become an increasingly popular series that will resonate with many jazz/creative music enthusiasts.