With 14 new albums being added to the Jazz 88.3 Music Library the week starting Monday, September 14, 2015, there is something for everyone. New duo recordings (John Clayton / Hank Jones; Chick Corea / Bela Fleck; Bob James / Nathan East), new vocals from Jazz Live Alum Karrin Allyson, cool grooves from Jacob Fred Jazz Odyssey, and so much more! These new releases will be featured by all your favorite Jazz 88.3 hosts in the weeks to come!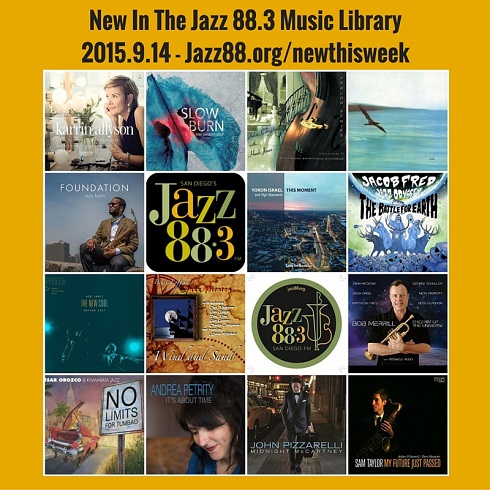 KARRIN ALLYSON – "MANY A NEW DAY"

TERRY BARTOLOTTA GROUP – "SLOW BURN"

JOHN CLAYTON – "PARLOR SERIES VOL.II: HANK JONES"

CHICK COREA & BÉLA FLECK – "TWO"

RAJIV HALIM – "FOUNDATION"

YORON ISRAEL AND HIGH STANDARD – "THIS MOMENT"

JACOB FRED JAZZ ODYSSEY – "THE BATTLE FOR EARTH"

BOB JAMES / NATHAN EAST – "THE NEW COOL"

BRUCE LOFGREN – "WIND AND SAND"

BOB MERRILL – "CHEERIN' UP THE UNIVERSE"

CÉSAR OROZCO & KAMARATA JAZZ – "NO LIMITS FOR TUMBAO"

ANDRÉA PETRITY – "IT'S ABOUT TIME"

JOHN PIZZARELLI – "MIDNIGHT McCARTNEY"

SAM TAYLOR – "MY FUTURE JUST PASSED"
READ THE FULL ARTICLE for links to artists websites, release reviews, and additional listening notes from the Jazz 88 Music staff....
Jazz Live alum performs songs from the Rodgers and Hammerstein songbook.
Quintet, performing a nice collection of straight-ahead originals and 2 standards.
JOHN CLAYTON – "PARLOR SERIES VOL.II: HANK JONES"
Bassist and pianist performing old spirituals, recorded in 2008, newly released).
Double-disc live recording of the pianist and banjo player, doing a variety of material.
Saxophonist, leading a variety of ensembles in an edgy collection of originals.
YORON ISRAEL AND HIGH STANDARD – "THIS MOMENT"
Drummer, up-front, leading a quartet, performing Stevie Wonder tunes and originals, recorded live.
Band recorded "Visions" featuring the music of Stevie Wonder in 2011. "This Moment" features some of this music Live.
Quartet, performing very edgy originals.
27th album in 21 years is a Live disc from shows in December, 2014.
Pianist and bassist, in a variety of settings, doing a wide range of tunes.

Fellow members of the super-group Fourplay.

From BobJames.com: "Although individually busy with touring and recording, James and East are committed and energized by 'The New Cool' which will be comprehensively promoted in both traditional and non-traditional ways. Almost a dozen video vignettes that take viewers into the recording studio during the making of the album will soon begin to emerge through the official website, www.thenewcoolalbum.com and the launch of a full-scale documentary film will coincide with the album's street date."
BOB MERRILL – "CHEERIN' UP THE UNIVERSE"
Pianist, leading a quartet, performing originals, standards and jazz tunes.
SAM TAYLOR – "MY FUTURE JUST PASSED"