Looking forward to interviews and New Jazz Music with guitarist George Cole and San Diego's own Joe Garrison & Night People featuring Gilbert Castellanos among others, on The New Jazz Thing this Monday, November 26, 2012, 6-8 PM PT. More details after the split...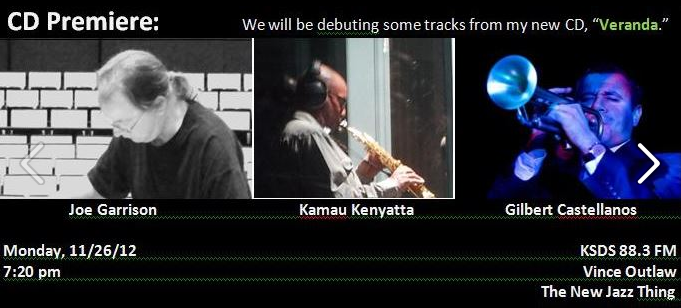 George Cole (FB): The guitarist has a New Disc "Riverside Drive" added to the Jazz 88 music library November 5, 2012 and is playing AMSD Concerts December 1, 2012.

Eastbay Express (Tom Chandler) on "Riverside Drive": ""Riverside Drive is an album made entirely of original tunes, save one. Cole captures the essence of classic Thirties tunes but maintains a modern sensibility. That can be anything but easy, but darn it if he doesn't make it seem effortless.
Wikipedia on George: Green Day association, other pop associations. So how did he get into gypsy jazz?

Joe Garrison & Night People (FB) Joe has a new disc "Veranda" that we'll be playing tunes from and chatting with Joe and Gilbert Castellanos, and maybe more Night People! Tune in!

Details about the December 1, 2012 gig at Dizzy's San Diego. Here's a press release on Joe's site.
Rusefest '91 to Feature New 'Night People' Suite: Crazy May, 1991 article by Dirk Sutro about Joe and his thoughts at the time on free jazz, including "My impression is that the avant-garde needs to re-evaluate itself and start thinking in terms of structure again. I think if you have just totally free music, that becomes self defeating. If the Statue of Liberty was small, it would hold it's shape, but since it's large, it has to have that scaffolding. We're trying to expand our music at the Ruse, but it keeps collapsing on itself because there's no structure. I'm very interested in large structure."
Night People (and info about their music), including this key Miff Mole quote: ""I respect Joe Garrison for his musical vision and courage."