"The Thompson Fields" is Jazz composer, arranger, and band leader Maria Schneider's first release in 8 years with the Maria Schneider Jazz Orchestra, but in the mean time she won 3 Grammy Awards in 2014 in the classical music category for "Winter Morning Walks". Her new release is among 10 new Jazz albums being added to the Jazz 88.3 Music Library the week of June 8, 2015. Your Jazz 88.3 hosts will be introducing you to these new releases all week, so Listen Long, Often, and LIVE at 88.3 FM San Diego and Worldwide at Jazz88.org! You can check out the debut of all the new releases each week on The New Jazz Thing with Vince Outlaw, Monday evenings 6-8pm PT.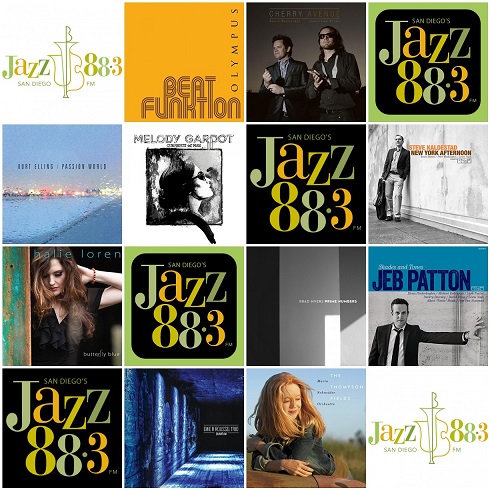 BEAT FUNKTION – "OLYMPUS"
KEVIN BACHELDER / JASON LEE BRUNS – "CHERRY AVENUE"
KURT ELLING – "PASSION WORLD"
MELODY GARDOT – "CURRENCY OF MAN"
STEVE KALDESTAD – "NEW YORK AFTERNOON"
HALIE LOREN – "BUTTERFLY BLUE"
BRAD MYERS – "PRIME NUMBERS"
JEB PATTON – "SHADES AND TONES"
EMIE R. ROUSSEL TRIO – "QUANTUM"
MARIA SCHNEIDER ORCHESTRA – "THE THOMPSON FIELDS"
READ THE FULL ARTICLE for links to artists websites, release reviews, and additional listening notes from the Jazz 88 Music staff....
KEVIN BACHELDER / JASON LEE BRUNS – "CHERRY AVENUE"
Jazz 88 Music Directors: Male vocals, on a variety of songs.
Jazz 88 Music Directors: Male vocalist, performing songs from all over the world.
JazzTimes.com Kurt Elling to Release New Album, "Passion World":"his fifth Concord album (and 11th overall) on June 9. Musicians include trumpeters Arturo Sandoval and Till Brönner, vocalist Sara Gazarek, French accordionist Richard Galliano, the Scottish National Jazz Orchestra and the WDR Big Band and Orchestra from Germany."
Jazz 88 Music Directors: Saxophonist, in front of a quartet, performing originals, standards and jazz tunes.
CoryWeeds.com - "New York Afternoon" CD Release Concert Announcement: "Steve Kaldestad Quartet Featuring Steve Kaldestad (tenor sax), Tilden Webb (piano), Jodi Proznick (bass), Jesse Cahill (drums). Join Vancouver's own Steve Kaldestad for a celebration of his new CD "New York Afternoon", recorded last year in New York City. Always melodic, and exciting, Steve plays a mixture of ballads and jazz standards with a few Brazilian tunes, too. 20 years of playing together has made the quartet's connection almost telepathic.
Jazz 88 Music Directors: Female vocalist, performing originals and interesting takes on standards.
AXS.com - Vocalist Halie Loren explores transformation on new CD titled 'Butterfly Blue': "The title of vocalist Halie Loren's new release for Justin Time Records called Butterfly Blue marries two original pieces that exemplify the themes of imprisonment and freedom. The West Coast singer-songwriter chose most of the songs on the CD because they explore different aspects of those two themes."
Jazz 88 Music Directors: Guitarist, leading a quintet, performing straight-ahead originals and jazz tunes.
Gapplegate Guitar and Bass Blog: "The music rings true and has enough original and updated to it that you do not feel like you have taken a trip on Sherman's "way-back" machine."
AllAboutJazz.com - Take Five with Brad Myers: On His Teaching Approach: "I tend to be very goal oriented with my motivated students, trying to take them to the next level in their own journey on the instrument. The way I achieve that differs depending upon the student, their goals, and interests. Ultimately, I am trying to show them ways to teach themselves what they want to know by figuring out how they learn best, and adapting to those strengths. Patience, compassion, and a demonstration of my own passion for music and the guitar are key factors in my approach.


JEB PATTON – "SHADES AND TONES"
Jazz 88 Music Directors: Pianist, leading a variety of ensembles, performing standards, originals and jazz tunes.
Jazz 88 Music Directors: Pianist, leading a trio, performing all her own originals.
MARIA SCHNEIDER ORCHESTRA – "THE THOMPSON FIELDS"
Jazz 88 Music Directors: Orchestral originals.
Review, Stereophile.com (Fred Kaplan, June 2015): "It's her most ambitious recording, and her most accomplished; it places her in the pantheon of big-band composer-leaders, just below Ellington, Strayhorn, and Gil Evans at his very best; it's a masterpiece."
Artistshare.com - Maria Schneider Orchestra - The Thompson Fields: "We are so excited to announce the latest project from the three-time GRAMMY Award-winning Maria Schneider Orchestra. It has been seven years since the band has recorded together and they are ready to give you an experience of a lifetime! The Thompson Fields, her eighth album as a leader, will be a culmination of her musical career, her connection with her musicians & fans, and her roots in Windom, Minnesota.