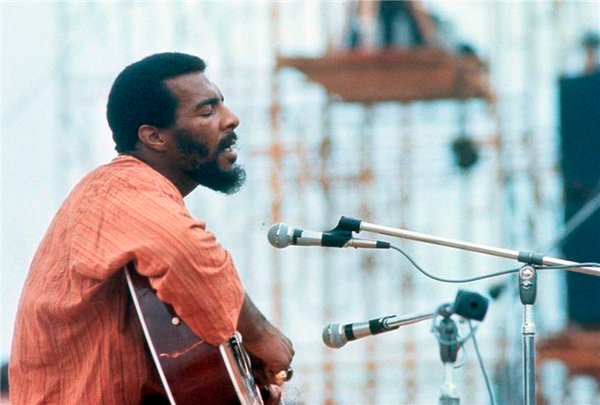 Like many people, and perhaps a little more than most, I was deeply saddened to hear of Richie Havens' passing on Monday, April 22. I can remember when 72 seemed ancient, but today when someone, especially someone of note, passes away at that age it seems premature. I knew that Richie had been fighting health problems because several years ago I contacted him to see if he wanted to participate in a theatrical concert (
Primal Twang
) I was co-producing here in San Diego. He wasn't feeling well at the time, and it didn't work out. I didn't speak with him again.
Media outlets deal with the deaths of musicians by reaching into their archives for that dusty, yellowed blurb that forever recycles a fixed impression of an artist. You'd think the only thing Dave Brubeck recorded was "Take Five"; headlines and news leads about the Rolling Stones tend to play, not very cleverly, on the word "satisfaction", and so on. Predictably, every print and electronic report on Richie's passing focused on the fact that he was the opening act at the Woodstock Festival, and virtually all the footage showed the bearded, 6-foot-6 African-American prowling that mammoth stage in his orange
dashiki
, furiously strumming his acoustic guitar and singing "Freedom", a song he actually improvised on the spot after looking out at a half-million faces — to that point the largest the audience ever to attend a live concert.
But Havens was
so
much more than the impassioned shaman in that footage from 1969. He not only was a great interpreter of others' music — his versions of songs by Dylan and the Beatles, especially, tilled fresh emotional ground — he also was a talented, under-appreciated songwriter, and frequently my favorite cuts on a Havens album were his own tunes. And in contrast to his deep, gruff vocal style and an imposing physical presence worthy of an NFL lineman, Richie was a sweet, gentle, soft-spoken person. I have some personal memories of Richie, one of which occurred after a concert he headlined at San Diego State University's Peterson Gym several months after the Woodstock festival. One thing that had fascinated me about Richie's music was his use of "alternate tunings" for his acoustic guitar, which enabled him to create unusual chords. In 1969, I was a drummer/percussionist who composed on keyboards and guitar, and although I'd invented some alternate guitar tunings for my own purposes, I wasn't yet acquainted with the standard ones favored by professional guitarists and performers — so I decided to ask Richie directly.
In those days, I was brazen enough to use a specific "trick" to get backstage at concerts so I could meet my music idols, and I successfully employed that trick at Peterson Gym. Unfortunately, Richie didn't linger backstage after his encore, but exited into the hallway as soon as he left the stage. By the time I figured out that he'd left, he was at the curb outside getting into his limousine. I ran down the hallway and pushed through the doors just as the last door closed on the idling limo. I motioned to Richie, who was in the back seat, and he rolled his window down a few inches.
"Richie, I just want to know how you tune your guitar!" I gasped, catching my breath. Richie looked surprised, but he seemed willing to grant my request. His road manager, however, signaled the driver to hit the gas and the limo pulled away. I was young and athletic, so within seconds I was running full speed down 55th Street, while Richie, ever accommodating, yelled through the window, "The first string is D!...the second string is A!...D...F#...A...D..."
A few years ago, I took the late Artie Traum to see Richie in concert with Judy Collins at the Humphrey's venue. Artie and his brother Happy had been part of the Greenwich Village folk boom of the early '60s (in his inimitable way, Artie called it the "folk scare"), which had launched his, Havens', and Collins' careers. He knew them both very well, but he especially wanted to re-connect with Richie.
After the concert, promoter Kenny Weissberg walked Artie and me backstage to meet with Richie in his guest room. Richie was thrilled to see Artie, and I was happy just to stand there as the old friends chatted and caught up. But at one point, Artie insisted that I tell Richie the story of my long-ago sprint alongside his limousine. When I related the tale, Richie leaned back and let out a big, barrel-chested laugh. It's an image and a sound that's been on my mind a lot in recent days. Rest in peace, Richie.