San Diego Jazz continues to expand in all directions including the atmospheric pop-jazz on Teagan Taylor's 4th release "The Subject Of...", one of the 14 new releases into themusic library at Jazz 88.3 the week of July 20, 2015. She is in great company with new music from Freeman brothers (George and Chico), Charlie Haden, Bobby Shew, Ramsey Lewis, Dick Hyman, and Jazz Live San Diego alum Henry "Skipper" Franklin (as 1 of the 3 More Sounds). Check all the new music debut on The New Jazz Thing with Vince Outlaw each Monday from 6 to 8 PM PT.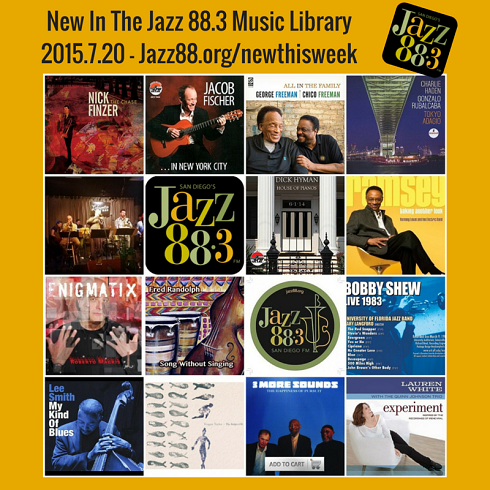 NICK FINZER – "THE CHASE"
JACOB FISCHER – "IN NEW YORK CITY"
GEORGE FREEMAN / CHICO FREEMAN – "ALL IN THE FAMILY"
CHARLIE HADEN & GONZALO RUBALCABA – "TOKYO ADAGIO"
HELL'S KITCHEN FUNK ORCHESTRA – "MERCY, MERCY, MERCY"
WAYNE HORVITZ - "SOME PLACES ARE FOREVER AFTERNOON"
DICK HYMAN – "HOUSE OF PIANO"
RAMSEY LEWIS – "TAKING ANOTHER LOOK"
ROBERTO MAGRIS – "ENIGMATIX"
FRED RANDOLPH – "SONG WITHOUT SINGING"
BOBBY SHEW – "LIVE 1983"
LEE SMITH – "MY KIND OF BLUES"
TEAGAN TAYLOR - "THE SUBJECT OF…"
3 MORE SOUNDS – "THE HAPPINESS OF PURSUIT"
LAUREN WHITE WITH THE QUINN JOHNSON TRIO – "EXPERIMENT"
READ THE FULL ARTICLE for links to artists websites, release reviews, and additional listening notes from the Jazz 88 Music staff....