Here is the new music in the Jazz 88 Music Library that you will hear sampled on The New Jazz Thing on Monday, April 25, 2011 and added to regular rotation on Tuesday, April 26, 2011. Thanks to Jazz 88 Music Director Joe Kocherhans for the great new music and comments to help us get this music to you!

"BONES & TONES" (World sounds, all originals by band members).


AllAboutJazz.com (Dan Bilawsky): "...it's safe to say that these four musicians have seen it all, and this breadth and depth of experience helps bring new life to the under-explored jazz-world music percussion ensemble format utilized to great effect on

Bones & Tones

."

ELDAR DJANGIROV – "THREE STORIES" (Solo recording, showing off his considerable chops on standards, classical tunes and originals).


AllAboutJazz.com (Matt Marshall): The three stories—classical, standards (or popular music—he also covers a Dave Matthews tune) and originals—are told with a consistent voice that serves to twine and intermix the narratives not unlike Claude Simon's fiction. By the time the penultimate "Rhapsody in Blue" rolls around, the inventive mix in Gershwin's jazz concerto can be heard anew.

JazZEN – "BOUNCE OFF THE MOON" (Straight ahead jazz, with some unusual instrumentation, mix of originals and jazz tunes).
The Minneapolis based trio plays music that embraces the essence of jazz with highly unusual instrumentation and inspired soloing. The organic timbre of wooden flutes, weaving through the swirling undercurrents provided by electric cello and traditional drum kit, opens new sonic possibilities and creates a distinct sound that is simultaneously primitive and contemporary.
JULIAN LAGE – "GLADWELL" (Highly original sound from this guitarist, doing mostly originals with various band configurations).

Urbanflux: The album unfolds according to a fanciful and story-driven plan, as Lage explains: "We began playing with the idea of creating a story we could use as a guiding light in our writing process…. The result was the development of an imaginary and forgotten town known as Gladwell…. As a metaphor, Gladwell presented us with a clear architecture, to compose songs that evoke feelings of people and places we hold dear."

JED LEVY – "GOOD PEOPLE" (Sax player, leading a quintet, doing mostly straight-ahead originals).


Reservoir Music:

This is tenor saxophonist Jed Levy's first recording as a leader. It was released in 1987 in the LP format at a time when the music business was in a state of transition from the LP to the CD. The music on this CD release has been beautifully remastered by Allan Tucker with the addition of two extra excellent tracks which the LP did not have room for.



GREGORY PAGE – "MY TRUE LOVE" (Local pianist/vocalist/songwriter, singing his own originals).


Gregory's Blog at Posterous:

MARK RAPP'S MELTING POT – "GOOD EATS" (Trumpeter, in a funky groove, doing mostly Lou Donaldson tunes, with some others, as well).


Midwest Records: "...he's laying down some golden Bluenote cooker style work here that is on the money throughout. Funky, sassy and solidly in a stone groove, this is delightfully fun stuff whether you were a kid at the right time and place or not. When someone works a groove this sweetly, it's a wonderful thing for all to hear. Hot stuff."

JOCHEN RUECKERT – "SOMEWHERE MEETING NOBODY" (Drummer, leading a quartet, doing mostly originals, on the edgy side).


Press Release: A current of powerful, sensitively interacting colors holds the listener hostage from the first measure on, as the sounds of four remarkable individuals from the current New York jazz scene are blended together to create an excitingly vital group sound. The music on this CD grabs your attention with its shimmering beauty and tongue-in-cheek intelligence. This is music from a band with a low-keyed leader - a drummer who has everything firmly in hand - thrilling new jazz for the listener who loves expressive music that is both powerful and subtle.

MATTHEW SHIPP – "ART OF THE IMPROVISATION" (Double disc release of pianist. Very progressive).


AllAboutJazz.com (Mark Corroto): By now, critical listeners have formed an opinion about the music of pianist Matthew Shipp. Like his musical predecessors Cecil Taylor and Thelonious Monk, Shipp is an uncompromising voice that tends to force listeners to queue up in line, either for him or against him. With the release of

The Art Of The Improviser

, he has essentially summed up his first fifty years on two CDs of resolute and committed music.

DAVE STAHL BAND – "FROM A TO Z" (Mostly contemporary big band, with some straight-ahead swingers).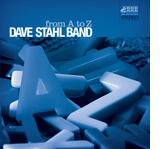 The latest CD by Dave and his NY band. After a number of years, Dave has regrouped his NY band for a new recording featuring the writing of Dave's chief arranger, Todd Fronauer, and also some charts that were written for Dave's band several years ago by Tom Boras and Frank Griffith.

WALT WEISKOPF QUARTET – "LIVE" (Mostly originals…great band…on the edgy side).


Jazz Music (C. J. Bond): "A jazz lover who can spot, and appreciates exceptional tenor chops, will not be disappointed with Walt Weiskopf. He simply leans in, and blows. His playing style is energetic, full and crystal clear, as is exemplified on the CD's four opening tracks,

"Man Of Many Colors," " Little Minor Love Song," Dizzy Spells/Jay Walking" and "Blues In The Day."

On this date with Weiskopf are:

Renee Rosnes

-

Piano

;

Paul Gill

-

Bass

and

Tony Reedus

-

Drums.