LIVE Monday, November 10, 2014, 6-8 PM PT @Jazz88 San Diego's Jazz 88.3 FM, Jazz88.org, and Apple/Android Apps to The New Jazz Thing @Jazz88 with Vince Outlaw
...Supported by Listener Contributors like YOU and...YOUR BUSINESS (
learn more about underwriting The New Jazz Thing!
).
Jazz 88 Speakeasy Archive (On-Demand, Click to Play): Farhad and Louis of Dornob Release "SEGAH" on The New Jazz Thing, Monday, November 10, 2014 (11:38)

Dornob: A group of musicians formed around 1985, Dornob play Persian classical, folk, and original music in untraditional ways, using jazz group concepts. Dornob's goal, in addition to friendship, crossing cultural bridges, learning the music, and having fun playing music, is to make Persian music accessible to young and non-Persian audiences. They have a new release out called "SEGAH" and are playing several events around town to support their release...and we'll get all of the scoop and hear their new music in Hour 2 of the New!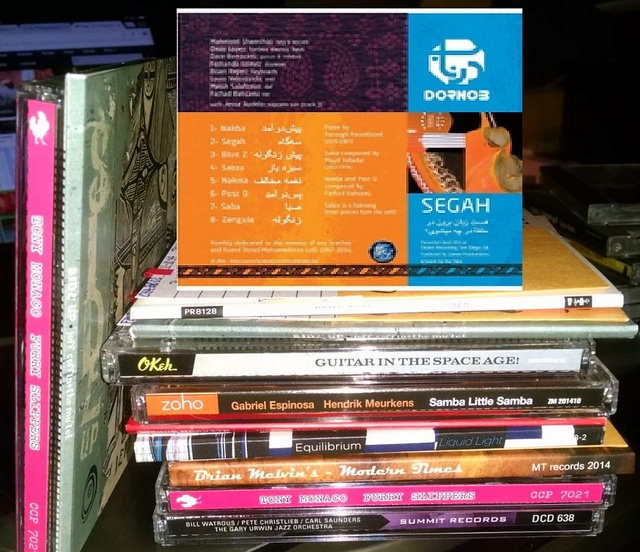 Read the entire article for links to the full list of New Music being featured on the show, Top 10 Countdown of the Jazzweek.com Jazz Album Chart, show links, and more!
2014.11.10 Adds To The Jazz88 Music Library: Now that the Grammy Submital season is past us (and all of our musician friends are fretting away about those nominations), the list of adds to the Jazz 88.3 Music Library is a tad short, but there are some great quality releases including new releases from Bill Frisell, Tony Monaco, and more!
Top 10 Countdown of the Jazzweek.com Jazz Album Chart for Monday, November 10, 2014: Still at No. 1 on the JazzWeek Jazz Chart for a fourth week is Gerry Gibbs and the Thrasher Dream Trio We're Back (Whaling City). The biggest gainer (+100) and highest debut (No. 17) is Kenny Barron & Dave Holland The Art Of Conversation (Impulse!). Most added (+24) is Houston Person The Melody Lingers On (HighNote) and the most reported (54 stations) is Freddy Cole Singing The Blues (HighNote).
BE PART OF THE SHOW! Follow TNJT on Twitter, Like The New Jazz Thing on Facebook, and share something about The New @Jazz88 with the #TNJT or #Jazz88 hashtags! We may even be able to mention your name and comment during the Live show and you'll be part of the Jazz 88 Speakeasy Archive!