Debuts of the new jazz music getting added this week, preview of our Artist of the Week, Birthday and On This Day Upcoming Highlights, Jazz and Blues Calendar Preview, and more New Jazz Things! LIVE Monday, August 31, 2015, 6-8 PM PT @Jazz88 San Diego's Jazz 88.3 FM, Jazz88.org, and Apple/Android Apps to The New Jazz Thing @Jazz88 with Vince Outlaw
...Supported by Listener Contributors like YOU and...YOUR BUSINESS (
learn more about underwriting The New Jazz Thing!
).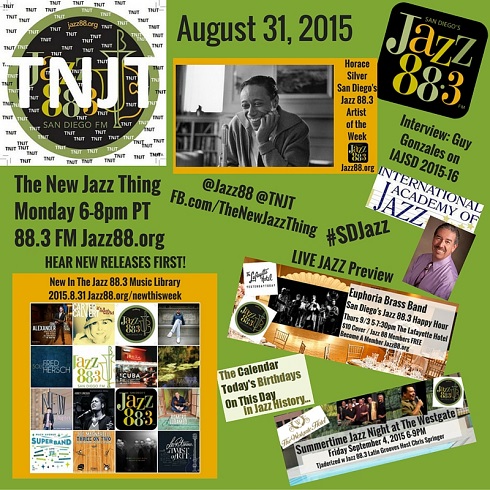 READ THE FULL ARTICLE for links about this week's new releases and other Jazz news items on the show tonight...
Interview: International Academy of Jazz San Diego Opens 2015-16 Session With FREE Public Event: Guy Gonzales, Executive Director of the International Academy of Jazz, a Jazz 88.3 Education Partner, stop by to talk about IAJSD and the Saturday, September 5, 10am FREE TO THE PUBLIC Opening of the 2015-16 Session.
The Full Spectrum of New Jazz Music In The Adds at Jazz 88.3 Monday August 31 2015: DEBUTING THE NEW! A great new mix of NEW JAZZ MUSIC from solo piano (Fred Hersch "Solo") to Jazz Orchestra (Lincoln Center "Live in Cuba") and originals to standards being added to the Jazz 88.3 Music Library the week starting Monday, August 31, 2015.
Live Jazz Preview for the week of August 31, 2015: Include Thursday Happy Hour with Euphoria Brass Band at The Lafayette Hotel, Swim Club & Bungalows, Friday Summertime Jazz with Tjaderized at The Westgate Hotel, and Saturday International Academy of Jazz San Diego 2015-16 Session Kick-off in your JAZZ PLANS THIS WEEK!
Horace Silver - Jazz 88.3 Artist of the Week starting August 31, 2015: I'll be featuring a favorite from this grooving, soulful artist who left us just over a year ago on June 18. 2014. You will be hearing his music all week on Jazz 88.3!