Debuts of the new jazz music getting added this week, preview of our Artist of the Week, Birthday and On This Day Upcoming Highlights, Jazz and Blues Calendar Preview, and more New Jazz Things! LIVE Monday, August 3, 2015, 6-8 PM PT @Jazz88 San Diego's Jazz 88.3 FM, Jazz88.org, and Apple/Android Apps to The New Jazz Thing @Jazz88 with Vince Outlaw
...Supported by Listener Contributors like YOU and...YOUR BUSINESS (
learn more about underwriting The New Jazz Thing!
).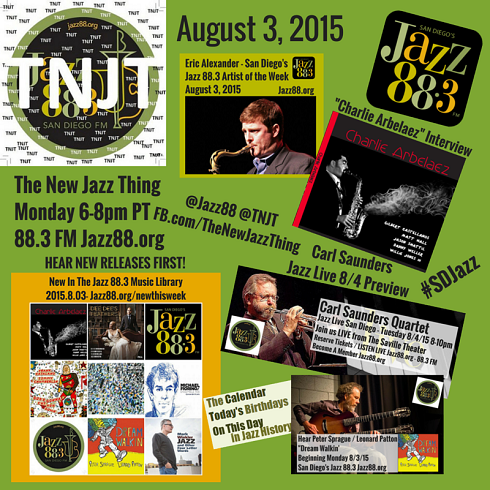 READ THE FULL ARTICLE for links about this week's new releases and other Jazz news items on the show tonight...
Charlie Arbelaez CD Release Interview - San Diego saxophonist releases his first CD as a leader, the eponymously titled "Charlie Arbelaez", and plays a series of shows featuring the new music. We'll chat about his journey to this disc and where he's headed. Yea #SDJazz!
Charlie, Peter, and Leonard Leading San Diego Jazz Adds In The Jazz 88 Music Library: With the debut, self-titled release by saxophonist Charlie Arbelaez and the latest collaboration of guitarist Peter Sprague and vocalist / percussionist Leonard Patton, San Diego Jazz has much to celebrate and lead the list of new releases to the Jazz 88 Music Library the week of August 3, 2015.
Matthew Smith - San Diego drummer comes in to catch us up on what he's up to, including an upcoming gig with Grammy Award winning (and June 23 Jazz Live San Diego guest w Julie Kelly) pianist Bill Cunliffe.
Eric Alexander - Artist of the Week, along with Birthdays and On This Day Milestones in Jazz in preview.
Preview of a BIG WEEK IN #SDJazz with...