Teagan Taylor and her new release are "The Subject Of..." our Hour 2 (7-8PM PT) Interview, which also includes , debuts of the new jazz music getting added this week, preview of our Artist of the Week, Birthday and On This Day Upcoming Highlights, Jazz and Blues Calendar Preview, and more New Jazz Things! LIVE Monday, July 20, 2015, 6-8 PM PT @Jazz88 San Diego's Jazz 88.3 FM, Jazz88.org, and Apple/Android Apps to The New Jazz Thing @Jazz88 with Vince Outlaw
...Supported by Listener Contributors like YOU and...YOUR BUSINESS (
learn more about underwriting The New Jazz Thing!
).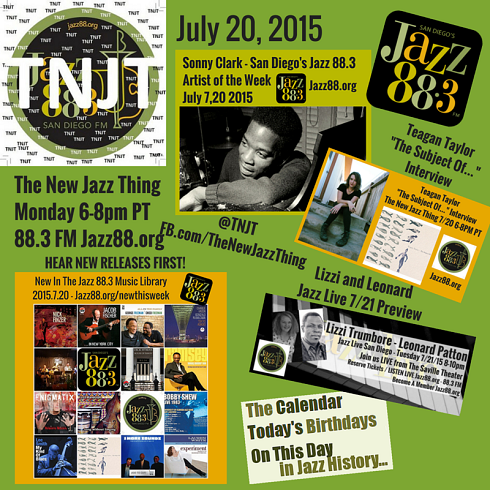 READ THE FULL ARTICLE for links about Teagan Taylor, this week's new releases and other Jazz news items on the show tonight...
San Diegan Teagan Taylor releases her 4th album "The Subject Of..." in a CD Release show this Saturday, 7/26 at Diversionary Theater and debuts it on radio TONIGHT on The New Jazz Thing! We'll be chatting with her about the direction of her music on the new release, the release show, and more in Hour 2 of The New (7-8PM PT)!
Teagan Taylor Heads All Star List of New Adds at Jazz 88.3 2015.7.20 - San Diego Jazz continues to expand in all directions including the atmospheric pop-jazz on Teagan Taylor's 4th release "The Subject Of...", one of the 14 new releases into themusic library at Jazz 88.3 the week of July 20, 2015. She is in great company with new music from Freeman brothers (George and Chico), Charlie Haden, Bobby Shew, Ramsey Lewis, Dick Hyman, and Jazz Live San Diego alum Henry "Skipper" Franklin (as 1 of the 3 More Sounds).
Lizzi Trumbore / Leonard Patton Jazz Live San Diego Preview - A vocal extravaganza joined by Peter Sprague and Justin Grinnell TUESDAY NIGHT, July 21, 2015 8-10PM PT will be previewed with tunes tonight!
Sonny Clark is the Jazz 88.3 Artist of the Week for July 20, 2015 so we'll be featuring a tune from one of my favorite Hard Bop pianists!