LIVE Monday, April 20, 2015, 6-8 PM PT @Jazz88 San Diego's Jazz 88.3 FM, Jazz88.org, and Apple/Android Apps to The New Jazz Thing @Jazz88 with Vince Outlaw
...Supported by Listener Contributors like YOU and...YOUR BUSINESS (
learn more about underwriting The New Jazz Thing!
). GET SOCIAL @TNJT on Facebook and Twitter.
Tonight on the show...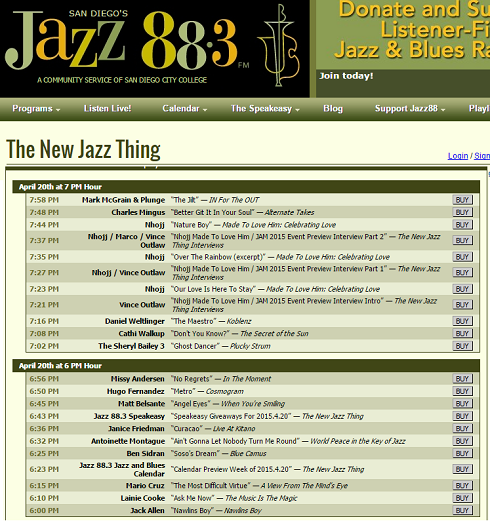 READ THE FULL ARTICLE
for the complete playlist for tonight, links to Nhojj, JAM 2015, New Jazz Releases, Jazz Calendar, Giveaways, and MORE!
Nhojj will be headlining, along with Peter Sprague, the Jazz Against Malaria 2015 concert this Sunday, April 26, 2015 4pm at Qualcomm's Q Auditorium in partnership with San Diego's Jazz 88.3. JAM 2015 is produced by Drugs and Diagnostics for Tropical Diseases (DDTD) and the proceeds of the concert will fund research into tropical diseases like malaria. Nhojj also has a new disc out, "Made To Love Him", and we will chat about that too. He will join us in Hour 2 of the New (7-8pm PT).
Ben Sidran and Harvie S Top The New Releases to the Jazz 88.3 Music Library for April 20 2015 - While there are lots of not-so-familiar names in the 18 new releases to the Jazz 88.3 Music Library the week of April 20, 2015, there are also some household names, including Ben Sidran (new "Blue Camus"), Harvie S ("Plucky Strum"), and Randy Brecker (along for the ride on Levon Mikaelian's debut "United Shades of Artistry"). Jazz 88.3 continues to bring you the latest releases ever week!
Jazz 88.3 Jazz and Blues Calendar Weekly Preview - The Missy Andersen Blues Band at Jazz Live San Diego on Tuesday, April 21, 8-10pm PT top our review of the Jazz and Blues happening's in San Diego this week
Jazz 88 Speakeasy TICKET GIVEAWAYS - Right now, tickets to JAM 2015 (4/26/15), Benny Golson (5/2/15) at Oceanside Jazz Festival, Romeo and Juliet (5/3/15) by La Jolla Music Society, and Arturo Sandolval and Pancho Sanchez (5/16/16). Login with your FREE Jazz 88 Speakeasy account and click ENTER GIVEAWAY...It's That Easy!
Charles Mingus is the Jazz 88.3 Artist of the Week! We'll be featuring one of my favorites from Mingus, along with a preview of this week's noontime Portraits In Jazz features, upcoming Birthdays and On This Date in Jazz happenings for the upcoming week.
2015 NEA Jazz Masters Awards Ceremony & Concert celebrating new masters Carla Bley, George Coleman, Charles Lloyd, and Joe Segal kicks off from NYC at 4:30pm PT. We will be monitoring the event from Jazz 88.3 studios prior to TNJT on air at 6pm and monitoring social media and the hashtag #NEAJazz15 for updates during the evening.