LIVE Monday, July 28, 2014, 6-8 PM PT @Jazz88 San Diego's Jazz 88.3 FM, Jazz88.org, and Apple/Android Apps to The New Jazz Thing @Jazz88 with Vince Outlaw
...Supported by Listener Contributors like YOU and...YOUR BUSINESS (
learn more about underwriting The New Jazz Thing!
).
On Tonight's show
, we chat with multi-award winning Jazz pianist
Fred Hersch
about his new release floating, touching on his thoughts on what he feels is one of his best releases, his work with his trio, how he composes tunes in honor of people (and dogs!) in his life, his thoughts on standards, and where he's heading in the future. We also chat with LA guitarist
Andy Waddell
about his new release "Alive" and his August 1, 2014 CD release gig at Dizzy's San Diego. The Top 10 Countdown, with video archive, all of the new adds to the Jazz 88 music library, along with reviews and quotes, previously on TNJT, what's coming up next, and more!

After the split, along with your chance to comment on the show, is the Jazz 88 Speakeasy audio archives of the entire show and interviews, Top 10 Countdown video and links, tonight's playlist, and more, so Read The Full Article already!
Jazz 88 Speakeasy: Andy Waddell "Alive" and CD Release Concert Preview on The New Jazz Thing, Monday, July 28, 2014 (12:12)

LA jazz guitarist/composer Andy Waddell's brand new release "Alive" is out and he'll be performing at Dizzy's San Diego this Friday, August 1, 2014 with tenor saxophonist Tom Catanzaro, Mahesh Balasooria (piano), Roger Shew (bass), and Dan Schnelle (drums). We'll chat with Andy in Hour 1 about the new disc, his 2013 debut recording 'Sunset to 7" (which JazzCorner called "remarkably polished and boldly self-confident."), his upcoming gig, and get to know this great new guitarist on the SoCal Jazz Scene!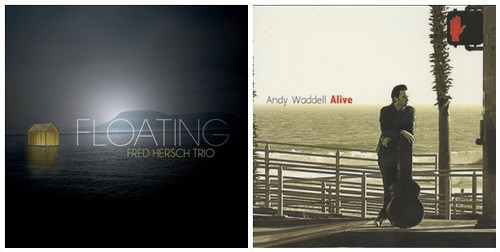 2014.7.28 Adds To the Jazz 88 Music Library: A bit of a shortened list of new adds to the Jazz 88 Music Library for the week of July 28, 2014, but a full spectrum from Gpysy Jazz (Cyrille Aimee) to Sax/Bass Duo work from Jazz studs Steve Wilson and Lewis Nash ("Duologue").
The New Jazz Giveaways: CYRILLE AIMEE – "IT'S A GOOD DAY" and RODNEY WHITAKER – "WHEN WE FIND OURSELVES ALONE"
Top 10 Countdown of the Jazzweek.com Jazz Album Chart July 28, 2014: The new No. 1 on the JazzWeek Jazz Chart this week is Keith Jarrett & Charlie Haden Last Dance (ECM). Most added (+31) and biggest gainer (+122) is Fred Hersch Floating (Fred Hersch Music). Highest Debut (No. 19) is Barbara Morrison I Love You, Yes I Do (Savant). Most reported (59 stations) and at No. 2 is Mike LeDonne I Love Music (Savant).

Video replay of the Top 10 Countdown...Subscribe to The New Jazz Thing YouTube Channel!



Last Week on The New Jazz Thing, Monday, July 21, 2014...
Previous Highlights on The New Jazz Thing...
Coming Up on The New Jazz Thing Calendar (click to subscribe to TNJT Google Calendar)...

Sean Jones, Monday, August 4, 2014
Dimitri Methany, Monday, August 11, 2014

Screenshot of the Jazz 88 Playlist Archive for Tonight's TNJT...
BE PART OF THE SHOW! Follow TNJT on Twitter, LikeThe New Jazz Thing on Facebook, and share something about The New @Jazz88 with the #TNJT or #Jazz88 hashtags! We may even be able to mention your name and comment during the Live show and you'll be part of the Jazz 88 Speakeasy Archive!