LIVE Monday, June 8, 2015, 6-8 PM PT @Jazz88 San Diego's Jazz 88.3 FM, Jazz88.org, and Apple/Android Apps to The New Jazz Thing @Jazz88 with Vince Outlaw
...Supported by Listener Contributors like YOU and...YOUR BUSINESS (
learn more about underwriting The New Jazz Thing!
).
GET SOCIAL @TNJT on Facebook and Twitter.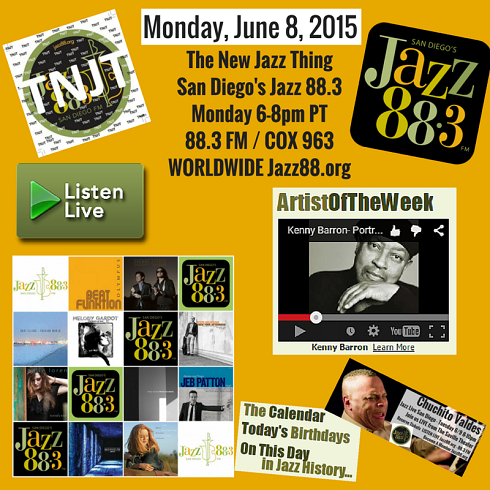 Tonight on the show...We'll be debuting all of this week's new adds to the Jazz 88.3 Music Library, including the much anticipated...at least by me ;)...release of "The Thompson Fields" from the Maria Schneider Orchestra, 8 years after their last release "Sky Blue".
We'll also be featuring music and bio of the Jazz 88.3 Artist of the Week, Kenny Barron, along with a preview of the coming week's Jazz Birthday's and Milestones (updated every day on the
Jazz88.org Home Page
), the Jazz 88.3 Jazz and Blues Calendar...including Tuesday's Jazz Live with Chuchito Valdes, Jazz News, and MORE! READ THE FULL ARTICLE for links to everything we do on TNJT!
Jazz 88 Blog: Grammy Winner Maria Schnieder's The Thompson Fields Among The New Releases At San Diego's Jazz 88.3 Monday June 8 2015: "The Thompson Fields" is Jazz composer, arranger, and band leader Maria Schneider's first release in 8 years with the Maria Schneider Jazz Orchestra, but in the mean time she won 3 Grammy Awards in 2014 in the classical music category for "Winter Morning Walks". Her new release is among 10 new Jazz albums being added to the Jazz 88.3 Music Library the week of June 8, 2015.
Jazz 88.3 Jazz and Blues Calendar (Jazz88.org/calendar)- All the best happenings in #SDJazz and #SDBlues!

Wednesday Blues Jam at Proud Mary's
Friday, June 12 at La Jolla Athenaeum - Marianne Trudel Trifolia Trio - "Le Refuge" Added Last Week @Jazz88
Sunday, June 14, Blues Brunch at Proud Mary's
Sunday Jazz Jam at Old Venice
Sunday at 98 Bottles 6PM - Jason Yeager Trio feat. Danny Weller - former student of Jazz Education Network President Bob Sinicrope.

On The Jazz 88.3 Blog and Social Media
Jazz Birthday and On This Day in Jazz - Updated EVERYDAY on Jazz88.org - Visit Often!

Kenny Barron - Jazz 88.3 Artist of the Week
On This Day In Jazz - Week of 2015.6.8


| | |
| --- | --- |
| 6/8/2012 | Artie Shaw recorded "A Foggy Day" on Bluebird records in 1945. |
| 6/8/2012 | Willie Bobo made his album "Spanish Grease" in 1965. This is also his first Verve session as a leader. |
| 6/8/2012 | Blues shouter Jimmy Rushing dies in New York City in 1972 at the age of 69. |
| 6/8/2012 | Sidney Bechet records "Summertime" for Blue Note records in 1939. |
| 6/9/2012 | Jelly Roll Morton records "Jelly Roll Blues" for Gen records in 1924. |
| 6/9/2012 | Claude Thornhill cuts the first post-World War II recordings in 1946. |
| 6/10/2012 | On a sad note, the legendary Ray Charles died from liver complications on this date in 2004, in Beverly Hills, California. He was 73. |
| 6/10/2012 | The Erskine Hawkins orchestra records the classic Avery Parrish composition "After Hours" and "Sweet Georgia Brown" for Bluebird records in 1940. |
| 6/11/2012 | Trumpeter/Composer Lee Morgan records "The Gigolo" in 1965 for Blue Note Records in New York City. |
| 6/11/2012 | C-melody saxophonist Frankie Trumbauer died in Kansas City in 1956. He was 55 years old. |
| 6/12/2012 | And another Artie Shaw recording, "The Man I Love" on Bluebird records in 1945 happened today. |
| 6/12/2012 | Artie Shaw recorded "Traffic Jam |
| 6/12/2012 | The Count Basie Orchestra and the Benny Goodman band play Madison Square Garden in 1938. |
| 6/12/2012 | Ella Fitzgerald backed by the Chick Webb band makes her recording debut with "Love and Kisses" in 1935 for Decca records. |
| 6/13/2012 | Benny Goodman, "The King of Swing," died in New York City in 1986. He was 77. |
| 6/13/2012 | Oscar Peterson records his album "Bursting Out with the All-star Big Band" in 1962. |
| 6/14/2012 | Also, one of our most beloved composers, Henry Mancini, died in Los Angeles in 1994. He was 70 years old. |
| 6/14/2012 | Artie Shaw recorded "Lucky Number" on Bluebird records in 1945. |
| 6/14/2012 | On a sad note, in 2008, pianist/composer Esbjorn Svensson died in a diving accident near an island off Stockholm, Sweden. He was 44. |

| | | | | |
| --- | --- | --- | --- | --- |
| First Name | Last Name | Birthdate | Birth Place | Instrument |
| Uri | Caine | 6/8/1956 | Philadelphia, PA | |
| Julie | Tippetts | 6/8/1947 | | Vocalist |
| Bill | Watrous | 6/8/1939 | Middletown, CT | Trombonist |
| Louis | Aldebert | 6/8/1931 | | Pianist/Vocalist |
| Dante | Martucci | 6/8/1922 | NYC, NY | Bassist |
| Erwin | Lehn | 6/8/1919 | | Bandleader/Vibist |
| Freddy | Webster | 6/8/1917 | Cleveland, OH | Trumpeter |
| Johnny | Holmes | 6/8/1916 | | Trumpeter |
| Bill | Rank | 6/8/1904 | | Trombonist |
| Lou | Black | 6/8/1901 | | Banjo Player |
| Mick | Goodrick | 6/9/1945 | Sharon, PA | Guitarist |
| Igor | Bril | 6/9/1944 | Moscow | Pianist/Composer |
| Kenny | Barron | 6/9/1943 | Philadelphia, PA | Pianist/Composer |
| Mike | Melillo | 6/9/1939 | Newark, NJ | Pianist |
| Eje | Thelin | 6/9/1938 | | Trombonist |
| Jimmy | Gourley | 6/9/1926 | St. Louis, MO | Guitarist |
| Gosta | Theselius | 6/9/1922 | | Pianist/Saxophonist |
| Les | Paul | 6/9/1915 | Waukesha, WI | Guitarist |
| Sanford | Gold | 6/9/1911 | Cleveland, OH | Pianist |
| Cole | Porter | 6/9/1891 | Peru, IN | Songwriter |
| Jonathan | Kreisberg | 6/10/1972 | New York, NY | |
| Dwayne | Burno | 6/10/1970 | Philadelphia, PA | |
| Charnett | Moffett | 6/10/1967 | Philadelphia, PA | Bassist |
| Gary | Thomas | 6/10/1961 | Baltimore, MD | |
| David | Goloshchokin | 6/10/1944 | | Pianist/Reedman |
| John | Stevens | 6/10/1940 | | Drummer |
| Joao | Gilberto | 6/10/1931 | Salvador, Bahia, Brazil | |
| Guy | Pedersen | 6/10/1930 | | Bassist |
| Wes | Hensel | 6/10/1919 | Cleveland, OH | Composer/Trumpeter |
| Dickie | Wells | 6/10/1909 | Centerville, TN | Trombonist |
| Willie | Lewis | 6/10/1905 | | Reedman/Vocalist |
| Frederick | Loewe | 6/10/1901 | Berlin, Germany | Composer |
| Andy | Blakeney | 6/10/1898 | | Trumpeter |
| Punch | Miler | 6/10/1894 | | Trumpeter/Vocalist |
| Chink | Martin | 6/10/1886 | | Bassist/Tuba |
| Alex | Sipiagin | 6/11/1967 | Yaroslavl, Russia | |
| Jamaaladeen | Tacuma | 6/11/1956 | Hempstead, NY | Bassist |
| Roger | Glenn | 6/11/1945 | | |
| Bernard | Purdie | 6/11/1939 | Elkton, MD | Drummer |
| Nils | Lindberg | 6/11/1933 | Uppsala, Sweden | Pianist |
| Lennie | Niehaus | 6/11/1929 | St. Louis, MO | Saxophonist/Arranger |
| Maurice | Vander | 6/11/1929 | | Pianist |
| Bob | Gordon | 6/11/1928 | | Baritone Saxophonist |
| Shelly | Manne | 6/11/1920 | NYC, NY | Drummer |
| Hazel | Scott | 6/11/1920 | Trinidad | Pianist/Vocalist |
| Lagos | Martiny | 6/11/1912 | | Pianist |
| Pinetop | Smith | 6/11/1904 | Troy, AL | Singer/Pianist |
| Kaiser | Marshall | 6/11/1899 | | Drummer |
| Geri | Allen | 6/12/1957 | Pontiac, Mi | |
| Jesper | Lundgaard | 6/12/1954 | | Bassist |
| Chick | Corea | 6/12/1941 | Chelsea, MA | Keyboardist |
| Marcus | Belgrave | 6/12/1936 | Chester, PA | |
| Al | Fairweather | 6/12/1927 | | Trumpeter |
| Zeke | Zarchy | 6/12/1915 | | Trumpeter |
| Gene | Hall | 6/12/1913 | Whitewright, TX | C-Melody Sax |
| Harold | Danko | 6/13/1947 | Sharon, PA | |
| Frank | Strozier | 6/13/1937 | Memphis, TN | Saxophonist/Composer |
| Georges | Arvanitas | 6/13/1931 | Marseille, France | Organist/Pianist |
| Rudi | Sehring | 6/13/1930 | | Drummer |
| Attila | Zoller | 6/13/1927 | Visegrad, Hungary | Guitarist |
| Phil | Bodner | 6/13/1919 | Waterbury, CT | Reedman |
| Si | Zentner | 6/13/1917 | New York, NY | Trombonist |
| Eddie | Beal | 6/13/1910 | Redlands, CA | Pianist |
| Garland | Wilson | 6/13/1909 | Martinsburgh, WV | Pianist |
| Clarence | Hutchenrider | 6/13/1908 | Waco, TX | Reedman |
| Edwin | Swayze | 6/13/1906 | | Trumpeter |
| Doc | Cheatham | 6/13/1905 | Nashville, TN | Trumpeter |
| Richard | Jones | 6/13/1892 | Donaldsonville, LA | Pianist |
| Charlie | Elgar | 6/13/1885 | New Orleans, LA | Bandleader |
| Marcus | Miller | 6/14/1959 | NYC, NY | Bassist |
| Kenny | Drew Jr. | 6/14/1958 | New York, NY | |
| Janusz | Stefanski | 6/14/1946 | | Drummer |
| Tiit | Paulus | 6/14/1945 | | Guitarist |
| Pete | Lemer | 6/14/1942 | London, England | Keyboardist |
| Kent | Carter | 6/14/1939 | Hanover, NH | Bassist |
| Burton | Greene | 6/14/1937 | Chicago, IL | Pianist |
| Chuck | Berghofer | 6/14/1937 | Denver, CO | Bassist |
| Cy | Coleman | 6/14/1929 | NYC, NY | Pianist |
| Pepsi | Auer | 6/14/1928 | | Pianist |
| John | Simmons | 6/14/1918 | | Bassist |
| Nappy | Lamare | 6/14/1907 | New Orleans, LA | Guitarist |
| Sid | Phillps | 6/14/1902 | London, England | Clarinetist |