LIVE Monday, May 4, 2015, 6-8 PM PT @Jazz88 San Diego's Jazz 88.3 FM, Jazz88.org, and Apple/Android Apps to The New Jazz Thing @Jazz88 with Vince Outlaw
...Supported by Listener Contributors like YOU and...YOUR BUSINESS (
learn more about underwriting The New Jazz Thing!
).
GET SOCIAL @TNJT on Facebook and Twitter.
Tonight on the show...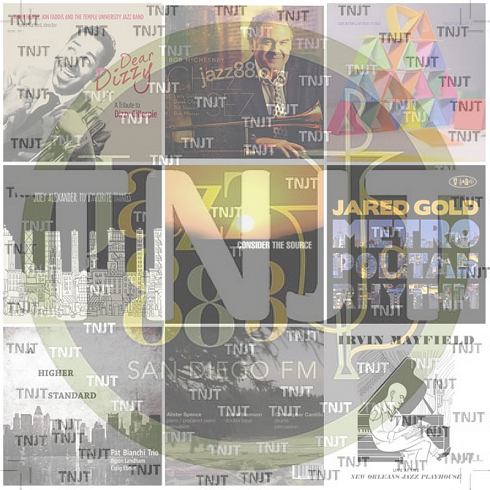 READ THE FULL ARTICLE for more details on EVERYTHING from tonight's show!
What's New on Jazz88.org and Social Networks
Jazz 88.3 Radio Highlights For The Week of May 4, 2015

Artist of the Week / Jazz Birthday's / On This Day In Jazz at Jazz88.org
Maynard Ferguson Artist of the Week
Jazz Birthday's
Monday, 5/4/15

Rudresh Manhanthappa, '71, Italy, Alto
Ron Carter, '37, Michigan, Bass
Maynard Ferguson, '28, Trumpet, Verndun Quebec

Tuesday, 5/5/15

Stanley Cowell, '41, piano, Ohio
Wednesday, 5/6/15

Bassists David Friesen ('42) and Isla Eckinger ('39)

Thursday, 5/7/15

Arthur Blythe, '40, Los Angeles, Sax - Made his home in San Diego.

Friday, 5/8/15

Pianists Keith Jarrett ('45) and Mary Lou Williams ('10)
Red Nichols, '05, Trumpet

Saturday, 5/9/15

Anthony Wilson, '68, Guitar - Son of Gerald, collaborator of many
Dennis Chambers, '59, drums / percussion
Tania Maria, '48, piano / vocal

Sunday, 5/10/15

Jimmy Ponder, '46, guitar
Mel Lewis, '29, drums / big band leader
On This Day In Jazz Highlights
Monday, 5/4/15

Duke Ellington and the Blanton/Webster band record "Cotton Tail", "Never No Lament" and "Don't Get Around Much Anymore" in 1940 in Hollywood.

Tuesday, 5/5/15

Charles Mingus records "Ah-Um" for Columbia Records in 1959

Wednesday, 5/6/15

Long-time San Diego resident, guitarist Barney Kessel, died here in 2004, of a brain tumor. He was 80.
Miles Davis recorded "The Maids of Cadiz" and "The Duke" that later became a part of the classic "Miles Ahead" recording for Columbia Records. The year was 1957.

Thursday, 5/7/15

Glenn Miller records "Chattanooga Choo-choo" in Los Angeles in 1941 for Bluebird Records.

Friday, 5/8/15

Oscar Peterson and Ray Brown record the album "Keyboard Music" in 1950. This marks their first session together for Verve Records.

Saturday, 5/9/15

Billie Holiday accompanied by Roy Eldridge records "God Bless the Child" in 1941 for Okeh records

Sunday, 5/10/15

Louis Armstrong and the Hot Sevens record "Alligator Crawl" and "Potato Head Blues" in 1927 for Okeh records in Chicago.