With new vocal releases taking 4 of the 7 spots in the adds to the Jazz 88.3 Music Library this week (including the latest from 7-time Emmy nominee...as a lyricist, 3x Grammy nominee Lorraine Feather, "Flirting With Disaster"), you'll be hearing a lot of "Jazz with Words" (as my sister calls it) along with all the rest of the great new music starting on Monday, August 10, 2015. Their new releases and all the other great new jazz music will be featured by all your favorite Jazz 88.3 hosts in the weeks to come!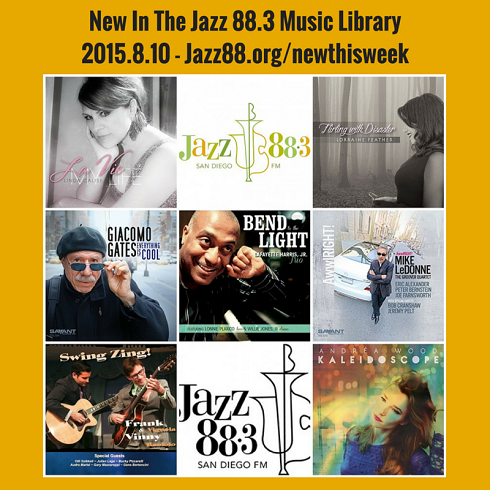 LINDA CALISE – "LA VIE / MY LIFE"
LORRAINE FEATHER – "FLIRTING WITH DISASTER"
GIACOMO GATES – "EVERYTHING IS COOL"
LAFAYETTE HARRIS, JR. TRIO – "BEND TO THE LIGHT"
MIKE LeDONNE – "AWWLRIGHT!"
FRANK VIGNOLA & VINNY RANIOLO – "SWING ZING!"
ANDREA WOOD – "KALEIDOSCOPE"
READ THE FULL ARTICLE for links to artists websites, release reviews, and additional listening notes from the Jazz 88 Music staff....
Female vocalist, with a nice collection of standards.
Female vocalist, performing song for which she wrote all the lyrics.
Lorraine Feather lights upon 'Flirting With Disaster'(AXS Entertainment, July 2015)

"the first comprehensive album of original, romantic love songs"
"Feather regroups with her favorite musical collaborators for Flirting With Disaster, bringing back Yellowjackets founder Russell Ferrante, Shelly Berg, Eddie Arkin, and Dave Grusin on her compositions."
"Flirting With Disaster contains the same clever, in-depth short-story narratives with a twist, a breathy interlude, and eerie vocal sweeps."
"This is another outstanding, possible Grammy contender."
Male vocalist, backed by a great band, performing a variety of tunes.
Pianist, performing all straight-ahead originals.
Organist, performing straight-ahead originals, standards and jazz tunes, with an all-star band.
Female vocalist, performing a variety of tunes, with a contemporary vibe.