Vince Outlaw

Proud Mary's Southern Bar and Grill at the Ramada Inn on Kearny Mesa and San Diego's Jazz and Blues 88.3 are bringing San Diego's Finest authentic southern breakfast eats and Live Blues Music together for Sunday's Best Blues Brunch, with the inaugural hit on Sunday, April 21, 2015 from 11am to 3pm.
Proud Mary's owner and chef Michael Jacobs will be creating all new menu items for the Brunch including such items as Grandma's Picnic Basket with Fried Chicken, Hangover Helper with Chicken Fried Steak, unique "Benedicts" with Grandma's recipe scratch Potato Pancakes, Graceland Fosters Waffles, and the Proud Mary's Bloody Brunch. The Blues music will be LIVE with Blues music by harmonica, guitar, bass, drum, singer (whew!) Jon Atkinson with his Allstar Jammers kicking it off, continuing the new sensation that is the Jazz 88.3 Blues Jam each Wednesday evening at Proud Mary's, with Jazz 88.3 On-Air Host J Otis Williams presiding over the Sunday Brunch festivities too!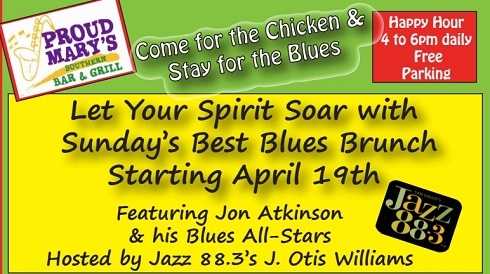 READ THE FULL ARTICLE
for more brunch menu items and information on this great partnership between San Diego's #1 place for Southern cuisine with Live Blues Music and San Diego's #1 Jazz and Blues 24/7 Music Station!

The Missy Andersen Blues Band is coming to Jazz Live San Diego, live from the Saville Theater at San Diego City College and BROADCAST WORLDWIDE via the LISTEN LIVE page at Jazz88.org on Tuesday, April 21, 2015 from 8 to 10 pm PT! You may know that Missy is currently a nominee for a 2015 Blues Music Award from The Blues Foundation in the Soul Blues Female Artist category, to be announced in Memphis, Tennessee on May 7, 2015. But there's a lot more to know about this dynamic, up and coming Blues artist that calls San Diego home!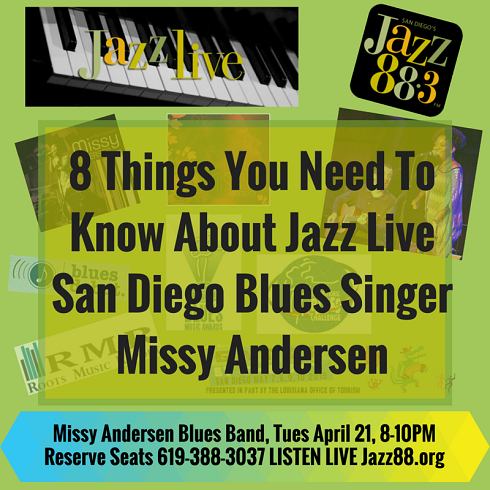 LIVE Monday, March 16, 2015, 6-8 PM PT @Jazz88 San Diego's Jazz 88.3 FM, Jazz88.org, and Apple/Android Apps to The New Jazz Thing @Jazz88 with Vince Outlaw

...Supported by Listener Contributors like YOU and...YOUR BUSINESS (

learn more about underwriting The New Jazz Thing!). GET SOCIAL @TNJT on Facebook and Twitter. Tonight on the show...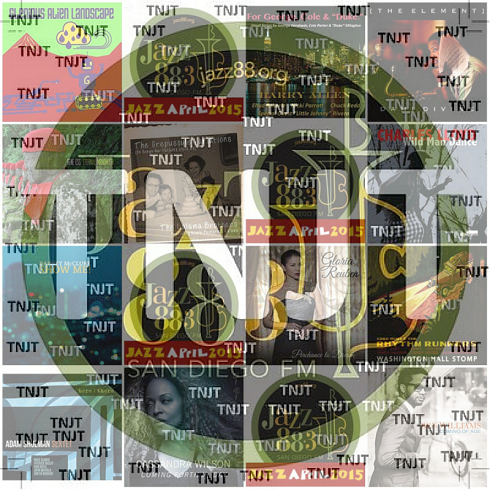 Gene Ammons Artist of the Week, On This Day in Jazz, Portrait In Jazz Preview
Jazz News and more!

The Jazz stars shine the week of August 13, 2015 with new releases by 2015 NEA Jazz Master Charles Lloyd ("Wild Man Dance") and Cassandra Wilson ("Coming Forth By Day") among the 12 great new albums being added to the Jazz 88.3 Music Library for your listening pleasure. You can check out the debut of all the new releases each week on The New Jazz Thing with Vince Outlaw, Monday evenings 6-8pm PT and then your favorite Jazz 88.3 Hosts will be adding them to their playlists for YOU to enjoy and learn!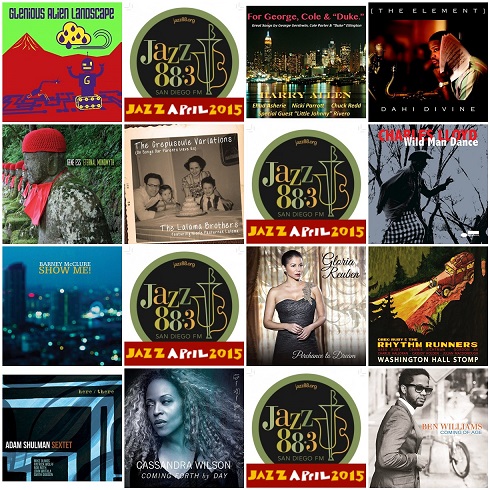 GLEN ACKERMAN – "GLENIOUS ALIEN LANDSCAPE"
HARRY ALLEN AND FRIENDS – "FOR GEORGE, COLE AND DUKE"
DAHI DEVINE – "THE ELEMENT"
GENE ESS – "ETERNAL MONOMYTH"
THE LALAMA BROTHERS – "THE CREPUSCULE VARIATIONS (ON SONGS OUR PARENTS GAVE US)"
CHARLES LLOYD – "WILD MAN DANCE"
BARNEY McCLURE – "SHOW ME!"
GLORIA REUBEN – "PERCHANCE TO DREAM"
GREG RUBY & THE RHYTHM RUNNERS – "WASHINGTON HALL STOMP"
ADAM SHULMAN SEXTET – "HERE/THERE"
CASSANDRA WILSON – "COMING FORTH BY DAY">
BEN WILLIAMS – "COMING OF AGE"

San Diego Jazz and Blues Weekends don't get much better than this 2nd weekend of April 2015's Jazz Appreciation Month, with great concerts and clubs, learning opportunities, and windows to the future of San Diego Jazz. From the This Is Jazz! series in Carlsbad, Middle Earth in Del Mar, Willie Jones III in La Jolla, and the Summer Jazz Workshop Open House Concert and Jam Session in Linda Vista, to Buddy Guy at Downtown San Diego's Historic Balboa Theater, there is Jazz and Blues for everyone to appreciate and celebrate! And you can always check out the Jazz 88.3 Jazz and Blues Calendar for complete listings of Jazz and Blues events, concerts, festivals at top San Diego venues ALL WEEK LONG!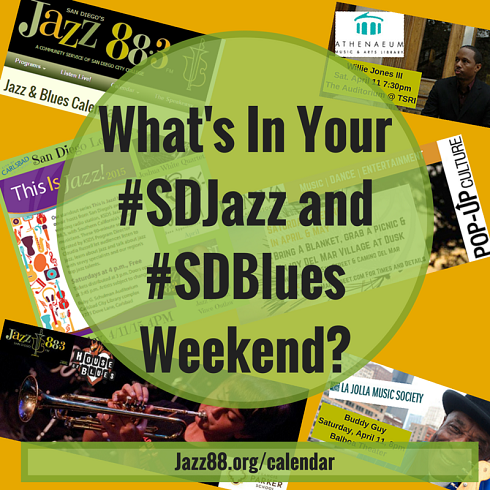 READ THE FULL ARTICLE
for more details and links of some great events presented by our
Jazz 88.3 Partners
!

This is Jazz! 2015, a partnership between the City of Carlsbad Cultural Arts Office and San Diego's Jazz 88.3, continues Saturday, April 11 at 4PM in Carlsbad City Library's Ruby G. Schulman Auditorium with a celebration of Jazz Appreciation Month with San Diego's 2011 Thelonious Monk International Piano Competition Finalist Joshua White and his Quartet and Jazz 88.3 host Vince Outlaw present "San Diego Jazz Legends and Young Lions".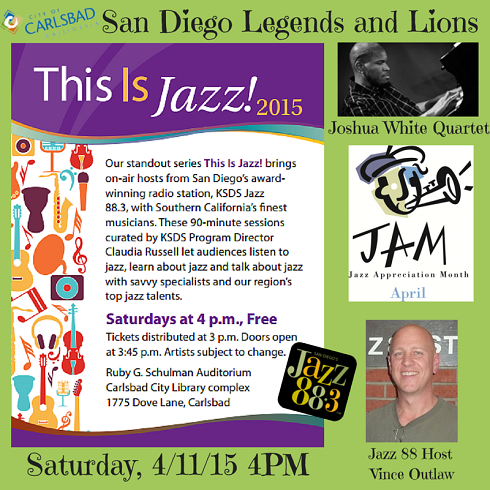 San Diego Jazz has both a rich history and a currently thriving, invigorating and nationally recognized scene, or as San Diego Magazine recently characterized, "the renaissance of West Coast Jazz is happening right here and now." We'll introduce and explore the artists, venues, organizations, media outlets, both past, present, and emerging while hearing music from one of the top Jazz Quartets led by pianist Joshua White, who none other than Herbie Hancock described as a "cutting-edge innovator".
READ THE FULL ARTICLE for the presentation slides from the event and Joshua White's set list from the show (YEA!)...

April 7, 2015 marks the 100th anniversary of the birth of one of the most influential Jazz artists in the history of the music, Billie Holiday. The impact of her music is something that Jazz 88.3 on-air hosts try to communicate when they individually hand-program their daily and weekly shows...As Jazz 88.3's Sue Palmer says,
"What a force Billie was!!!"
To mark the occasion, some of the on-air hosts at Jazz 88.3 have contributed thoughts and some of the digital resources they use when individually programming their music shows for their Jazz 88.3 listeners and supporters.
Jazz 88.3 hosts today will be remembering Lady Day by sharing the great music she has made and influenced with you, so
please LISTEN LIVE
by radio, cable, computer, smartphone wherever you may be.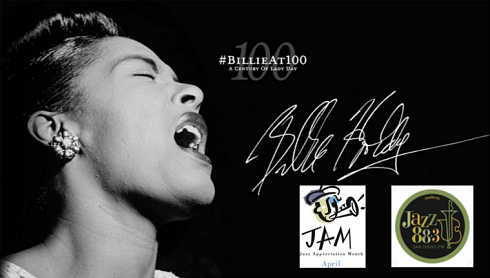 READ THE FULL ARTICLE
for thoughts, links, video's, and more...and then
SHARE YOUR THOUGHTS ON LADY DAY
via a
COMMENT
below or on any of of
SOCIAL MEDIA platforms.

Jazz 88.3 celebrates New Jazz Music WEEKLY with the addition of new Jazz releases into the Jazz 88.3 Music Library...and the week of April 6, 2015 is no different with new music from some of the most recognizable names in Jazz including Cohen, Coryell, Elias, Gadd, Mabern, and Sanborn. We've also got the new release from Nhojj who will be performing with San Diego's Peter Sprague for Jazz Against Malaria (JAM) 2015, Sunday, April 26 at 4pm.
You can check out the debut of all the new releases each week on
The New Jazz Thing with Vince Outlaw, Monday evenings 6-8pm PT
and then your favorite Jazz 88.3 Hosts will be adding them to their playlists for YOU to enjoy and learn!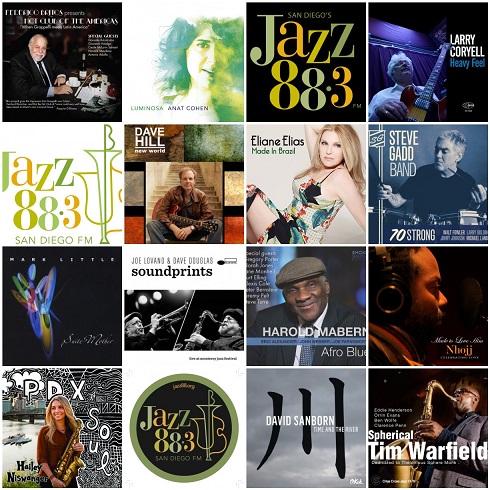 "FEDERICO BRITOS PRESENTS THE HOT CLUB OF THE AMERICAS"
ANAT COHEN – "LUMINOSA"
LARRY CORYELL – "HEAVY FEEL"
DAVE HILL – "NEW WORLD"
ELIANE ELIAS – "MADE IN BRAZIL"
STEVE GADD BAND – "70 STRONG"
MARK LITTLE – "SUITE MOTHER"
JOE LOVANO & DAVE DOUGLAS – "SOUND PRINTS"
HAROLD MABERN – "AFRO BLUE"
NHOJJ – "MADE TO LOVE HIM"
HAILEY NISWANGER – "PDX SOUL"
DAVID SANBORN – "TIME AND THE RIVER"
TIM WARFIELD – "SPHERICAL"

Jazz April is here and Jazz 88.3 is EXCITED! With the Smithsonian's Jazz Appreciation Month celebrated here in the United States throughout April and ending with UNESCO's International Jazz Day on Thursday, April 30, 2015, There are LOTS YOU CAN DO TO CELEBRATE! It's the perfect month to discover a new group or genre of Jazz. Check out one of the local Jazz clubs. Try your hand at writing a review of one of the new albums at Jazz 88.3 (we'll publish it!). Add the Jazz Appreciation Month logo or a Jazz April Twibon to your social media profile.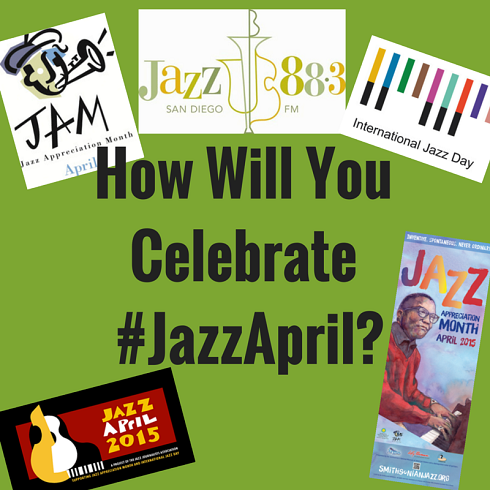 READ THE FULL ARTICLE
for our handy list of ideas and links and then tell us how you plan to celebrate with a COMMENT BELOW or on our social media pages at Facebook, Twitter, Google+, LinkedIn!

Jazz 88.3 and our Jazz and Arts Partners are launching Jazz Appreciation Month in Jazz April with FREE TICKETS through the Jazz 88 Speakeasy.
SIGN-UP
for
/ LOGIN
with your FREE Jazz 88 Speakeasy account at
http://Jazz88.org/speakeasy
, then click the
Enter Giveaway


Student Delivered Sound
Listen Live
Support Jazz 88.3
while you shop at
Pat Launer's Center Stage