Vince Outlaw

Jazzlamp, a Jazz 88 Partner, presents A Tribute To The Legends of Latin Jazz featuring Gilbert Castellanos, Saturday, December 13, 2014, 7:30 pm. JazzLamp once again brings some of San Diego's best Jazz musicians to the heart of the Gaslamp district for an evening of musical perfection, this time to inspire you with masterful interpretations in a tribute to Latin Jazz Legends. In addition to Gilbert on trumpet, you can hear Irving Flores piano, Dean Hulett bass, Tommy Aros congas, and Fernando Gomez drums. Tickets can be purchased online for $15 and at the door for $20.




The Jazz Education Network (JEN) 6th Annual Conference is coming to San Diego, January 7-10, 2015 at the Manchester Grand Hyatt on San Diego Bay. Over 4 Jam-packed days, YOU can be one of the over 3,000 Jazz Musicians, Educators, Advocates, and Enthusiasts experiencing and learning about breadth of the music you love, JAZZ, in 71 clinics and panel presentations, 36 Research Presentations, the next JENeration of Jazz with the JENerations Student Jazz Festival, 77 concerts including Pancho Sanchez, Bobby Shew, Ann Patterson's Maiden Voyage, and Grammy winner and recently nominated again, Gordon Goodwin's Big Phat Band. Check out the full, mind-blowing 2015 Conference Clinician and Performer linepup! Oh, and did we mention that Herbie Hancock will be delivering the Keynote Speech on Thursday, January 8, 2015?!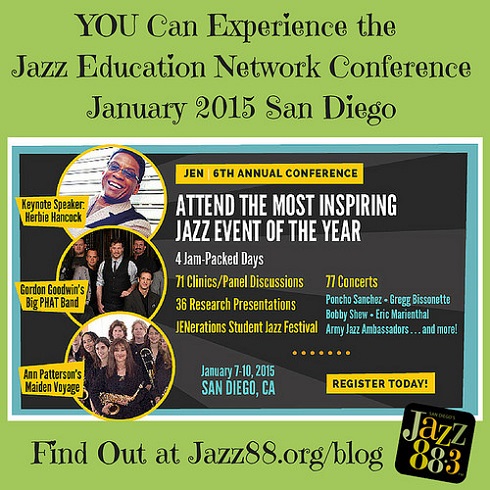 On a personal note, I attended the 2014 conference in Dallas and was BLOWN AWAY by the how much I learned and experienced in 4 short days...and the future of Jazz looks bright!
Read on
for
5 ways you can experience
this unique and one-of-a-kind event!

The 35th Annual San Diego Jazz Fest, presented by America's Finest City Dixieland Jazz Society (AFCDJS), will be swinging the Town and Country Convention Center Wednesday, November 26 through Sunday, November 30 with over 30 bands and guest artists, 8 venues, double dance floors, hours and hours of great trad, swing, boogie woogie, ragtime and more. Download the event flyer.
LISTEN to Inside Art host Dave Drexler previewing the 35th Annual San Diego Jazz Fest.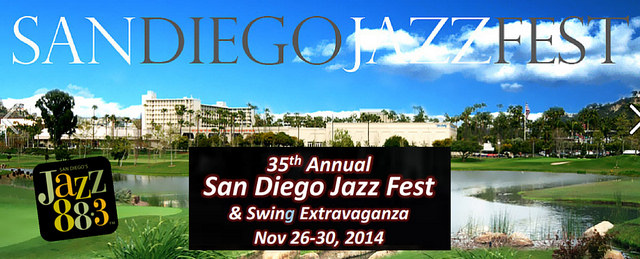 Read the entire article
for more coverage of the festival

While it's good in any case to let your Jazz voice be heard in the JazzTimes Readers Poll 2014...and an entry for a package to the 2015 Portland Jazz Festival ain't a bad one itself, San Diego Jazz fans have at least 6 more reasons to get their vote in before the polls close at 5 p.m. EST on Monday, November 24.
Here's the first one...Read The Entire Article to see the rest...or better yet...add a comment and give your suggestion for more San Diegan's to Write In!
1.
Holly Hofmann - Best Flutist


Post

to Twitter, Facebook, Instagram, Google+ with the

San Diego Jazz

hashtag,

#SDJazz

,

and

San Diego's Jazz 88.3

will retweet, share, like, and all number of things social with your Jazzy contribution to what should be an awesome evening exhibiting what's GREAT about our San Diego Jazz Scene!

For instance...#SDJazz Twitter Search (may change to @Jazz88 Twitter Feed as we start retweeting and such)....
Read the entire article for #SDJazz embeds, and more about this great band and CD...which you can hear on San Diego's Jazz 88.3!
Embed #SDJazz Facebook Thread

Coleman Hawkins (Born: November 21, 1904 in St. Joseph, MO; Died: May 19, 1969 in New York, NY) is the Jazz 88 Artist of the Week for November 17, 2014. AllMusic.com's Scott Yanow sums it up this way: "A jazz legend and the colossus of the tenor saxophone, the first to use the instrument as a serious means of expression."





Read the entire article
for more on this Jazz pioneer...

Cellist Jeffery Zeigler, deemed by the New York Times as a cellist who performs "with unforced simplicity and beauty of tone,", is coming to San Diego in an ArtPower! at UC San Diego show on Thursday, November 20, 8pm. AND JAZZ 88 HAS TICKETS FOR YOU!
Complete the entry form below to be entered in the random drawing for 5 pairs of tickets.
Get a 2nd (and 3rd) entry by Retweeting our Twitter announcements and Sharing our Facebook Announcement
Check out some of the Jeffery's music and info from links below
| | |
| --- | --- |
| Congratulations to Hillary! She picked up two tickets to see Jeffery Zeigler! Jazz 88 will have tickets to the upcoming Michael Dessen and Charlie Arbelaez show at The Loft at UCSD...stay tuned! | |
Read the entire article
for your chance at additional entries in the ticket drawing and more on Jeffery Zeigler....

Airto and Eyedentity are coming to The Loft at UCSD, Saturday, November 15, 8PM and Jazz 88 has TICKETS FOR YOU! Just enter your name, email, and phone below for a chance drawing for one of 5 pair of tickets to the event. We will contact you if you've won tickets. UPDATE 11/12/14 8:45 AM: Drawing closed :( but..




TICKETS STILL AVAILABLE

!




Increase your chance of winning

by ReTweeting our Twitter post and Share our Facebook post! You will get one additional entry in the drawing for each RT/Share!



| | |
| --- | --- |
| WE HAVE WINNERS! Congratulations to Tomas, Tom, Steven, Oswald, and Andrew, who will be seeing Airto and Eyedentity! | |
RETWEET THIS to receive another entry in the drawing!
SHARE THIS to receive another entry in the drawing!

LIVE Monday, November 10, 2014, 6-8 PM PT @Jazz88 San Diego's Jazz 88.3 FM, Jazz88.org, and Apple/Android Apps to The New Jazz Thing @Jazz88 with Vince Outlaw
...Supported by Listener Contributors like YOU and...YOUR BUSINESS (
learn more about underwriting The New Jazz Thing!
).
Jazz 88 Speakeasy Archive (On-Demand, Click to Play): Farhad and Louis of Dornob Release "SEGAH" on The New Jazz Thing, Monday, November 10, 2014 (11:38)

Dornob: A group of musicians formed around 1985, Dornob play Persian classical, folk, and original music in untraditional ways, using jazz group concepts. Dornob's goal, in addition to friendship, crossing cultural bridges, learning the music, and having fun playing music, is to make Persian music accessible to young and non-Persian audiences. They have a new release out called "SEGAH" and are playing several events around town to support their release...and we'll get all of the scoop and hear their new music in Hour 2 of the New!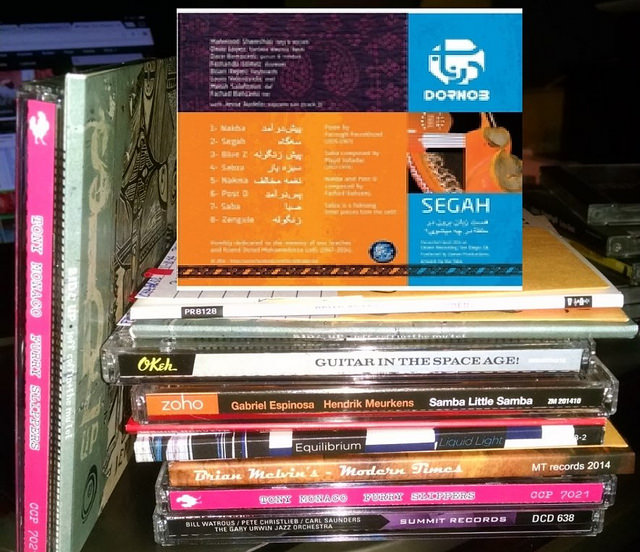 Read the entire article
for links to the full list of New Music being featured on the show, Top 10 Countdown of the Jazzweek.com Jazz Album Chart, show links, and more!

Now that the Grammy Submital season is past us (and all of our musician friends are fretting away about those nominations), the list of adds to the Jazz 88.3 Music Library is a tad short, but there are some great quality releases including new releases from Bill Frisell, Tony Monaco, and more!
YOU can check out their Jazz 88 DEBUT on The New Jazz Thing @Jazz88, Monday, November 10, 2014 between 6 and 8 PM PT (UPDATE: Hear the NEW DEBUT on Jazz 88 Speakeasy Archive of TNJT 11/10)!
BRIAN CHARETTE – "GOOD TIPPER"
JEFF COFFIN + THE MU'TET – "SIDE UP"
GABRIEL ESPINOSA / HENDRIK MEURKENS – "SAMBA LITTLE SAMBA"
BILL FRISELL – "SPACE AGE GUITAR"
WAYNE HORVITZ / THE ROYAL ROOM COLLECTIVE MUSIC ENSEMBLE – "AT THE RECEPTION"
LIQUID LIGHT – "EQUILIBRIUM"
BRIAN MELVIN – "MODERN TIMES"
TONY MONACO – "FURRY SLIPPERS"
BILL WATROUS / GARY URWIN / CARL SAUNDERS / GARY URWIN JAZZ ORCHESTRA – "A BEAUTIFUL FRIENDSHIP"
Read the entire article
for your additional annotations about this week's New, links to artist websites, and your chance to Comment on New Jazz with your FREE Jazz 88 Speakeasy Account!
Support Jazz 88.3
while you shop at
Pat Launer's Center Stage