Jazz 88.3 Blog

San Diego's Jazz 88.3 Twitter community includes a vibrant list of on-air hosts and staff that are sharing Jazz links, pictures, and images on Twitter both during their shows and between shows when they are socializing with listeners and jazz fans from around the world and sharing the best in Jazz links. Here are some quick links to get you connected with Jazz 88.3 on Twitter...
@Jazz88 - San Diego's Jazz 88.3 Twitter Feed: Links to trending Jazz News and Conversations, reviews of Jazz and other music albums, concerts, and events, and retweets from Jazz 88.3 partners and listeners. Let us know when you are listening with a @Jazz88 tag or use the #Jazz88 hashtag!
Jazz 88.3 Radio Hosts Twitter List: Subscribe to the list and follow your favorite Jazz 88.3 hosts and you'll see during-show tweets and between show Jazz news and conversation. Check out the latest Jazz 88.3 host tweets below. If you want to only follow your favorite host, here's the list members.
READ THE ENTIRE ARTICLE for what's happening right now on the Jazz 88.3 Radio Hosts Twitter List...

When you want to tune your radio, computer, or mobile device to the best blues music around, any time of the day or night, programmed LIVE by hosts who love the blues, KSDS-FM San Diego's Jazz 88.3 is the place to be.
Janine gives you a taste starting Saturday at Midnight with Blues Up Front, then the Saturday night blues party gets started at 7pm kicking off with Second Line Parade with Drew, Every Shade of Blue with Michael, Honkin' and Screamin' with Raymond, I've Got Blues For You with J Otis, and finishing off the spirit on Sunday morning at 6am with the Gospel Gathering and Janine. And if you want the
blues WHEN YOU WANT THEM, then turn to the Jazz 88 Speakeasy where Full Programs
of many of these show are available for you to stream on-demand. And when you include the weekly
Jazz 88.3 Blues Jam at Proud Mary's
, you've got Blues Radio in San Diego!
READ THE FULL ARTICLE for links to all of our blue shows and playlists, blues hosts pages, Jazz 88 Speakeasy, and more...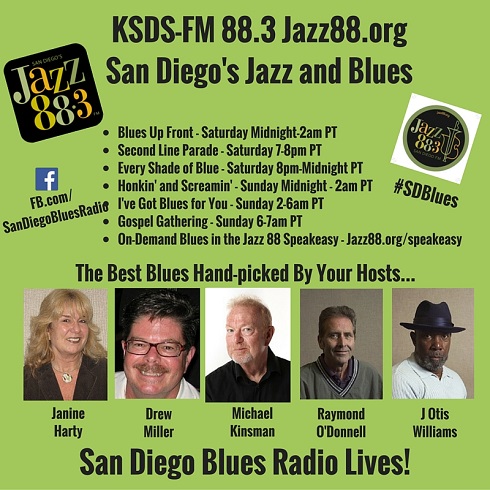 Jazz 88.3's trip to Cuba March 25th to the 31st is almost sold out. We have ONE RESERVATION LEFT and we're continuing to take reservations, in case of a cancellation prior to departure. Soooo... If you would like to go to Cuba, now's your chance. Call Earthbound Expeditions at area code 206 842-9775. If it does sell out and a cancellation should occur, names will be added to the trip in the order received. Hold your spot, just in case! Call 206 842-9775!
La Jolla Music Society's
jazz concert series will conclude
TONIGHT
with Grammy winner,
Keb' Mo
(
LISTEN
to the
Inside Art Interview
)!
The show will take place at the historic
Balboa Theatre
located in the heart of downtown. And--if you become a La Jolla Music Society subscriber, you'll save when you buy tickets for this concert. To purchase tickets or for more information, simply click
here
!
Jazz 88.3 is proud to support the
San Diego Symphony
as they present: "
Jazz @ The Jacobs
" -- only one incredible concert remains, beautifully curated by the ever so talented
Gilbert Castellanos
! The next show is
Gregory Porter
,
THIS
Saturday
at
8PM
. Tickets are almost gone, but there's still a few left--simply click
here
!
Mark your calendars, everyone because The Bad Plus Joshua Redman will hit the Music Box stage TONIGHT(!) at 8PM! The Bad Plus came together at the end of the 20th century and has avoided easy categorization ever since, winning critical hosannas and a legion of fans worldwide with their creativity, unique sound and flair for live performance. Based in New York City, the intensely collaborative trio has constantly searched for rules to break and boundaries to cross, bridging genres and techniques while exploring the infinite possibilities of three exceptional musicians working in perfect sync. Yet again they continue to explore myriad musical forms born of jazz along with any sonic source that forwards music that is uniquely The Bad Plus. And guess what?! - there's still tickets left to see 'em(!)--simply click here!

These new releases will be featured by all your favorite Jazz 88.3 hosts in the weeks to come!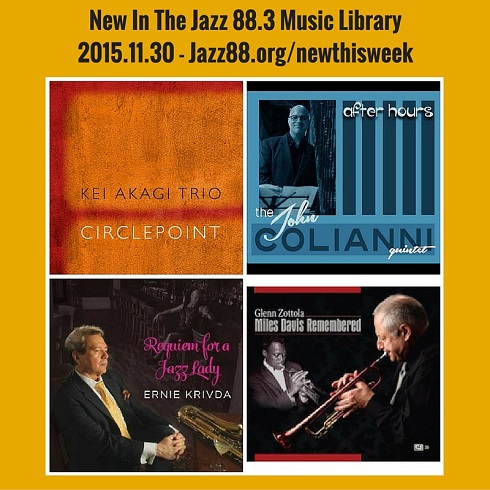 KEI AKAGI TRIO – "CIRCLEPOINT"
JOHN COLIANNI QUINTET – "AFTER HOURS"
ERNIE KRIVDA – "REQUIEM FOR A JAZZ LADY"
GLENN ZOTTOLA – "MILES DAVIS REMEMBERED"
READ THE FULL ARTICLE
for links to artists websites, release reviews, and additional listening notes from the Jazz 88 Music staff....

This is Joe Kocherhans, inviting you to join me Thanksgiving Day at Noon PT for a Portrait In Jazz marathon. We'll kick it off at noon with our artist of the week Nat Adderley…followed by an hour of songs by the great Johnny Mercer…then we'll hear from 2 greats we lost this past year, Howard Rumsey and Phil Woods, followed by the one of the greatest of all jazz singers, the great Joe Williams, then we'll hear from 2 newly named NEA Jazz Masters, Gary Burton and Pharaoh Sanders, and we'll top it off with a jazz tribute to The Great American Songbook. It all starts at noon on Thanksgiving Day.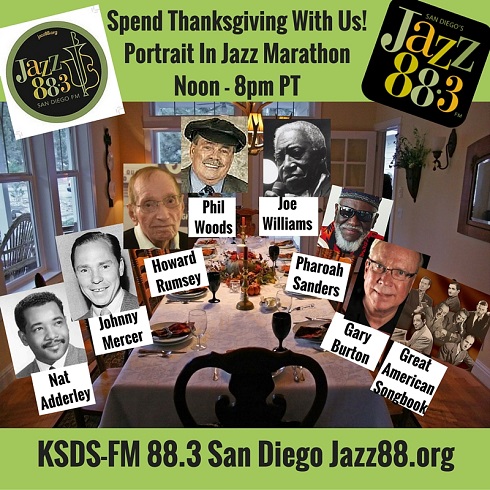 A full spectrum mix of New Jazz Music being added to the Jazz 88.3 Music Library the week of November 16, 2015, including music from vocal Lee Hartley ("Whole Lotta Something'" who recently performed at the historic Jazz 88.3 Happy Hour with Legend Les McCann (who just so happen's to guest on Lee's new disc!). These new releases will be featured by all your favorite Jazz 88.3 hosts in the weeks to come!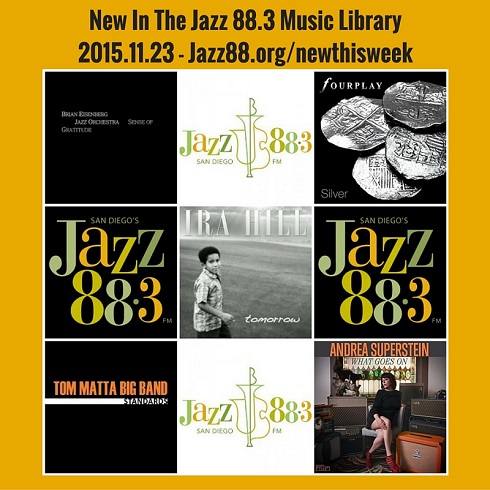 BRIAN EISENBERG BIG BAND – "SENSE OF GRATITUDE"
FOURPLAY – "SILVER"
IRA HILL – "TOMORROW"
TOM MATTA BIG BAND – "STANDARDS"
ANDREA SUPERSTEIN – "WHAT GOES ON"
READ THE FULL ARTICLE for links to artists websites, release reviews, and additional listening notes from the Jazz 88 Music staff....

Congratulations to everyone for a very successful 2015 Fall Membership Drive. The drive concluded during an electric final few minutes of The Guitar Hour with Jazz 88.3 Guests, Staff, and Volunteers gathered for the announcement of the final Daily and Grand Sweepstakes Winners, along with the unofficial total amount raised. We have an unofficial total of 193,000 which will go a little higher when all the pledges are totaled. That is a very impressive number and you should all be very proud of the effort made to support Jazz here in San Diego and around the world!
If you missed the last minutes, please relive it with us by playing our Jazz 88 Speakeasy Audio of the final minutes...
The Favorite Artist Poll Winner is Miles Davis. Thank you all for making your voice heard...this is an all star lineup for sure! Your hosts will be playing this music through the day Monday and during the week as we celebrate this great pledge drive with you!
This is the top ten in order: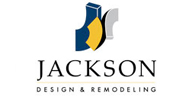 City College Student Radio
KSDS HD2
Listen Live
Pat Launer's Center Stage