Jazzy Joni, edgy guitar-sax-piano, tributes to Ella and George Duke (by Al Jarreau!), trios, septets, big band, and even a Sleek Buick thrown in the mix...there's a bit of something for everyone in the new Jazz music being added to the Jazz 88 Music Library the week of August 4, 2014!
You can check out their debut on The New Jazz Thing @Jazz88, Monday, August 4, 2014 between 6 and 8 PM PT!
The full list, with additional annotations, links to and quotes from reviews and releases, and your chance to comment on this week's New, is after the split...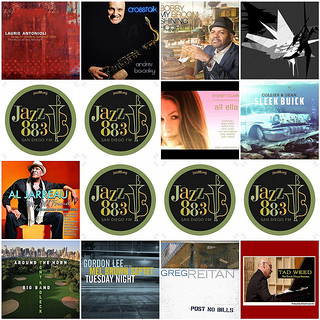 LAURIE ANTONIOLI – "SONGS OF SHADOW, SONGS OF LIGHT"
ANDRES BOIARSKY – "CROSSTALK"
BOBBY BROOM – "MY SHINING HOUR"
BT3 – "BURN IT! LIVE"
SYDNEY CLAIRE – "ALL ELLA"
COLLIER & DEAN – "SLEEK BUICK"
AL JARREAU – "MY OLD FRIEND: CELEBRATING GEORGE DUKE"
TONY KADLECK BIG BAND – "AROUND THE HORN"
GORDON LEE WITH THE MEL BROWN SEPTET – "TUESDAY NIGHT"
GREG REITAN – "POST NO BILLS"
TAD WEED – "THE TRACK HOUSE SESSIONS"