Jazz 88.3 Blog

I'll be watching the 56th Grammy Award Pre-Telecast at http://Grammy.com/Live between 1 and 3:30 PM PT when the Jazz Awards (including Latin Jazz) are all presented and to help get in the mood and follow along, here's some monitoring tools to follow all the action...

Brad Steinwehe and Joshua White are coming to The New Jazz Thing @Jazz88 with Vince Outlaw, Mondays, 6-8 PM PT! If you are a Google Calendar user, you can add The New Jazz Thing Special Guests Calendar to the set of calendars you follow to know What's New on The New Jazz Thing each week! Here's a handy calendar add button: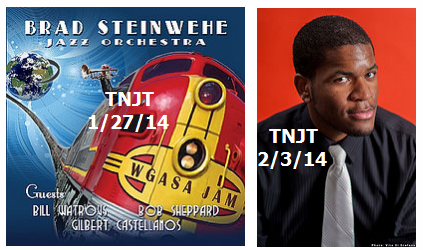 1/27/14 - Brad Steinwehe "Wgasa Jam" Interview: The leader of the Brad Steinwehe Jazz Orchestra will be in-studio chatting about their new disc added @Jazz88 1/20/14 "Wgasa Jam". We'll also talk about his non-profit San Diego Jazz Orchestra and what they've got planned for the future. Brad will be joining me in Hour 2 of the New (7-8PM PT)!
2/3/14 - Joshua White "(((Codes)))" Interview: Ascendant San Diego pianist Joshua White will be joining us to talk about his 2/7/14 presentation at The Loft at UCSD, (((Codes))), In honor of Black History Month at UCSD, presenting the works of Langston Hughes, Amiri Baraka, and other major African-American poets, as performed by, Joshua White - piano, Marvin "Smitty" Smith - drum, Kamau Kenyatta - sax, Dwight Trible - spoken word / vocals, Hamilton Price - bass, Janet Wilson - vocals. I'm REALLY looking forward to experiencing and hosting this event at The Loft!

Add this event to your Google Calendar:

LISTEN LIVE Monday 6-8 PM PT @Jazz88 San Diego's Jazz 88.3 FM, Jazz88.org, and Apple/Android Apps to The New Jazz Thing @Jazz88 with Vince Outlaw...Supported by Listener Contributors like YOU and DAI Architecture - Where A Dream Becomes A Design!

Tonight on the show...
Jazz 88 Speakeasy: Nathan Hubbard "Encinitas and Everything After" Interview, Monday, January 20, 2014 (25:45)


TNJT Video: Nathan Hubbard "Encinitas and Everything After" Interview, Monday, January, 20, 2014

Jazz 88 Speakeasy: The New Jazz Thing @Jazz88 with Vince Outlaw, Monday, January 20, 2014 (entire show, 2:01:16)
Here's a screenshot of the Jazz 88 Playlist Archive for the show tonight...lots of great new and Nathan Hubbard too!
After the split, links / photos / video from our Nathan Hubbard Interview, Top 10 Countdown Video Replay, links to previous and upcoming TNJT and other Jazz News...Enjoy!

The flood gates of New in 2014 have opened up and we've got a whopping 28 new discs being added to the Jazz 88 Music Library the week of January 20, 2014. It shows the broad spectrum of New Jazz being made today from solo guitar, to vocal, to organ trio, to Brazillian, and Big Band...and many other stops along the way. You can hear at least a sampling of these debut on The New Jazz Thing @Jazz88 with Vince Outlaw, Monday, January 20, 2014 from 6 to 8 PM PT. After the split, you get the full list with annotations, artist website links, and promotional audio/video from these new releases, but right here is the essential info and our New This Week @Jazz88 1/20/14 YouTube Playlist...



CHERYL BARNES – "LISTEN TO THIS"
DAN BARASZU & DAVE ELLINGTON – "ORGAN TRIO"
DEE BELL / MARCOS SILVA – "SILVA-BELL-ELATION"
DAVID BLAKE – "NEXT YEAR PEOPLE"
T.K.BLUE – "A WARM EMBRACE"
JIM CLAYTON – "SONGS MY DAUGHTER KNOWS"
STEVE DAVIS – "FOR REAL"
JOE DeROSE AND AMICI – "PEACE STREETS"
MIKE DiRUBBO – "THRESHOLD"
TAEKO FUKAO – "WONDERLAND"
LAUREN KINHAN – "CIRCLE IN A SQUARE"
"THE KING WILLIAM JAZZ COLLECTIVE"
JOHN LaBARBERA BIG BAND – "CARAVAN"
ROMERO LUBAMBO – "SO: BRAZILIAN ESSENCE"
KATE McGARRY AND KEITH GANZ – "GENEVIEVE & FERDINAND"
CAVA MENZIES / NICK PHILLIPS – "MOMENT TO MOMENT"
PETE MILLS – "SWEET SHADOW"
IAN O'BEIRNE – "GLASSWORK"
PJ RASUMSSEN – "ANOTHER ADVENTURE"
MATT RENZI – "RISE AND SHINE"
RENT ROMUS' LIFE BLOOD – "TRUTH TELLER"
SCENES –"…BUT NOT HEARD"
HERB SILVERSTEIN – "MONDAY MORNING"
BRAD STEINWEHE JAZZ ORCHESTRA – "WGASA JAM"
DYLAN TAYLOR – "SWEETER FOR THE STRUGGLE"
DAVID BENNETT THOMAS – "HEADSPACE"
JASON VIEAUX – "PLAY"
BRIGITTE ZARIE – "L'AMOUR"

The great saxophonist Ernie Watts brought his American Quartet into the Saville Theatre at San Diego City College on Tuesday, January 14, 2014 to kick of the 2014 season of Jazz Live San Diego in fine fashion. Here's a collection of the Jazz 88 Speakeasy on-demand audio, video clips from the concert and interview with Ernie, and some of the social media interaction and reaction about the show. You can always tweet, post, and share with the #Jazz88 and #JazzLive hashtags to connect up with us during the show.




Here are links to the

Jazz 88 Speakeasy

on-demand audio for the entire live concert, Ernie Watts interview, and our preview of Jazz Live on Tuesday, February 11, 2014 8-10PM PT with vocalist Sacha Boutros.





Here's a set of photographs taken by EmCee Vince Outlaw before, during, and after the show...





After the split, video from Jazz 88 Master Control during our interview with Ernie Watts and some other social media interactions....

San Diego's Nathan Hubbard opens another chapter in his quest for sound experiences with the first of Five, yes Five, concerts celebrating the release of the Five, yes Five, volume Encinitas and Everything After recording on January 26th (8pm/$5/all ages) at the Taoist Sanctuary, 4229 Park Blvd, San Diego, CA 92103. He will be performing with the Nathan Hubbard Nevertheless Quintet - Ellen Weller+JP Balmat+NMH+Harley Magsino+Laurel Grinnell.

After the split, some links and a couple of videos of Nathan and colleagues doing their Jazzy thing...
Click +1 if you like this song
City College Student Radio
KSDS HD2
Listen Live
Pat Launer's Center Stage
Click on the +1 button
if you like this page