September, 2013

NEW THIS WEEK FOR 9/16/13


A wide range of music, artists, ensembles, and outlooks in the 2013.9.15 Adds To The Jazz 88 Music Library, including the latest crazy project from Vijay Iyer & Mike Ladd, Ahmad Jamal making great "Saturday Morning" music, and the latest from upcoming Jazz Live San Diego guest Billy Mintz (coming 10/8/13 with Roberta Piket). You can hear the all debuted LIVE on The New Jazz Thing @Jazz88 with Vince Outlaw, Monday 6-8 PM PT, September 16, 2013.
This week's list was provided by Jazz 88 Music Director Chad Fox and includes a bunch of great video's previewing much of this music and you can see the whole list with video's after the split...or just watch them all right here in the New This Week 9/16/13 @Jazz88 Youtube Playlist!!

From

Jazz Live with Mark Elf Trio, Tuesday, September 10, 2013

...

On The New #Jazz Thing with Vince Outlaw, Monday 6-8 PM PT, September 9, 2013...
Listen to the

Jazz 88 Speakeasy Archive of The New Jazz Thing, Monday, September 9, 2013

(coming soon)
Here's a snapshot of the playlist archive for tonight's show....
Video of What's New @Jazz88 / Top 10 Countdown / Behind The Mic @TNJT Webcam, New #Jazz Giveaway Winners, Matt Smith Interview Links and more after the split

Drummers leading bands, Polish Jazz Musicians, dogs sleeping with cats, fire and brimstone, mass destruction...wait...not so much that last stuff, but all of that and MORE in the Adds to the Jazz 88 Music Library this week. You can hear them all debuted LIVE, as you can each week, on The New Jazz Thing @Jazz88 with Vince Outlaw, Monday, September 9, 2013, 6-8 PM PT! Before all hell brakes loose (and you see the full list after the split), here's sly exposer Nick Hempton and a taste of his new disc "Odd Man Out"...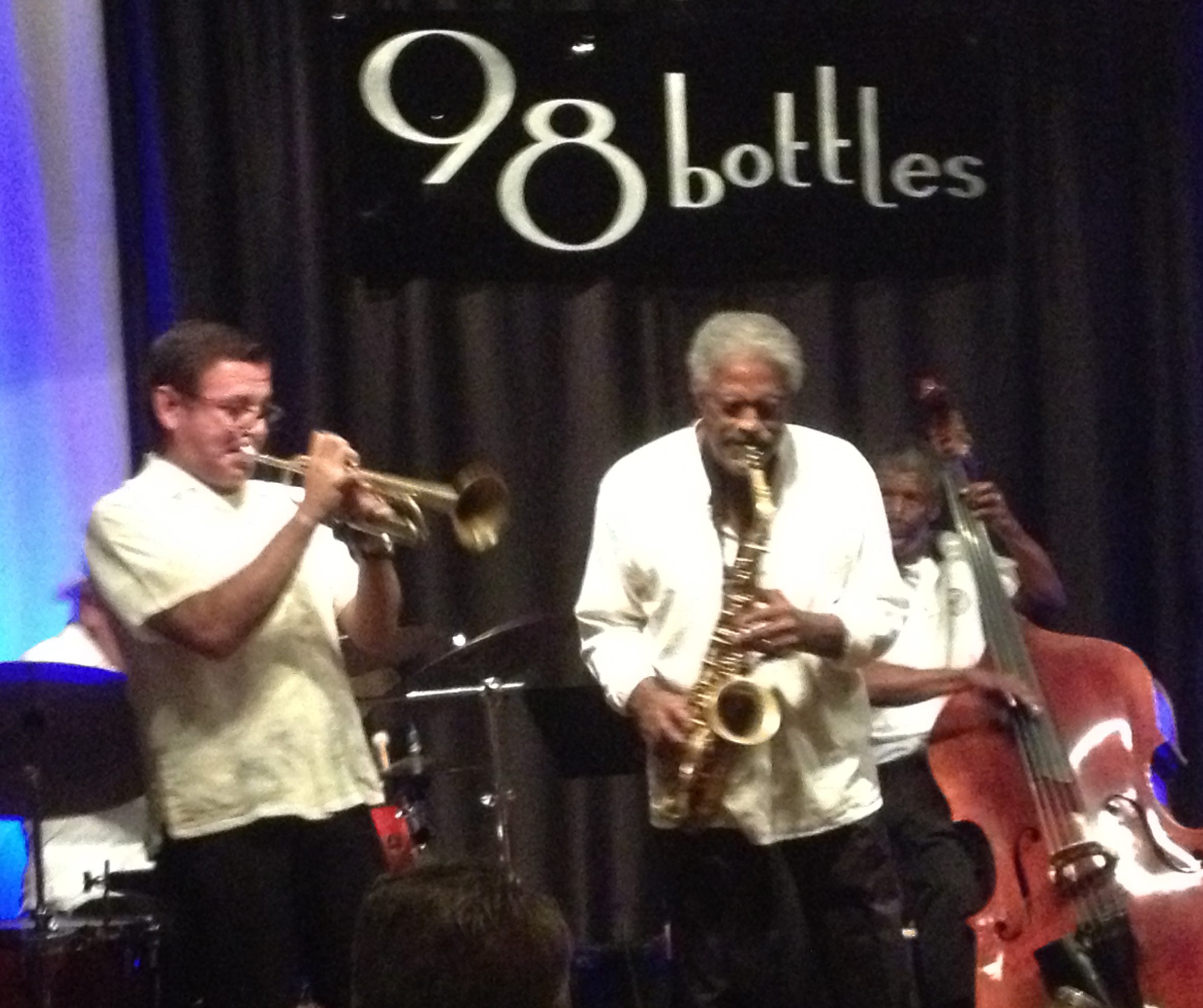 The duo of Gilbert Castellanos and Charles McPherson was electrifying, with Carlos Vasquez on percussion, Marshall Hawkins on bass and Mikan Zlatkovich on the keyboard.
I attended the celebration for Gary Lefebvre at 98 Bottles on Sunday and quite a celebration it was! The room was packed, the music outstanding and the crowd was immensely responsive as the parade of musicians lit it up with fabulous Jazz.

On The New Jazz Thing @Jazz88 with Vince Outlaw, Monday 6-8PM PT,

September 2, 2013

...

Archive Video Behind The Mic Studio Webcam / What's New @Jazz88 / Top 10 Countdown, plus show links and more

...all after the split
Click +1 if you like this song
City College Student Radio
KSDS HD2
Listen Live
Pat Launer's Center Stage
Click on the +1 button
if you like this page