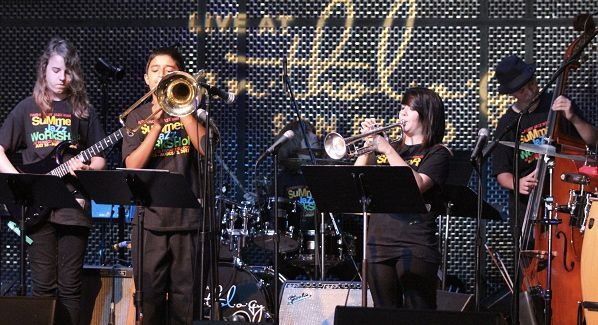 An interesting partnership this summer between a music venue and a private school has resulted in a summer jazz program for tween and teen jazz musicians.
Howard Berkson, owner of the food and music club
Anthology
here in San Diego, got the idea last year for a jazz institute and, with the help of San Diego trumpeter and educator Derek Cannon, put together a great music faculty, outlined a curriculum and set up a whole jazz program. Local top-shelf musicians were enlisted as the teaching staff, most or all of whom are music educators as well. I'm talking about — in addition to Cannon — Mike Holguin, Justin and Melonie Grinnell, Danny Green, Steve and Ella Steinberg, Andy Geib and Tommy Collins. In addition to these instrumentalists, Melonie Grinnell and Leonard Patton took charge of the two jazz singing groups.
Here's what Jeff Dalrymple is talking about:
Latest 1 blog articles...
On-Demand Audio Content
Here are a few CD selections featured most recently:
Here are the 30 most recent tracks played on this show:
October 27th at 9 PM Hour
9:52 PM
Miami Jazz Project
"Mr. Q"

— Miami Jazz Project

9:42 PM
Jacky Terrason
"The Dolphins"

— Smile

9:35 PM
Irving Flores
"My Friend"

— Recuerdos

9:30 PM
Clarence Penn & Penn Station
"Evidence"

— Monk: The Lost Files

9:25 PM
Zoot Sims
"Cinnamon And Clove"

— Zoot Sims Plays Johnny Mandel: Quietly There

9:14 PM
Robin Adler
"Fragile"

— It's About Time

9:13 PM
Brian Lynch And Emmet Cohen
"Cambios"

— Questioned Answer

9:00 PM
Dayna Stephens
"Zingaro"

— Peace

October 27th at 8 PM Hour
8:52 PM
Bobby Hutcherson
"For Duke P."

— The Kicker

8:43 PM
Thad Jones & Mel Lewis
"This Can't Be Love"

— The Thad Jones/Mel Lewis Quartet

8:36 PM
David Hazeltine
"The Inspiration Suite: III. Insight"

— The Inspiration Suite

8:30 PM
Hal Galper Trio
"Like Sonny"

— O's Time

8:21 PM
Geri Allen
"No.3"

— The Nurturer

8:18 PM
Sarah Vaughan
"Gentle Rain"

— Copacabana

8:13 PM
Philip Catherine
"Laura"

— Summer Night

8:09 PM
Zoot Sims
"In A Mellow Tone"

— Live In Philly

8:00 PM
Pat Senatore Trio
"Positano Blues"

— Ascensione

October 20th at 9 PM Hour
9:55 PM
Hal Galper Trio with Jerry Bergonzi
"Stablemates"

— Just Us

9:49 PM
Road Work Ahead /Magnusson, Mays, Plank, and Sprague
"As It Is, As You Are"

— On The Road Again

9:40 PM
Tom Harrell
"Eons"

— Sail Away

9:32 PM
Craig Yaremko
"Little Sunflower"

— Cyo3

9:21 PM
1032 K
"Bk"

— That Which Is Planted EP

9:16 PM
Stan Levey
"Tune Up"

— This Time the Drum's On Me

9:12 PM
Roger Kellaway
"Morning Song"

— Cello Quartet

9:06 PM
Chick Corea, Eddie Gomez & Paul Motian
"Peri's Scope"

— Further Explorations [Disc 1]

9:00 PM
Gerry Gibbs Thrasher Dream Trio
"Too High"

— We're Back

October 20th at 8 PM Hour
8:54 PM
Bob Berg
"I Could Write A Book"

— Another Standard

8:50 PM
Bill Heid
"Kirai"

— Asian Persuasion

8:42 PM
Tierney Sutton
"Estate"

— Paris Sessions

8:34 PM
Ben Wanicur
"Bsamba"

— The Excluded Middle

- RSS feed of the 30 most recent tracks of the show.

Please leave comments