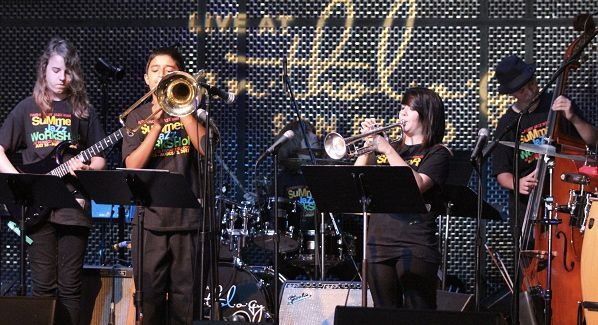 An interesting partnership this summer between a music venue and a private school has resulted in a summer jazz program for tween and teen jazz musicians.
Howard Berkson, owner of the food and music club
Anthology
here in San Diego, got the idea last year for a jazz institute and, with the help of San Diego trumpeter and educator Derek Cannon, put together a great music faculty, outlined a curriculum and set up a whole jazz program. Local top-shelf musicians were enlisted as the teaching staff, most or all of whom are music educators as well. I'm talking about — in addition to Cannon — Mike Holguin, Justin and Melonie Grinnell, Danny Green, Steve and Ella Steinberg, Andy Geib and Tommy Collins. In addition to these instrumentalists, Melonie Grinnell and Leonard Patton took charge of the two jazz singing groups.
Here's what Jeff Dalrymple is talking about:
Latest 1 blog articles...
On-Demand Audio Content
Here are a few CD selections featured most recently:
Here are the 30 most recent tracks played on this show:
September 15th at 9 PM Hour
9:54 PM
The Chris Walden Big Band
"Out of Town"

— Full-On!

9:48 PM
Holly Hofmann
"Tom Thumb"

— Flutopia

9:44 PM
Andrew Hill
"Samba Rasta"

— Eternal Spirit

9:36 PM
Cannonball Adderley
"Fiddler On The Roof (1991 Digital Remaster)"

— Fiddler On The Roof

9:28 PM
Joshua Breakstone
"Perfidia"

— Walk Don't Run

9:22 PM
Michel Camilo
"Caribe"

— Michel Camilo

9:14 PM
Joe Sample
"Invitation"

— Invitation

9:09 PM
Brother Jack McDuff
"Cap'n Jack"

— The Re-Entry

9:02 PM
Mike Longo Trio
"Love For Sale"

— Celebrates Oscar Peterson - Live

September 15th at 8 PM Hour
8:51 PM
Cannonball Adderley
"The Jive Samba"

— The Definitive Cannonball Adderley

8:42 PM
Kristin Korb
"Jeg Elsker Dig (Y-Eye Elsker D-Eye)"

— Finding Home

8:34 PM
Pat Martino
"This Autumn's Ours"

— The Maker

8:28 PM
Joseph Luna
"Jazz Del Mundo"

— EPiCenter

8:21 PM
Joshua Redman
"Trinkle, Tinkle"

— Joshua Redman

8:09 PM
Brother Jack McDuff
"Santa Amalia"

— Brotherly Love

8:01 PM
Jae Sinnett
"Talkin With Beely"

— Subject to Change

September 8th at 11 PM Hour
11:52 PM
Mark Turner
"The Edenist"

— Lathe Of Heaven

11:25 PM
Todd Bishop Group
"Rover"

— Travelogue

11:00 PM
Eric Dolphy
"Out To Lunch"

— Out To Lunch

September 8th at 10 PM Hour
10:47 PM
Steve Turre
"Minor Blues"

— One 4 J

September 8th at 9 PM Hour
9:51 PM
Medeski, Scofield, Martin & Wood
"Sunshine of Your Love"

— Juice

9:42 PM
Rodney Whitaker
"Invitation"

— When We Find Ourselves Alone

9:36 PM
Rachelle Ferrell
"Prayer Dance"

— First Instrument

9:28 PM
Steve Turre
"Spirit Man"

— Sanctified Shells

9:20 PM
Henry Butler - Steven Bernstein
"Viper's Drag"

— Viper's Drag

9:13 PM
Gerald Wilson & His Orchestra
"Monterey Moods Suite: I. Allegro"

— Monterey Moods

9:10 PM
Elmo Hope
"Zarou"

— Hope Meets Foster

9:00 PM
Afro Bop Alliance
"Nature Boy"

— Angel Eyes

September 8th at 8 PM Hour
8:45 PM
Terri Lyne Carrington
"Transformation"

— The Mosaic Project

8:38 PM
Bobby Hutcherson
"Hey Harold"

— Enjoy The View

- RSS feed of the 30 most recent tracks of the show.

Please leave comments