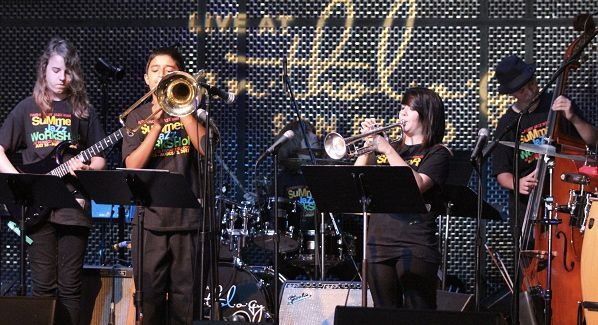 An interesting partnership this summer between a music venue and a private school has resulted in a summer jazz program for tween and teen jazz musicians.
Howard Berkson, owner of the food and music club
Anthology
here in San Diego, got the idea last year for a jazz institute and, with the help of San Diego trumpeter and educator Derek Cannon, put together a great music faculty, outlined a curriculum and set up a whole jazz program. Local top-shelf musicians were enlisted as the teaching staff, most or all of whom are music educators as well. I'm talking about — in addition to Cannon — Mike Holguin, Justin and Melonie Grinnell, Danny Green, Steve and Ella Steinberg, Andy Geib and Tommy Collins. In addition to these instrumentalists, Melonie Grinnell and Leonard Patton took charge of the two jazz singing groups.
Here's what Jeff Dalrymple is talking about:
Latest 1 blog articles...
On-Demand Audio Content
Here are a few CD selections featured most recently:
Here are the 30 most recent tracks played on this show:
September 29th at 9 PM Hour
9:55 PM
James Carter
"Deep Throat Blues"

— The Real Quietstorm

9:48 PM
Tom Harrell
"Sunday"

— Trip

9:43 PM
Oscar Pettiford
"Rhumblues"

— Sextet

9:38 PM
Yaya3
"Switchblade"

— Yaya3

9:21 PM
Charles Lloyd
"Lady Gabor"

— Charles Lloyd - Manhattan Stories - [Disc 2]

9:15 PM
Mark Elf
"Michellie's Mambo"

— Mark Elf Returns 2014

9:11 PM
Kristin Korb
"The Letter"

— Finding Home

9:00 PM
The Frank Walton/Yoron Israel Sextet
"Conseuence"

— Live In Chicago

September 29th at 8 PM Hour
8:45 PM
Eddie Palmieri
"Don't Stop The Train"

— Arete

8:37 PM
Ryan Kisor
"On The One"

— On The One

8:25 PM
Jonathan Karrant
"Drinking Again"

— On and On

8:15 PM
Jonathan Karrant
"On And On"

— On and On

8:07 PM
Dave Kikoski
"Spacing"

— Dave Kikoski

8:00 PM
Oscar Pettiford
"Bohemia After Dark"

— Another One

September 22nd at 9 PM Hour
9:55 PM
The Chris Walden Big Band
"Out of Town"

— Full-On!

9:50 PM
Jay Hoggard
"Starting Over"

— The Fountain

9:42 PM
Joshua Breakstone
"Day By Day"

— 9 By 3

9:39 PM
Denise Donatelli
"It's You or No One"

— When Lights Are Low

9:29 PM
The Clayton Brothers
"Heavy Drama"

— Siblingity

9:23 PM
Medeski, Scofield, Martin & Wood
"I Know You"

— Juice

9:18 PM
Tierney Sutton
"Estate"

— Paris Sessions

9:11 PM
Frank Foster/Frank Wess
"One Morning In May"

— Frank Foster-Frank Wess

9:00 PM
David Ullmann 8
"Ocelot"

— Corduroy

September 22nd at 8 PM Hour
8:51 PM
Gerald Wilson & His Orchestra
"Blues For The Count"

— New York, New Sound

8:45 PM
Joe Colianni
"I Found a New Baby"

— Swings

8:36 PM
The Crusaders
"Eleanor Rigby"

— The Golden Years [Disc 1]

8:31 PM
Marlena Shaw
"Twisted (Live)"

— Live At Montreux

8:24 PM
Joe Chambers
"Ecaroh"

— Horace to Max

8:12 PM
George Cables
"Con Alma"

— Cables' Fables

8:07 PM
Frank Foster, Elmo Hope
"Shutout"

— Hope Meets Foster

- RSS feed of the 30 most recent tracks of the show.

Please leave comments