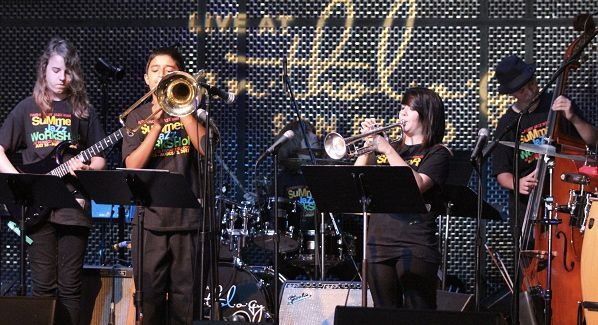 An interesting partnership this summer between a music venue and a private school has resulted in a summer jazz program for tween and teen jazz musicians.
Howard Berkson, owner of the food and music club
Anthology
here in San Diego, got the idea last year for a jazz institute and, with the help of San Diego trumpeter and educator Derek Cannon, put together a great music faculty, outlined a curriculum and set up a whole jazz program. Local top-shelf musicians were enlisted as the teaching staff, most or all of whom are music educators as well. I'm talking about — in addition to Cannon — Mike Holguin, Justin and Melonie Grinnell, Danny Green, Steve and Ella Steinberg, Andy Geib and Tommy Collins. In addition to these instrumentalists, Melonie Grinnell and Leonard Patton took charge of the two jazz singing groups.
Here's what Jeff Dalrymple is talking about:
Latest 1 blog articles...
On-Demand Audio Content
Here are a few CD selections featured most recently:
Here are the 30 most recent tracks played on this show:
August 25th at 9 PM Hour
9:53 PM
Bill Warfield Big Band
"Speak Like A Child"

— Trumpet Story

9:47 PM
Tim Hagans
"Ornette's Waking Dream Of A Woman"

— The Moon Is Waiting

9:39 PM
Road Work Ahead
"And I Love Her"

— Intersection

9:34 PM
Stan Kenton
"Tonight"

— Kenton's West Side Story

9:30 PM
Dave Brubeck
"Tonight"

— Music From Leonard Bernstein'S 'West Side Story' And 'Wonderful Town'

9:21 PM
Chico Freeman/Jazz On The Line
"Cameltrot"

— In The Moment

9:12 PM
Kenny Dorham
"Sao Paolo"

— Una Mas

9:06 PM
The Tommy Flanagan Trio
"Jes' Fine"

— Tommy Flanagan Trio

August 25th at 8 PM Hour
8:55 PM
Terence Blanchard
"Ghost Of Congo Square"

— A Tale Of God's Will (A Requiem For Katrina)

8:51 PM
Pat Martino
"Impressions "

— Head and Heart

8:45 PM
Lou Blackburn
"Manha De Carnaval"

— The Complete Imperial Sessions

8:32 PM
Denny Zeitlin
"Out For A Stroll"

— Stairway To The Stars

8:21 PM
Mahavishnu Orchestra
"One Word"

— Birds Of Fire

8:13 PM
Bill Mays Trio
"Music House"

— Live At Jazz Standard

8:05 PM
Kenny Dorham
"Soul Support"

— Osmosis

8:01 PM
Mark Elf
"Michellie's Mambo"

— Mark Elf Returns 2014

August 18th at 9 PM Hour
9:54 PM
Elio Villafranca & His Jass Syncopators
"Caribbean Tinge"

— Caribbean Tinge: Live From Dizzys Jalc

9:47 PM
Fred Hersch Trio
"You & The Night & The Music"

— Floating

9:41 PM
Bobby Watson
"Wheel Within A Wheel"

— Gumbo

9:35 PM
Steve Swallow
"Deconstructed"

— Deconstructed

9:28 PM
Gregory Porter
"Moanin'"

— Great Voices of Harlem

9:22 PM
Ray Mantilla
"Andean Fantasy"

— The Connection

9:10 PM
Clifford Brown & Max Roach
"Daahoud"

— Daahoud (Mobile Fidelity Sound Lab)

9:01 PM
Steve Khan
"Blue Subtext"

— Subtext

August 18th at 8 PM Hour
8:52 PM
Christian McBride
"In A Hurry"

— The Good Feeling

8:46 PM
Mike Longo Trio
"Daahoud"

— Celebrates Oscar Peterson - Live

8:44 PM
Holly Cole Trio
"If I Were A Bell"

— Blame It On My Youth

8:36 PM
André Previn
"I'll Remember April"

— King Size!

8:29 PM
Peter Bernstein
"Simple As That"

— Ramshackle Serenade

8:21 PM
John Scofield
"Do Like Eddie"

— Hand Jive

- RSS feed of the 30 most recent tracks of the show.

Please leave comments