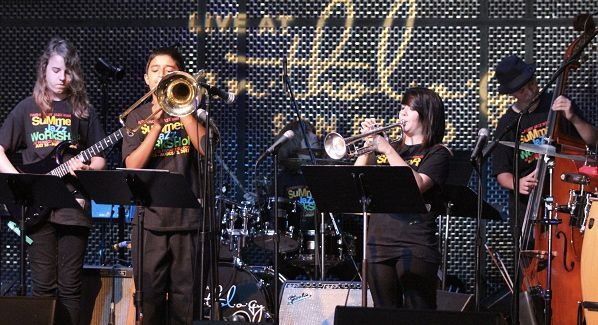 An interesting partnership this summer between a music venue and a private school has resulted in a summer jazz program for tween and teen jazz musicians.
Howard Berkson, owner of the food and music club
Anthology
here in San Diego, got the idea last year for a jazz institute and, with the help of San Diego trumpeter and educator Derek Cannon, put together a great music faculty, outlined a curriculum and set up a whole jazz program. Local top-shelf musicians were enlisted as the teaching staff, most or all of whom are music educators as well. I'm talking about — in addition to Cannon — Mike Holguin, Justin and Melonie Grinnell, Danny Green, Steve and Ella Steinberg, Andy Geib and Tommy Collins. In addition to these instrumentalists, Melonie Grinnell and Leonard Patton took charge of the two jazz singing groups.
Here's what Jeff Dalrymple is talking about:
Latest 2 blog articles...
Here are a few CD selections featured most recently:
Here are the 30 most recent tracks played on this show:
March 3rd at 9 PM Hour
9:55 PM
Ray Anderson
"Raven-A-Ning"

— Big Band Record

9:45 PM
Wayne Escoffery
"Hopes and Dreams"

— Hopes And Dreams

9:37 PM
Nnenna Freelon
"Song Of Silent Footfrints"

— Listen

9:31 PM
George Colligan
"Song for the Tarahumera"

— The Endless Mysteries

9:23 PM
Jeremy Pelt
"Stars Are Free"

— Face Forward, Jeremy

9:16 PM
Irving Flores
"No Me Toques Ese Waltz"

— Recuerdos

9:11 PM
Charles McPherson
"Lover"

— Beautiful

9:06 PM
Eddie "Lockjaw" Davis And Shirley Scott
"That Old Black Magic"

— Bacalao

9:00 PM
Steve Cardenas
"In The Year Of The Dragon"

— Melody In A Dream

March 3rd at 8 PM Hour
8:53 PM
Chuck Israels
"Five"

— Second Wind: A Tribute To The Music Of Bill Evans

8:49 PM
Jane Bunnett
"Lucky Strike"

— The Water Is Wide

8:43 PM
Joshua Breakstone
"Short Story"

— With the Wind and the Rain

8:34 PM
Stacey Kent
"How Insensitive"

— The Changing Lights

8:30 PM
Tony Taravella
"Blue Bossa"

— In A Sentimental Mood

8:23 PM
The Miles Davis Quintet
"Freedom Jazz Dance"

— Miles Smiles

8:09 PM
Carl Fontana and Arno Marsh
"Perdido"

— Live At Capozzoli's

8:01 PM
Steve Davis
"Tactics"

— For Real

February 24th at 9 PM Hour
9:53 PM
Dexter Gordon
"You've Changed"

— Doin' Allright

9:45 PM
John Hicks
"I Guess I'll Hang My Tears Out To Dry"

— Sweet Love Of Mine

9:40 PM
Wayne Escoffery
"No Desert"

— Uptown

9:30 PM
Frank Wess
"Blues For Ruby"

— Magic 201

9:24 PM
Robert Glasper
"Butterfly"

— Double Booked

9:13 PM
Donald Byrd
"Witchcraft"

— Byrd in Hand

9:10 PM
Kenny Burrell
"Spring Can Really Hang You Up The Most"

— Tenderly

9:04 PM
Karrin Allyson
"Wild World"

— Wild For You

February 24th at 8 PM Hour
8:57 PM
Tim Hegarty
"Amsterdam After Dark"

— Tribute

8:54 PM
Brad Steinwehe Jazz Orchestra
"Got The Basie Feelin'"

— Wgasa Jam

8:46 PM
Bobby Hutcherson
"All Or Nothing At All"

— Cruisin The Bird

8:41 PM
Jim Clayton
"Little Leo"

— Songs My Daughter Knows

8:33 PM
Dave Stryker
"Money"

— 8 Track

- RSS feed of the 30 most recent tracks of the show.

Please leave comments