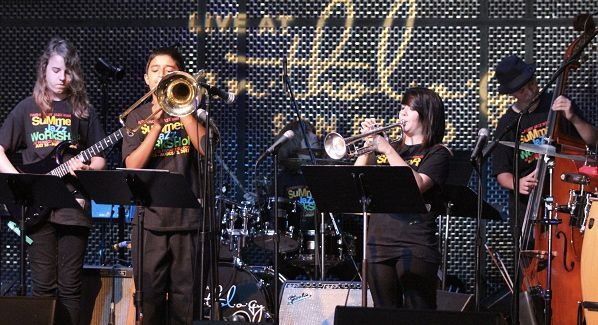 An interesting partnership this summer between a music venue and a private school has resulted in a summer jazz program for tween and teen jazz musicians.
Howard Berkson, owner of the food and music club
Anthology
here in San Diego, got the idea last year for a jazz institute and, with the help of San Diego trumpeter and educator Derek Cannon, put together a great music faculty, outlined a curriculum and set up a whole jazz program. Local top-shelf musicians were enlisted as the teaching staff, most or all of whom are music educators as well. I'm talking about — in addition to Cannon — Mike Holguin, Justin and Melonie Grinnell, Danny Green, Steve and Ella Steinberg, Andy Geib and Tommy Collins. In addition to these instrumentalists, Melonie Grinnell and Leonard Patton took charge of the two jazz singing groups.
Here's what Jeff Dalrymple is talking about:
Latest 1 blog articles...
On-Demand Audio Content
Here are a few CD selections featured most recently:
Here are the 30 most recent tracks played on this show:
January 26th at 9 PM Hour
9:51 PM
Chico Hamilton
"Forest Flower"

— Man From Two Worlds

9:48 PM
Allan Harris
"You Make Me Feel so Young"

— Black Bar Jukebox

9:43 PM
Jaki Byard
"Besame Mucho"

— Sunshine In My Soul

9:28 PM
Dave Liebman Group
"Samsara"

— Samsara

9:20 PM
Bobby Hutcherson
"Highway One"

— Vibe Wise

9:14 PM
Rachelle Ferrell
"Bye Bye Blackbird"

— First Instrument

9:07 PM
Jaime Valle
"Afro Blue"

— Different World

9:00 PM
David Hazeltine
"Fiesta Espa�ol "

— I Remember Cedar

January 26th at 8 PM Hour
8:53 PM
Ben Bailey & The Nashville Big Band
"Big Dipper"

— A Bird In The Hand

8:48 PM
Peter Leitch Trio
"Hicks Time"

— Landscape

8:41 PM
Jack Mouse Group
"Raucous Caucus"

— Range Of Motion

8:31 PM
Kristin Korb
"Cubano"

— Why Can't You Behave

8:22 PM
Caribbean Jazz Project Feat. Dave Samuels
"Afro Green"

— Afro Bop Alliance

8:16 PM
Justin Grinnell Quartet
"Road from Cazadero"

— Without You

8:08 PM
Bobby Hutcherson
"Bedouin"

— The Kicker

8:00 PM
Greg Abate Quartet
"Snowfall"

— Motif

January 19th at 9 PM Hour
9:53 PM
Jason Marsalis Vibes Quartet
"Offbeat Personality"

— The 21st Century Trad Band

9:45 PM
David Hazeltine
"Turquoise Twice"

— I Remember Cedar

9:31 PM
Chick Corea
"Spain"

— Corea.Concerto

9:20 PM
New York Hardbop Quintet
"The Hip Naz"

— Rokermotion

9:15 PM
Allison Adams Tucker
"O Barquinho"

— Come With Me

9:09 PM
Chick Corea, Eddie Gomez & Paul Motian
"Off The Cuff"

— Further Explorations [Disc 1]

9:00 PM
Jonathan Kreisberg
"Until You Know"

— Wave Upon Wave

January 19th at 8 PM Hour
8:53 PM
Bill O'Connell
"Jigsaw"

— Imagine

8:44 PM
Dave Brubeck Quartet
"This Can't Be Love"

— Bossa Nova U.S.A.

8:41 PM
Dave Brubeck Quartet
"Cantiga Nova Swing"

— Bossa Nova U.S.A.

8:37 PM
Kenny Barron & Dave Holland
"Dr Do Right"

— The Art Of Conversation

8:30 PM
J.J. Johnson
"Just Friends"

— Standards

8:20 PM
Ben Monder
"Aplysia"

— Hydra

8:15 PM
Cat Conner
"Giant Steps"

— Cat House

- RSS feed of the 30 most recent tracks of the show.

Please leave comments