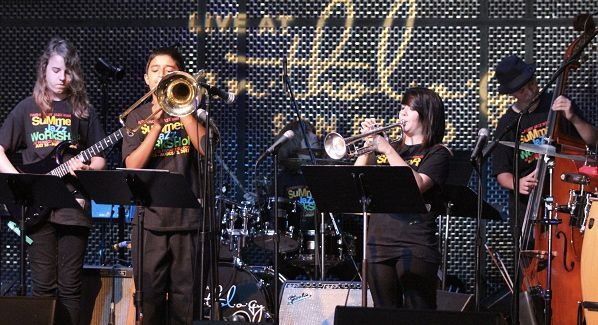 An interesting partnership this summer between a music venue and a private school has resulted in a summer jazz program for tween and teen jazz musicians.
Howard Berkson, owner of the food and music club
Anthology
here in San Diego, got the idea last year for a jazz institute and, with the help of San Diego trumpeter and educator Derek Cannon, put together a great music faculty, outlined a curriculum and set up a whole jazz program. Local top-shelf musicians were enlisted as the teaching staff, most or all of whom are music educators as well. I'm talking about — in addition to Cannon — Mike Holguin, Justin and Melonie Grinnell, Danny Green, Steve and Ella Steinberg, Andy Geib and Tommy Collins. In addition to these instrumentalists, Melonie Grinnell and Leonard Patton took charge of the two jazz singing groups.
Here's what Jeff Dalrymple is talking about:
Latest 1 blog articles...
On-Demand Audio Content
Here are a few CD selections featured most recently:
Here are the 30 most recent tracks played on this show:
June 29th at 9 PM Hour
9:54 PM
Snarky Puppy
"Tio Macaco"

— We Like it Here

9:45 PM
Wolff & Clark
"Clark Bar"

— Expedition 2

9:42 PM
Ernestine Anderston
"On Green Dolphin Street"

— Swings The Penthouse

9:35 PM
Cyrus Chestnut
"I've Never Been In Love Before"

— A Million Colors in Your Mind

9:31 PM
Ahmad Jamal
"Love For Sale"

— Complete Trio Argo Sessions 1956-62 (Disc 6)

9:24 PM
Branford Marsalis
"Citizen Tain"

— The Beautyful Ones Are Not Yet Born

9:17 PM
Gretchen Parlato
"Winter Wind"

— The Lost And Found

9:12 PM
Robert Glasper
"The Worst"

— Covered

9:06 PM
Alan Broadbent
"The Man I Love"

— 'Round Midnight

9:00 PM
Dawan Muhammad
"Ace in the Hole"

— Consider the Source

June 29th at 8 PM Hour
8:53 PM
Clark Terry
"Samba De Orfeu"

— Metropole Orchestra

8:48 PM
Jason Moran
"Out Front"

— Black Stars

8:44 PM
The Warren Vache Quartet
"Only Trust Your Heart"

— ...Remembers Benny Carter

8:35 PM
Joshua Breakstone
"Evergreenish"

— 2nd Avenue

8:27 PM
Bob McChesney
"Going Back"

— Chez Sez

8:19 PM
Les McCann
"Vu Jad' (The Feeling of Never Having Been There Before)"

— On The Soul Side

8:13 PM
Sarah Partridge
"Around The Corner"

— I Never Thought I'd Be Here

8:07 PM
Ed Thigpen
"Thaddeus"

— #1

8:00 PM
Joe Locke
"Last Ditch Wisdom"

— A Pendulum

June 22nd at 9 PM Hour
9:52 PM
Gordon Goodwin's Big Phat Band
"Get in Line"

— The Phat Pack

9:45 PM
Roberto Fonseca
"Chabani"

— Yo

9:39 PM
Dave Stryker
"Gibraltar"

— Messin' With Mister T

9:30 PM
Bill Cunliffe Trio
"Choro (from Nostalgia in Corcovado)"

— River Edge, New Jersey

9:19 PM
Chick Corea & Return to Forever
"The Romantic Warrior"

— The Best Of Return to Forever

9:14 PM
Julie Kelly
"Corcovado"

— Happy to Be

9:08 PM
Vincent Herring
"Fly, Little Bird, Fly"

— Night and Day

9:00 PM
JD Allen
"Disambiguation"

— Graffiti

June 22nd at 8 PM Hour
8:53 PM
Bob Mintzer Big Band
"Truth Spoken Here"

— Get Up!

8:46 PM
Jared Gold
"As Is"

— Metropolitan Rhythm

8:39 PM
Joe Zawinul
"Cafe Andalusia"

— Faces & Places

- RSS feed of the 30 most recent tracks of the show.

Please leave comments