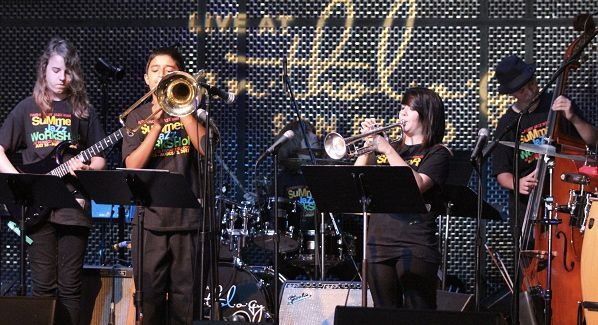 An interesting partnership this summer between a music venue and a private school has resulted in a summer jazz program for tween and teen jazz musicians.
Howard Berkson, owner of the food and music club
Anthology
here in San Diego, got the idea last year for a jazz institute and, with the help of San Diego trumpeter and educator Derek Cannon, put together a great music faculty, outlined a curriculum and set up a whole jazz program. Local top-shelf musicians were enlisted as the teaching staff, most or all of whom are music educators as well. I'm talking about — in addition to Cannon — Mike Holguin, Justin and Melonie Grinnell, Danny Green, Steve and Ella Steinberg, Andy Geib and Tommy Collins. In addition to these instrumentalists, Melonie Grinnell and Leonard Patton took charge of the two jazz singing groups.
Here's what Jeff Dalrymple is talking about:
Latest 1 blog articles...
On-Demand Audio Content
Here are a few CD selections featured most recently:
Here are the 30 most recent tracks played on this show:
November 10th at 9 PM Hour
9:53 PM
Michael Eaton
"Guru"

— Individuation

9:44 PM
Marcus Printup
"Unveiled"

— Unveiled

9:34 PM
Gerry Gibbs Thrasher Dream Trio
"Runnin"

— We're Back

9:29 PM
Nilson Matta
"Manhã De Carnaval"

— Nilson Matta's Black Orpheus

9:21 PM
The Paul Horn Quintet
"Mr Bond"

— Something Blue

9:13 PM
Meredith d'Ambrosio
"Estate(That Summer)"

— Beware Of Spring

9:06 PM
Tim Horner
"Mandala"

— The Head Of The Circle

9:00 PM
Clarence Penn & Penn Station
"Rhythm-a-Ning"

— Monk: The Lost Files

November 10th at 8 PM Hour
8:55 PM
The Chris Walden Big Band
"Out of Town"

— Full-On!

8:47 PM
Steve Heckman Quartet/Quintet
"I Thought About You"

— Born To Be Blue

8:42 PM
John Hicks
"Peanut Butter Two"

— Sweet Love Of Mine

8:34 PM
Hal Galper Trio
"Ascendant"

— Airegin Revisited

8:31 PM
Cat Conner
"Heart's Desire"

— Cat House

8:22 PM
Hubert Laws
"Restoration"

— In The Beginning

8:14 PM
Irving Flores
"No Me Toques Ese Waltz"

— Recuerdos

8:08 PM
Houston Person
"Only Trust Your Heart"

— The Melody Lingers On

8:00 PM
Pat Senatore Trio
"Positano Blues"

— Ascensione

November 3rd at 9 PM Hour
9:55 PM
The Chris Walden Big Band
"Out of Town"

— Full-On!

9:42 PM
Phil Woods & The Festival Orchestra
"Nefertiti"

— Celebration!

9:34 PM
Buddy Tate Quartet, The
"I'll Remember April"

— Texas Tenor

9:29 PM
Billy Childs
"Upstairs by a Chinese Lamp"

— Map to the Treasure: Reimagining Laura Nyro

9:21 PM
Mark Turner
"Ethan's Line"

— Lathe Of Heaven

9:12 PM
Carmen Lundy
"When Will They Learn"

— Soul to Soul

9:09 PM
Christopher Hollyday
"Storm"

— And I'll Sing Once More

9:00 PM
John Webber Quartet
"The Thrill Is Gone (Featuring George Coleman)"

— Down For The Count (Featuring George Coleman)

November 3rd at 8 PM Hour
8:53 PM
Jay Hoggard
"Bye Ya"

— In The Spirit

8:47 PM
The Hal Galper Trio
"Giant Steps"

— Portrait

8:41 PM
Greg Abate Quartet
"Snowfall"

— Motif

8:36 PM
Frank Potenza
"Beautiful Love"

— For Joe

8:31 PM
Max Roach
"Mr. X"

— Max Roach Plus Four

- RSS feed of the 30 most recent tracks of the show.

Please leave comments