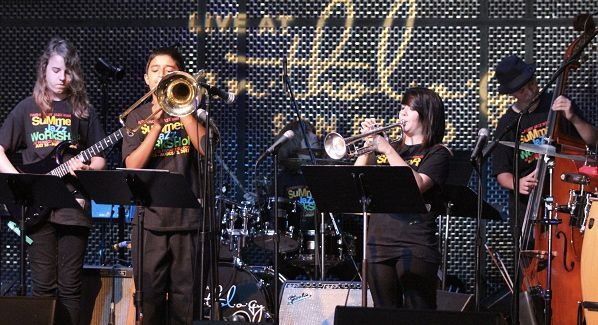 An interesting partnership this summer between a music venue and a private school has resulted in a summer jazz program for tween and teen jazz musicians.
Howard Berkson, owner of the food and music club
Anthology
here in San Diego, got the idea last year for a jazz institute and, with the help of San Diego trumpeter and educator Derek Cannon, put together a great music faculty, outlined a curriculum and set up a whole jazz program. Local top-shelf musicians were enlisted as the teaching staff, most or all of whom are music educators as well. I'm talking about — in addition to Cannon — Mike Holguin, Justin and Melonie Grinnell, Danny Green, Steve and Ella Steinberg, Andy Geib and Tommy Collins. In addition to these instrumentalists, Melonie Grinnell and Leonard Patton took charge of the two jazz singing groups.
Here's what Jeff Dalrymple is talking about:
Latest 1 blog articles...
On-Demand Audio Content
Here are a few CD selections featured most recently:
Here are the 30 most recent tracks played on this show:
March 2nd at 9 PM Hour
9:52 PM
Brian Pareschi and The BP Express
"Angel of Repose"

— Brian Pareschi and The BP Express

9:45 PM
Ben Monder
"Aplysia"

— Hydra

9:42 PM
Danny Green Trio
"Thirty Springrolls Please"

— After The Calm

9:33 PM
Darrell Grant Quartet
"Freedom Dance"

— Black Art

9:27 PM
Leonard Patton
"Your Love Makes Me Blue"

— A Beautiful Day

9:18 PM
Mark Buselli
"Istanbul"

— Untold Stories

9:07 PM
Miles Davis
"Flamenco Sketches [Alternate]"

— Kind Of Blue

9:00 PM
Lisa Parrott
"I Don't Know What"

— Round Tripper

March 2nd at 8 PM Hour
8:51 PM
Chick Corea
"500 Miles High"

— Light as A Feather

8:44 PM
Ben Wanicur
"Sun Chant"

— The Excluded Middle

8:36 PM
Mimi Klein
"Midnight Sun"

— Mimi Klein

8:30 PM
Ben Wolfe
"The Whisperer"

— The Whisperer

8:22 PM
Ray Obeido
"Small Fortune"

— There Goes That

8:18 PM
Mark Murphy
"Milestones"

— Rah!

8:00 PM
Jim Snidero
"Duluth at Noon"

— Main Street

February 23rd at 9 PM Hour
9:46 PM
Larry Goldings
"Calls"

— As One

9:46 PM
The Don Menza Big Band
"T 'n' T"

— Menza Lines

9:40 PM
Giacomo Gates
"Waitin'"

— Blue Skies

9:34 PM
Dexter Gordon
"Modal Mood"

— Dexter Calling.

9:30 PM
Jim Snidero
"Duluth at Noon"

— Main Street

9:24 PM
Nathan East
"Overjoyed"

— Nathan East

9:15 PM
Abbey Lincoln
"Throw It Away"

— A Turtle's Dream

9:09 PM
Bill Cunliffe
"Afluencia"

— Imaginacion

9:00 PM
Rez Abbasi Acoustic Quartet
"Joyous Lake"

— Intents and Purposes

February 23rd at 8 PM Hour
8:56 PM
Stan Getz
"Chega De Saudade (No More Blues)"

— Big Band Bossa Nova

8:46 PM
Mike Wofford
"Take The Coltrane"

— Live At Athenaeum Jazz

8:36 PM
Duane Eubanks
"Slew Footed"

— Things Of That Particular Nature

8:30 PM
Nnenna Freelon
"Superstition"

— Tales Of Wonder

8:21 PM
Ritmos Unidos
"Water Babies"

— Ritmos Unidos

8:10 PM
Wayne Escoffery
"Chronic Blues"

— Hopes And Dreams

- RSS feed of the 30 most recent tracks of the show.

Please leave comments