About a week ago I attended this year's
Festival Nrmal
in Monterrey, Mexico. It was truly an amazing experience. Rather than go through all the details, I'll just post about my favorite acts that I got to witness. I may update this post with photos taken on my phone.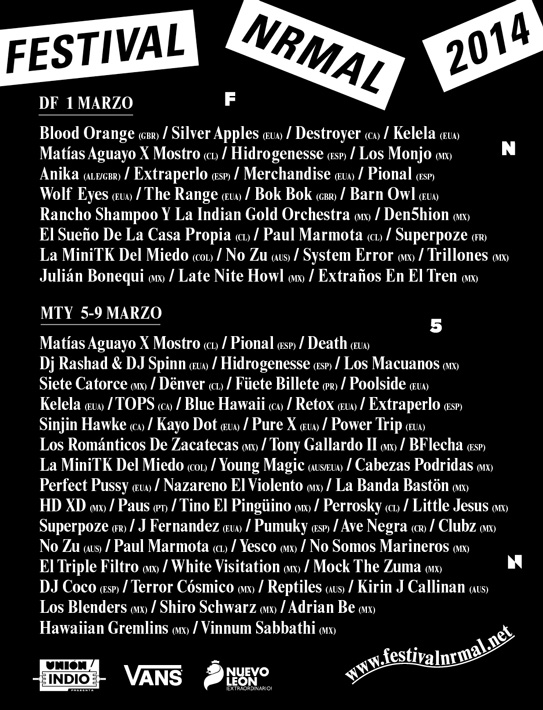 Here's what Marcus Rosario is talking about:
Latest 5 blog articles...
Here are a few CD selections featured most recently:
Here are the 30 most recent tracks played on this show:
April 17th at 1 AM Hour
1:52 AM
Chicano Batman
"Itotiani"

— Chicano Batman (2009)

1:46 AM
Various Artists
"Muzik Mogollar"

— Istanbul 70: Psych, Disco, Folk Classics

1:42 AM
Yasmine Hamdan
"Aleb"

— Ya Nass

1:36 AM
Tim Maia
"Imunizacao Racional"

— Racional Vol. 2

1:33 AM
Thievery Corporation
"Meu Nego (Featuring Karina Zeviani)"

— Saudade

1:29 AM
Kalbata & Mixmonster
"Prisoner in Love (CRB Version) [feat. Kutiman]"

— Congo Beat the Drum

1:24 AM
Prince Fatty
"Under Arrest (Prince Fatty Mix)"

— Prince Fatty vs. Mungo's Hi-Fi

1:18 AM
Atropolis
"Reza Por Mi (Featuring Lido Pimienta)"

— Transitions

1:15 AM
Frikstailers
"Hazlo Tu Mismo"

— En Son de Paz

1:11 AM
Armadillo
"Aves del Valle"

— Es Posible

1:06 AM
Curumin
"Misterio Stereo"

— JapanPopShow

1:00 AM
Orquestra Imperial
"Cair Na Folia (iZem Remix)"

— Cair Na Folia Remix EP

April 17th at Midnight Hour
0:53 AM
The Bombay Royale
"Phone Baje Na"

— You Me Bullets Love

0:47 AM
Sheela Bringi
"Raja Ram"

— Incantations

0:42 AM
Dom La Nena
"Batuques (Jeremy Sole & Atropolis Remix)"

— Ela por Eles - Remixes

0:39 AM
John Wizards
"Maria"

— John Wizards

0:32 AM
Muyei Power
"Wali Bena"

— Sierra Leone in 1970s USA

0:28 AM
Meta Meta
"Orunmila"

— MetaL MetaL

0:22 AM
Ibibio Sound Machine
"Uwa The Peacock"

— Ibibio Sound Machine

0:18 AM
Mr. Pauer
"Dare (Bleepolar Remix)"

— Dare (feat. Ana & Maye Osorio) + Remixes

0:14 AM
La Santa Cecilia
"Monedita"

— Treinta Dias

0:09 AM
Musi-O-Tunya
"Musi-O-Tunya"

— Give Love to Your Children

0:05 AM
Paul Ngozi
"Help Me"

— The Ghetto

0:00 AM
Various Artists
"Shake Me"

— Those Shocking Shaking Days: Indonesia Hard, Psychedelic, Progressive Rock and Funk 1970-1978

April 10th at 1 AM Hour
1:51 AM
Henry Fiol
"Oriente"

— Fe, Esperanza Y Caridad

1:42 AM
Omar Khorshid
"Rakset El Fadaa"

— Giant + Guitar

1:34 AM
Antibalas
"The Rat Catcher"

— Antibalas

1:30 AM
Quantic Y Anita Tijoux
"Doo Wop (That Thing)"

— Doo Wop (That Thing)

1:23 AM
Gilberto Gil
"One O'Clock Last Morning, 20th April 1970"

— Gilberto Gil 1971

1:20 AM
Thievery Corporation
"Nos Dois (Featuring Karina Zeviani)"

— Saudade

- RSS feed of the 30 most recent tracks of the show.

Please leave comments