For his recent concert at UCSD's Loft, pianist Danny Green augmented his usual trio-mates, bassist Justin Grinnnell and drummer Julian Cantelm, with three other stellar San Diego musicians – reedman Tripp Sprague, percussionist Mark Lamson and vocalist Leonard Patton.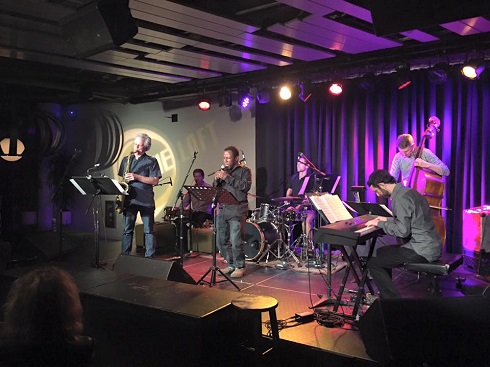 Danny Green is a gifted keyboardist and an equally gifted composer. His recent recordings include most, if not all, of his own compositions, and several of those works made it to the set list at the Loft, along with offerings from Michael Jackson, Djavan and Stevie Wonder.
READ THE ENTIRE ARTICLE for more...
Here's what Vince Outlaw is talking about:
Latest 5 blog articles...
On-Demand Audio Content
Here are a few CD selections featured most recently:
Here are the 30 most recent tracks played on this show:
February 9th at 1 AM Hour
1:51 AM
The Interplay Jazz Orchestra
"Soy Califa"

— Detour

1:44 AM
Roland Hanna
"In My Solitude"

— Duke Ellington Piano Solos

1:35 AM
Mikan Zlatkovich
"INNER GLIMPSE"

— FLY AWAY

1:27 AM
Jae Sinnett
"Double Dribble"

— Zero to 60

1:22 AM
Sweet Baby J'ai
"Killer Joe (Sweet and Low)"

— Straight To That Place

1:12 AM
Russ Nolan
"Calling"

— Sanctuary From The Ordinary: Live at Firehouse 12

1:08 AM
Stacey Kent
"In The Wee Small Hours Of The Morning"

— Tenderly

1:01 AM
Hristo Vitchev Quartet
"In Search of Wonders"

— In Search of Wonders

February 9th at Midnight Hour
0:57 AM
Erena Terakubo
"Folklore"

— A Time For Love

0:49 AM
Jon Davis
"Slowly But Surely"

— Changes Over Time

0:44 AM
Euphoria Brass Band
"The Homecoming Song"

— Coast To Coast

0:35 AM
Ken Peplowski Quintet
"Panama"

— Illuminations

0:27 AM
Todd Hunter Trio
"Samba De Todje"

— Eat, Drink, Play

0:22 AM
Ed Fast & Conga Bop
"The Jodi Grind"

— Do Or Die

0:14 AM
Lucian Ban
"Transylvanian Wedding Song 1"

— Songs From Afar

0:10 AM
Champian Fulton
"A Bad Case of the Blues"

— After Dark

0:00 AM
Herlin Riley
"Harlem Shuffle"

— New Direction

February 2nd at 1 AM Hour
1:55 AM
Dick Oatts / Mats Holmquist New York Jazz Orchestra
"Toys"

— A Tribute to Herbie + 1

1:49 AM
Christian Tamburr
"People Talk"

— People Talk

1:41 AM
Dr. Lonnie Smith
"Straight No Chaser"

— Evolution

1:26 AM
Russell Bizzett
"Bolivia"

— Dream Street

1:25 AM
Ron Davis
"Jaggy Dance"

— Pocket Symphronica

1:20 AM
Ernie Andrews
"Some Enchanted Evening"

— The Many Faces of Ernie Andrews

1:11 AM
Jaimeo Brown: Transcendence
"The Valley"

— Work Songs

1:02 AM
Renee Rosnes
"Lucy from Afar"

— Written in the Rocks

February 2nd at Midnight Hour
0:59 AM
Chris Conte
"Just Friends"

— Our Love Will Last

0:52 AM
Jemal Ramirez
"Prince Of Darkness"

— Pomponio

0:46 AM
Nicolas Bearde
"Invitation"

— Invitation

0:40 AM
Stan Getz
"O Grande Amor"

— Getz / Gilberto

0:31 AM
Jim Clayton
"Return To Pooh Corner"

— Lenny Jumps In

- RSS feed of the 30 most recent tracks of the show.

Please leave comments