2014

LISTEN LIVE Monday, March 3, 2014, 6-8 PM PT @Jazz88 San Diego's Jazz 88.3 FM, Jazz88.org, and Apple/Android Apps to The New Jazz Thing @Jazz88 with Vince Outlaw...Supported by Listener Contributors like YOU and...YOUR BUSINESS (learn more about underwriting The New Jazz Thing!)
The New #Jazz Giveaways this week are: LISA HILTON – "KALEIDOSCOPE" and JAVON JACKSON – "EXPRESSION". Listen for your chance to pick up New Jazz music, then call 619-388-3162!

Congrats to Brent (in Portland, OR.!) and Cameron (in SD)!

Grant Clarkson "Hearst of Light" Interview, Monday, March 10, 2014 - San Diego bassist new disc is a showcase for the San Diego scene with Derek Cannon (Joe Garrison and Night People, CMEA Jazz Festival Adjudicator, Grossmont College Jazz Educator), Sky Ladd (Gregory Page), John Rekeviks, and Richard Sellars on board. We'll be chatting about the new disc, his evolution as a player, the SD Jazz scene and more!
Wayne Riker "Groovin With The Top Brass", Monday, March 17, 2014: San Diego guitarist with a new disc featuring folks like Gilbert Castellanos and Rob Thorsen will be chatting about his latest project.
Matt Slocum "Black Elk's Dream", Monday, March 31, 2014: Jazz Live San Diego alum who debuted some of this music at his August, 2013 JLSD performance chatting about the new release and his April 4, 2014 CD Release show in San Diego.
After the split, Jazz 88 CMEA Jazz Festival Pics, Previously on TNJT Links, New This Week and Playlist pics, and more!!

Jazz continues to grow, with some great sounding discs from new artists to the Jazz 88 Music Library and now, Monday, March 3, 2014, taking their place with all of the great music you hear at Jazz 88. You can hear the debut of many of these each and every Monday, 6-8PM PT, on
The New Jazz Thing @Jazz88 with Vince Outlaw
(
UPDATE
: Hear The New on
TNJT 2014.3.3 Jazz 88 Speakeasy Archive
).
JANICE BORLA GROUP – "PROMISES TO BURN"
NATALIE CRESSMAN – "TURN THE SEA"
FRANK DiBUSSOLO GROUP – "SONGS TO WRITE HOME ABOUT"
DIGITAL PRIMITIVES – "LIPSOMUCH / SOUL SEARCHING"
DRESSER / HEMINGWAY / TSHAR – "CODE RE(A)D"
SINNE EEG – "THE BEAUTY OF SADNESS"
PETER EVANS + RALEIGH DAILY – "MEASURE FROM ZERO"
CAROL FREDETTE – "NO SAD SONGS FOR ME"
JUDSON GREEN – "MOJITO"
JACLYN GUILLOU – "THE LOVER'S WALK"
LISA HILTON – "KALEIDOSCOPE"
JAVON JACKSON – "EXPRESSION"
JENNA MAMMINA – "THE MUSIC AND THE MAGIC OF ABBEY LINCOLN"
"SHAWN MAXWELL'S ALLIANCE"
GARRETT MORRIS – "BLACK CREOLE CHRONICLES"
MOUTIN FACTORY QUINTET – "LUCKY PEOPLE"
CLOVIS NICOLAS – "NINE STORIES"
MATT SLOCUM – "BLACK ELK'S DREAM"
TALL & SMALL – "HIGH ON YOU"
1032K – "THAT WHICH IS PLANTED"

Joe Garrison is a humble man who has traveled very far to bring news of important developments in the field of Large Ensemble Jazz Music. Joe Garrison and Night People will perform at our next Jazz Live on Tuesday, March 11th. All ages are urged to attend this show because it will be one of the Important Events in 2014. Jazz 88.3 Members can reserve tickets now at 619-388-3037. Print a parking pass right here.

Next Thursday night, come through for an exclusive listening party of Ana Tijoux's latest album, Vengo. Also got giveaways from Nacional Records! No cover!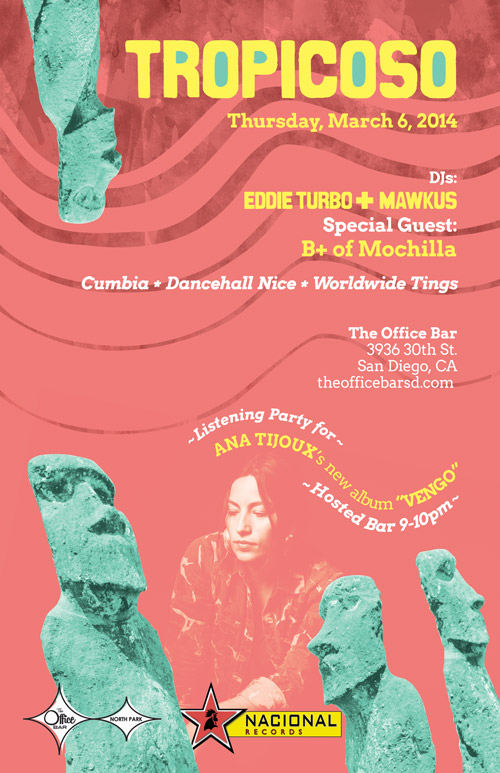 LISTEN LIVE Monday, February 24, 2014, 6-8 PM PT @Jazz88 San Diego's Jazz 88.3 FM, Jazz88.org, and Apple/Android Apps to The New Jazz Thing @Jazz88 with Vince Outlaw...Supported by Listener Contributors like YOU and...YOUR BUSINESS (learn more about underwriting The New Jazz Thing!)

After the split, your chance to comment, links to Harold Mabern / 2014.2.24 New @Jazz88 / Jazzweek.com Jazz Album Chart / Previously on TNJT, and other visual nuggets from tonight's show...enjoy!

The Jazz family continues to grow with a batch of artists and groups that may be New to most of us being being added to the Jazz 88 Library the week of February 24, 2014.
You can hear at least a sampling of these debut on The New Jazz Thing @Jazz88 with Vince Outlaw, Monday, February 24, 2014 from 6 to 8 PM PT.
After the split, along with your chance to comment on this batch of New, you get the full list with annotations, (Coming...artist website links, and promotional audio/video from these new releases)
REBEKAH BELL – "TO WATCH OVER ME"
STEVE CARDENAS – "MELODY IN A DREAM"
GRANT CLARKSON QUINTET – "HEARTS OF LIGHT"
REBECCA DUMAINE - "BETTER THAN ANYTHING"
ES2 – "ALGO RHYTHMS"
LISA FERRARO – "SERENADING THE MOON"
TORD GUSTAVSEN – "EXTENDED CIRCLE"
NATHAN HUBBARD – "ENCINITAS & EVERYTHING AFTER, VOL.2"
THE NATIVE JAZZ QUINTET – "NJQ: STORIES"
"THE PUPETTEERS"
MATTHEW SHIP – "ROOTS OF THINGS"
ADAM SMALE – "OUT OF THE BLUE"
DANIEL SMITH – "SMOKIN' HOT BASSOON BLUES"
BEN STOLOROW & IAN CAREY – "DUOCRACY"
Click +1 if you like this song
City College Student Radio
KSDS HD2
Listen Live
Pat Launer's Center Stage
Click on the +1 button
if you like this page