2014

Jazz 88.3's
annual
Music Matters Instrument Drive
is upon us! For one month, beginning
May 1st
, San Diegans can donate their used musical instruments at any
Coles Fine Flooring
location, or, at the Jazz 88.3 business office. All instruments will be refurbished and distributed among San Diego City School music programs. And, this year, the
Julian Union School District
will also be a benefactor! With your help, this could be our most successful Music Matters Instrument Drive yet! So if you have an instrument that you no longer need or use, feel free to dust it off and drop it off and help keep San Diego's youth musically-inspired!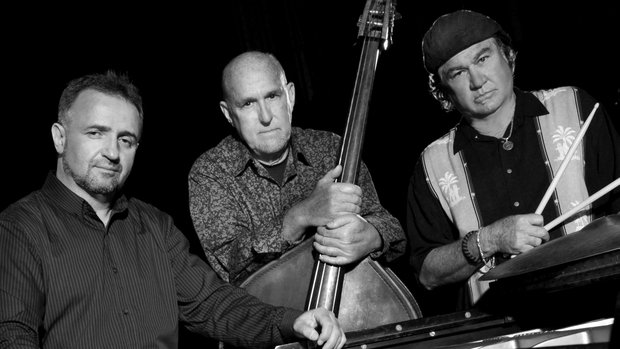 Progressive Nights concludes with the subtle textures and captivating inventions in the particular style as curated every Thursday night by yours truly. This might sound like a generic phrase cooked up before a pressing deadline, but it's the real deal. Get into The Speakeasy and have a listen. Individual experience may vary each week, but this is a long term commitment and relevant within its context.
Yes I played "Western Wren (A Bird Call)" again. It's a magical interaction between Jeff Ballard drums, Lionel Luoeke guitar, and Miguel Zenon saxophone. Found on Ballard's Time's Tales.
Yes the Rosetta Trio piece might have seemed out of place after "Bloodcount." But what a transition to "Lena" and the majestic power of Cecil Taylor. Free Time!
Yes Todd Sickafoose Tiny Resistors came to the rescue at the very last minute. What a great night. Special thanks to Mark and Kimi from Brooklyn.
Thanks for listening.

Charles McPherson's Jazz ballet
Sweet Synergy Suite
, originally presented on Jazz 88.3 on March 8th, 2014 can be watched in its entirety at Jazz88.org. The 75 minute program will feature a concert by the
Charles McPherson sextet
, an interview with Charles, and the ½-hour Jazz ballet workshop created in conjunction with San Diego ballet Company. The video will be available on
Sunday, April 27th at 7pm
and will stay available for viewing up until midnight
.
Bookmark
the page or go to jazz88.org/charles.

LISTEN LIVE Monday, April 14, 2014, 6-8 PM PT @Jazz88 San Diego's Jazz 88.3 FM, Jazz88.org, and Apple/Android Apps to The New Jazz Thing @Jazz88 with Vince Outlaw...Supported by Listener Contributors like YOU and...YOUR BUSINESS (learn more about underwriting The New Jazz Thing!)

Jazz 88 Speakeasy (On-Demand, Click to Play): The New Jazz Thing (Entire Show), Monday, April 21, 2014 (1:58:55)

From The New Jazz Thing YouTube Channel....


Allison Adams Tucker "April In Paris" CD Preview Interview: San Diego vocalist Allison Adams Tucker will be releasing her new album "April In Paris" on June 3, 2014 and will first be playing CD Release Party on April 26, 2014 at The Loft at UCSD to commemorate both the disc and "Jazz Appreciation Month". We'll get to chat with Allison and hear music from the New disc first on The New Jazz Thing!

2014.4.21 Adds To The Jazz 88 Music Library: While we may not have quantity of New being added to the Jazz 88 Music Library the week of April 21, 2014, you KNOW we've got quality with new releases from the likes of Joe Beck, Omar Hakim, and even last week's The New Jazz Thing guest Whitney Shay, among others.

The New #Jazz Giveaways: THE OMAR HAKIM EXPERIENCE – "WE ARE ONE" and MANHATTAN SCHOOL OF MUSIC AFRO-CUBAN JAZZ ORCHESTRA – "¡QUE VIVA HARLEM!" Listen Live for your change to win New Jazz Music, then call 619-388-3162!

Top 10 Countdown of the Jazzweek.com Jazz Album Chart for April 21, 2014: No. 1 on the JazzWeek Jazz Chart for the second straight week and sixth time in seven weeks is George Cables Icons and Influences (HighNote). Most added (+28) is Eric Alexander Chicago Fire (HighNote). The week's biggest gainer (+89) is Clayton-Hamilton Jazz Orchestra The L.A. Treasures Project (Capri). The highest debut (No. 39) is Tom Tallitsch Ride (Posi-Tone).

The New Jazz Thing YouTube Channel presents Allison Adams Tucker guesting on the Top 10 Countdown!



Also on the show...

JUST ANNOUNCED> Bobby Watson, Stanley Jordan, "Skipper Franklin", Sprague, Morrison> TNJT Jazz Live San Diego Google Calendar! http://ow.ly/w0q4Z

Coming Up on The New Jazz Thing Calendar (click to subscribe to TNJT Google Calendar)...

Monday, May 27, 2014 -

Anna Danes "Longing" and 5/30/14 CD Release Concert Interview. Local vocalist with her debut CD will be performing at Cedros Social Club in Solana Beach on Friday, May 30, 2014 with many of the musicians from the new disc.
Robin Adler and Dave Blackburn "Joni Mitchell's Hejira" Performance Preview: On June 1st Robin Adler and her band Mutts of the Planet will be performing Joni Mitchell's Hejira album. They have a fantastic 9 piece band for this show including Grammy winning guitarist Jamie Kime from L.A. We are also flying in bassist Kevin Hennessy, Peter Sprague's bassist for many years, from Missouri to hold down the Jaco parts. Robin and her husband, Dave Blackburn, may be performing live in studio.

Jazz 88 Playlist Archive Screenshot for Monday, April 21, 2014, 6-8 PM PT
Last week, on The New Jazz Thing, Monday, April 14, 2014...

The full list, with additional annotations is after the split, along with your chance to comment on this week's New!
JOE BECK – "GET ME JOE BECK"
BILL COTE` - "WHERE DO YOU START"
THE OMAR HAKIM EXPERIENCE – "WE ARE ONE"
JAZZBONEZ – "WATCH IT!"
MIMI KLEIN – "MK"
MANHATTAN SCHOOL OF MUSIC AFRO-CUBAN JAZZ ORCHESTRA – "¡QUE VIVA HARLEM!"
WHITNEY SHAY – "SOUL TONIC"
"WATTERS/FELTS PROJECT"
Click +1 if you like this song
City College Student Radio
KSDS HD2
Listen Live
Pat Launer's Center Stage
Click on the +1 button
if you like this page