KSDS Jazz88.3 FM San Diego
Station News
Our membership campaign has concluded

.

We are so grateful for your support and so thankful to have you join or re-join our jazzy family. As of now, our un-official total is just north of $193,000, our largest ever membership campaign total. So, congratulations to you, our members! Also, congratulations to all of our sweepstakes winners! If you didn't win your trip to Cuba you can still go (

see details

), or call

206-842-9775

. If you didn't get a chance to make a pledge you can still do so and get in on some of the pledge premiums like Cuba, Sinatra's house and so much more!

CHECK OUT YOUR OPTIONS

! Or, you can still give us a ring-

CALL 619-388-3000

or here's a

link

to take care of that now.
Heads-up Happy Hour goers! It's time to pencil in one more holiday party and plan to join your favorite Jazz and Blues radio station,

THIS(!) Thursday

,

December 3rd

from

5-7:30PM

at the

Lafayette Hotel

(in the

Mississippi Ballroom

) for a very special happy hour!

Sue Palmer

and her entire Motel Swing band will provide the holiday-inspired tunes, and as a very special treat, the entire Jazz 88.3 staff will also be in attendance! There will also be an array of hosted, heavy appetizers for your pleasure! There's a $

10 cover charge

(

cash only!

) and you MUST be 21+ to attend this very special shindig! We'll see you there!



It's a very special December

Jazz Live

as we celebrate the holidays with a rare live performance of Duke Ellington and Billy Strayhorn's Jazz version of the

Nutcracker Suite

. Join us at the Saville Theatre to watch and listen to an All-Star Big Band led by musician and educator Bill Yeager. The December 15th performance is not to be missed. But, to attend you must make your reservation at

619-388-3037

or click this

link

. Plus, the

parking pass

needs to be presented on your dash. We look forward to ending our year with this special concert.
Mark your calendars for

every Friday Jazz Happy Hour

at the

Handlery Hotel

in the

950 Lounge

!

San Diego's world-renowned Jazz Flutist and Presenter Holly Hofmann

brings in world class musicians

every

Friday from

5:30-7:30PM

. There's

NO COVER CHARGE

and parking is not only FREE, but it's bountiful! You can also enjoy a full bar and happy hour menu prices while you're there! What better way to kick off your weekend?! This month's schedule includes-

(11/27) Mundell Lowe, Bob Boss and Rob Thorsen. (12/4) Allan Phillips, Antar Martin, Richard Sellers (12/11) Bruce Forman Trio (12/18) Holly Hoffmann Jazz Trio MORE...
The

Blues Jam

is in full-swing and happens

every

Wednesday night at

Proud Mary's

(located at the Ramada Inn: 5500 Kearny Mesa Road, 92111) from

6:30-9:30pm

. So dust off your instruments and plan to attend!

Blues Jam Special Guest

:

Lady Star (12/2) Dave Talbott (12/9) Tony Davis (12/16) Aubrey Fay (12/23) Ty McKnight (12/30) Janice Edwards.
Donate your used vehicle

to

Jazz 88.3

because it's the best result from a kind act. Also, you get a

TAX DEDUCTION for 2015

! Seriously, you can donate a vehicle almost anywhere but if you donate your car to Jazz 88.3 we will be truly and unquestionably grateful and appreciative. Isn't that reason enough?

1-888-JAZZ-CAR (1-888-529-9227)

. It's easy, quick, and you

support Jazz 88.3

. Thanks!
Latest Blogs
These new releases will be featured by all your favorite Jazz 88.3 hosts in the weeks to come!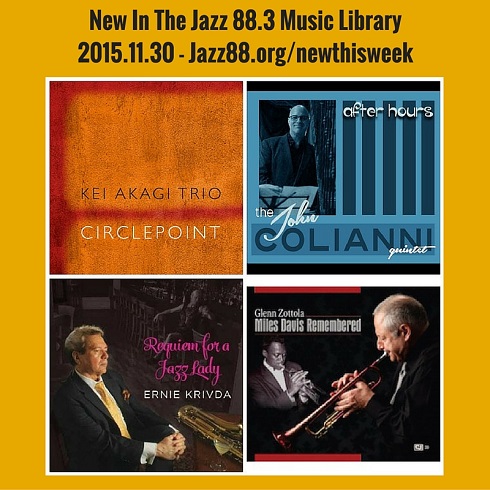 KEI AKAGI TRIO – "CIRCLEPOINT"
JOHN COLIANNI QUINTET – "AFTER HOURS"
ERNIE KRIVDA – "REQUIEM FOR A JAZZ LADY"
GLENN ZOTTOLA – "MILES DAVIS REMEMBERED"
READ THE FULL ARTICLE for links to artists websites, release reviews, and additional listening notes from the Jazz 88 Music staff....
This is Joe Kocherhans, inviting you to join me Thanksgiving Day at Noon PT for a Portrait In Jazz marathon.
We'll kick it off at noon with our artist of the week
Nat Adderley
…followed by an hour of songs by the great
Johnny Mercer
…then we'll hear from 2 greats we lost this past year,
Howard Rumsey
and
Phil Woods
, followed by the one of the greatest of all jazz singers, the great
Joe Williams
, then we'll hear from 2 newly named NEA Jazz Masters,
Gary Burton
and
Pharaoh Sanders
, and we'll top it off with a jazz tribute to
The Great American Songbook
. It all starts at noon on Thanksgiving Day.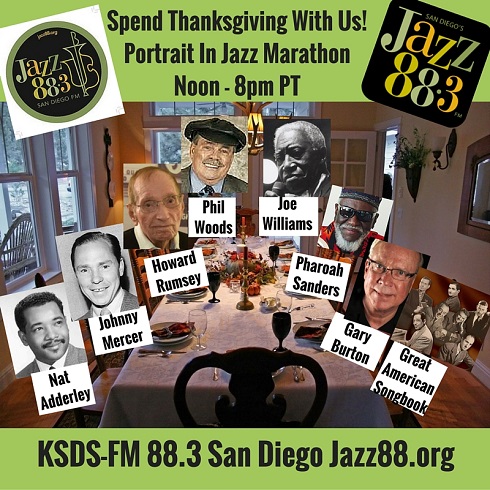 A full spectrum mix of New Jazz Music being added to the Jazz 88.3 Music Library the week of November 16, 2015, including music from vocal Lee Hartley ("Whole Lotta Something'" who recently performed at the historic Jazz 88.3 Happy Hour with Legend Les McCann (who just so happen's to guest on Lee's new disc!). These new releases will be featured by all your favorite Jazz 88.3 hosts in the weeks to come!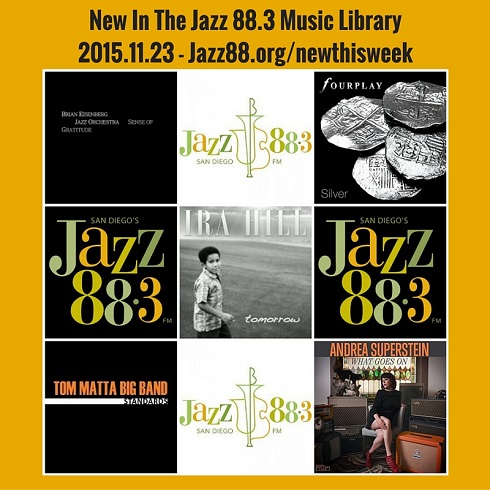 BRIAN EISENBERG BIG BAND – "SENSE OF GRATITUDE"
FOURPLAY – "SILVER"
IRA HILL – "TOMORROW"
TOM MATTA BIG BAND – "STANDARDS"
ANDREA SUPERSTEIN – "WHAT GOES ON"
READ THE FULL ARTICLE for links to artists websites, release reviews, and additional listening notes from the Jazz 88 Music staff....
Congratulations to everyone for a very successful 2015 Fall Membership Drive. The drive concluded during an electric final few minutes of The Guitar Hour with Jazz 88.3 Guests, Staff, and Volunteers gathered for the announcement of the final Daily and Grand Sweepstakes Winners, along with the unofficial total amount raised. We have an unofficial total of 193,000 which will go a little higher when all the pledges are totaled. That is a very impressive number and you should all be very proud of the effort made to support Jazz here in San Diego and around the world!
If you missed the last minutes, please relive it with us by playing our Jazz 88 Speakeasy Audio of the final minutes...
The Favorite Artist Poll Winner is Miles Davis. Thank you all for making your voice heard...this is an all star lineup for sure! Your hosts will be playing this music through the day Monday and during the week as we celebrate this great pledge drive with you!
This is the top ten in order:
We've scoured the lists of San Diego Music Awards Winners and Lifetime Achievement Honorees to bring you the Jazz and Blues artists that have won and been honored at all previous shows, starting in 1991.
You curious folks will be able to wow your friends with answer to such questions as "How Many Jazz and Blues Artists have Lifetime Achievement Awards?" or "Who Was The First (and Only) Jazz Artist to Win Artist of the Year?" or "What two Jazz 88 Hosts have received a Lifetime Achievement Award?" or you can make up your own "San Diego Music Awards Jazz and Blues Trivial Pursuit" game and play it with your friends!
READ THE ENTIRE ARTICLE
for the complete list by year...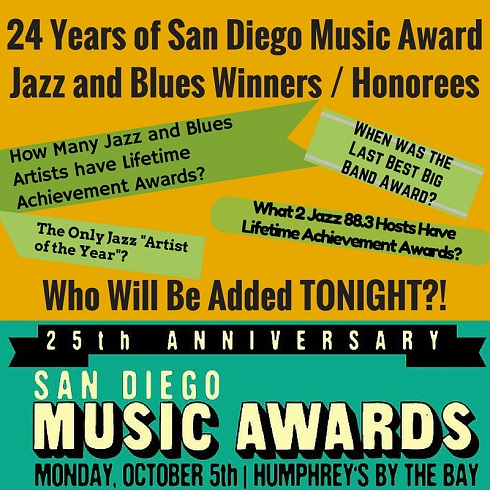 View all
Jazz 88.3 Blog
articles.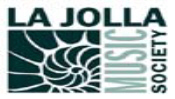 City College Student Radio
KSDS HD2
Listen Live
Pat Launer's Center Stage