Matt Silver
"America's Finest Jazz & Blues from America's Finest City"
About…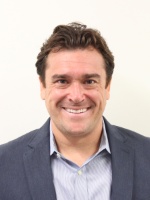 A writer, journalist, and the author of "Pieces of Silver," Matt Silver has been enamored with the concept of performance since his grandparents told him as a toddler that singing "Sunrise, Sunset" in rooms full of strangers was the cool thing to do.
Matt comes to San Diego by way of his native Philadelphia, where, from 2017-2022, he wrote for NPR member station WRTI's Arts Desk. His writing has also appeared on NPR.org and public media platforms across the country, as well as in The Jewish Exponent (Philadelphia), Washington Jewish Week, Jewish News of Greater Phoenix, The Pittsburgh Jewish Chronicle, and The Times of Israel.
Nearly as passionate about sports as he is music, Matt can't stop caring way too much about the Sixers, Phillies, Eagles, Temple basketball and Michigan football. Those maladaptive preoccupations served him well as the host of The Silver Standard, a sports-talk program that aired on 610 ESPN Philadelphia.
His love of jazz comes his father, Ken, an accomplished clarinetist, bandleader, and educator, who's passed on his extensive knowledge of the Real Book and an abiding love for jazz tunes with Broadway origins.
In awe of jazz's past, sustained by its present, and so optimistic about its future that he surprises even himself, Matt's a musical omnivore; he eats it all up, and his hungry for more—a lot more.
He's got stories to tell, histories to excavate, and plenty of opinions to share. Which is why he invites you to check out his new column at Jazz88.org called "Pieces of Silver," where he'll seek to make some sense of it all within the context of our everyday lives and the challenges of our wider culture. He intends for the column to be a conversation, not a lecture, so let him know what you think! He loves spirited conversation and even good-natured debate.
When he's not indulging his hobbies professionally, Matt can be found whistling Gershwin or Bernstein with gusto, trying to replicate the sounds of Stan Getz and Larry McKenna on his saxophone, or sweating all his troubles away in a hot yoga class.
He's thrilled to be at KSDS and humbled to be but a small part of San Diego's vibrant and inspiring music community.
Latest 5 blog articles by Matt Silver…
Here's what Matt Silver is talking about: