The 2015 Jazz 88.3 Summer Jazz Workshop, supported by the Francis Parker School and House of Blues San Diego, presents it's class of high school students in a free concert this Saturday, July 25, 2015 at 10AM in House of Blues San Diego Music Hall.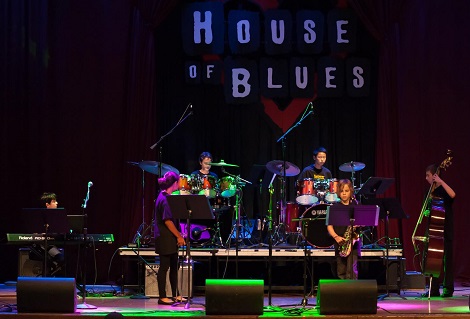 READ THE FULL ARTICLE
for more on the workshop and details about this Saturday's show…
Five years ago, some talented San Diego Jazz Musicians and Educators put together a great music faculty, outlined a curriculum and set up a new summer jazz program. Thus, the Jazz 88.3 Summer Jazz Workshop was born. Local top-shelf musicians were enlisted as the teaching staff, most or all of whom are music educators as well, including
Nate Jarrell
,
Derek Cannon
,
Mike Holguin
,
Justin Grinnell
and his wife
Melonie Grinnell
,
Danny Green
,
Ian Tordella
and Tommy Collins. In addition to the instrumentalists,
Leonard Patton
took charge of the jazz singers.
The summer camp has two week-long sessions with a total of over 60 students, and the Francis Parker School donates space at the school, which serves as the campus. The first five days of camp, Monday through Friday, are devoted to auditions, individual and sectional lessons, and combo rehearsals. Saturday is the big day, with a final concert for each group combined with a graduation ceremony.
The final week of camp, for high school students, is in session now.
Their final concert is this Saturday, July 25 at 10AM at the House of Blues, 1055 5th Avenue, San Diego. It's free, open to the public, and all ages are invited. Come hear the future of Jazz and applaud these students and their families for supporting the continuance of this great art form we all love.