Jazz Live
You can now reserve your Jazz Live tickets through our website via The Speakeasy, our online content platform. Simply
log-in
and reserve your tickets. If you are not a member of the Speakeasy it's free and easy
to join
.
WHAT IS JAZZ LIVE?
Jazz Live began in 1977 as a wild idea of telecom students Scott Harrison and Jackson Ratliff. The original 'live' concerts were intended to inspire and entertain and that mission has remained true to this day. Since September 14th, 2004, Jazz Live has been enhanced with support from the Corporation for Public Broadcasting. This financial support makes it possible to bring major acts to Jazz Live.
JAZZ LIVE TICKET POLICY
Reserved tickets will be available at the Saville Theatre box office beginning at 5:30pm the night of the concert. Members can reserve 2 additional tickets which must be paid for no later than 7:30pm the night of the concert. All shows begin at 8pm unless otherwise noted.
ALL RESERVED TICKETS MUST BE CLAIMED BY 7:30PM ON THE NIGHT OF THE CONCERT. UNCLAIMED TICKETS WILL BE RELEASED FOR SALE AT 7:30PM
Non-member general admission is $10 (for most shows), subject to availability. Student admission is $5 with valid student ID, subject to availability. Because seating is festival-style, seats together cannot be guaranteed.
If a concert is sold-out (usually), unclaimed reserved tickets become available at 7:30pm, first come-first served. If a concert is not sold out (rarely), non-member general admission tickets can be purchased before 4:30pm at our business office or after 7:30pm at the box office. Again, seats together are not guaranteed.
Please call 619 388-3037 regarding availability of tickets.
GETTING TO JAZZ LIVE
The City College Lyman Saville Theatre faces C Street between 14th and 15th Streets. The City College Trolley Station is located at 12th (Park Blvd.) and C Street. Freeways 5, 163, and 94 all exit within blocks of the theatre.
JAZZ LIVE PARKING OPTIONS
Construction on campus has brought changes for Jazz Live parking. Parking Structure 3 is new as of September 2012, it has 350 spaces, and it's only one block away. Parking Lot 8, at 14th and C, is subject to availability. Either way, be sure to print a Jazz Live Parking Permit.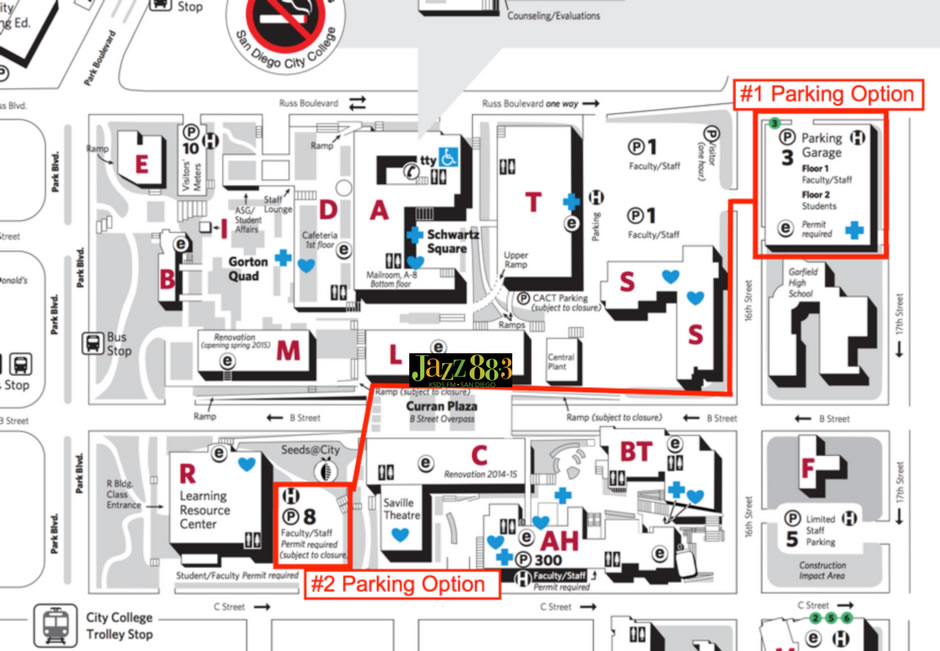 LEARNING OPPORTUNITY
City College offers RTVC 132, where students learn all aspects of producing Jazz Live. Dave Drexler instructs planning, promotion, staging, and more.
Jazz Live Public Radio