We are always looking for the Jazz-angle on the big happenings in San Diego and around the world, and one of the biggest in SD is Comic Con, happening July 9-12, 2015 at the San Diego Convention Center. And the Jazz-angle this year includes a special launch of San Diego native Igor Goldkind's "Is She Available?" described as a "Graphic Poetry Collection Combining Art, Comics, Jazz & Animation."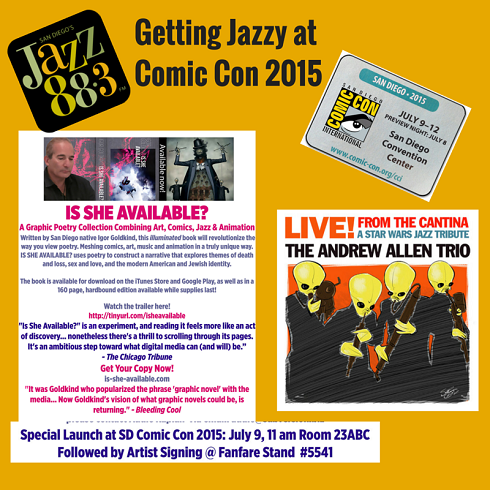 Igor Goldkind "Is She Available?" Special Launch Thursday, July 9
Meshing poetry, comics, art, music and animation, author/producer Igor Goldkind has created a bold book of over 40 poems visually interpreted by comics panelists Bill Sienkiewicz, Liam Sharp, Rian Hughes, David Lloyd, Amy Sterling, Mario Torero, and Olivia Brooks. Everyone attending the panel will get a free eBook download review copy. There will be T-shirt prizes for good questions. Moderated by comics artist Alonzo Nunez, director of Little Fish Comic Art Academy.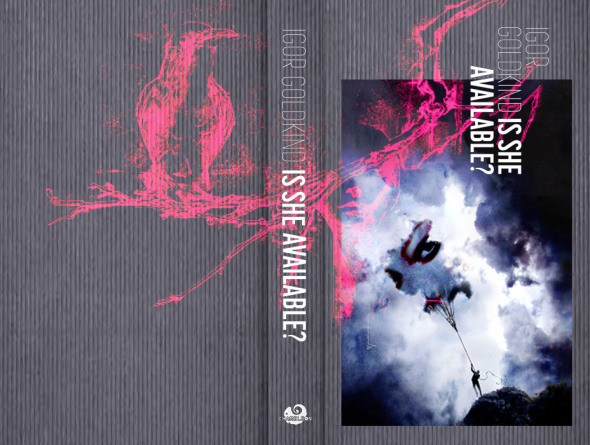 Geekdom Wear Booth 833 Swings Star Wars
Perhaps the most enjoyable aspect of this album is a new way to listen to the familiar John Williams iconic Star Wars music that we've all grown up with. "Live! From the Cantina: A Star Wars Jazz Tribute" CD album by The Andrew Allen Trio is Jazziest way you've ever heard John Williams. This new album pays tribute to one of the most iconic set of music in film history: The music of Star Wars! We all know Star Wars distinctive music in just the first few notes, but this albums new take on Williams work lets you listen to music you know so well in new ways for new listening moods. The Andrew Allen Trio keeps the original music feel still there while at the same time gives it a new life with smooth, fast, upbeat and sometimes soothing Jazz depending on the track. With the various new Star Wars projects in development this a unique and limited edition addition way to the new take on its iconic music.We will be the first company to sell it and so we'll be the only place you can get at SDCC or anywhere! Track listing: Star Wars Main Theme The Imperial March Cantina Band Parade of the Ewoks Luke's Theme Han Solo and the Princess Princess Leia's Theme Yoda's Theme Tie Fighter Attack Duel of the Fates