The 35th Annual San Diego Jazz Fest, presented by America's Finest City Dixieland Jazz Society (AFCDJS), will be swinging the Town and Country Convention Center Wednesday, November 26 through Sunday, November 30 with over 30 bands and guest artists, 8 venues, double dance floors, hours and hours of great trad, swing, boogie woogie, ragtime and more. Download the event flyer.
LISTEN to Inside Art host Dave Drexler previewing the 35th Annual San Diego Jazz Fest.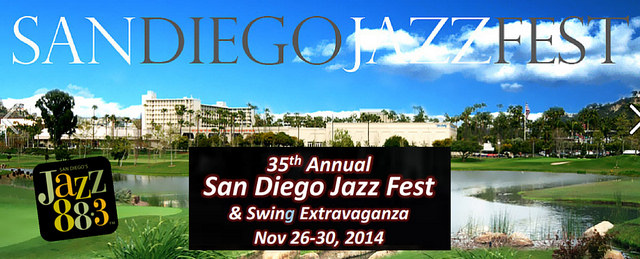 Read the entire article for more coverage of the festival
UPDATE: Congrats to Winners Storm and Denise! Jazz 88 and AFCDJS have 2 pair of tickets available to Jazz 88 fans and followers to Thursday evening, Thanksgiving Day 6-11 PM
, festivities with five bands, three venues, including the Katie Calvera Trio, featuring John Gill and Marti Eggars, Grand Dominion Jazz Band, Dave Bennett Quartet, Yerba Buena Stompers, Stephanie Trick & Paolo Alderighi Combo, High Sierra Jazz Band, and Cornet Chop Suey. Enter your Name, Email, and Phone below and we'll let you know if you've won on Monday, November 24.
RETWEET or SHARE below for an extra entry!
TICKET GIVEAWAY NOW! 35th San Diego Jazz Fest Swings Americas Finest City Thanksgiving Week http://t.co/TrRqKc7hmhhttp://t.co/OkfsRQQexv

— San Diego's Jazz 88 (@Jazz88) November 24, 2014